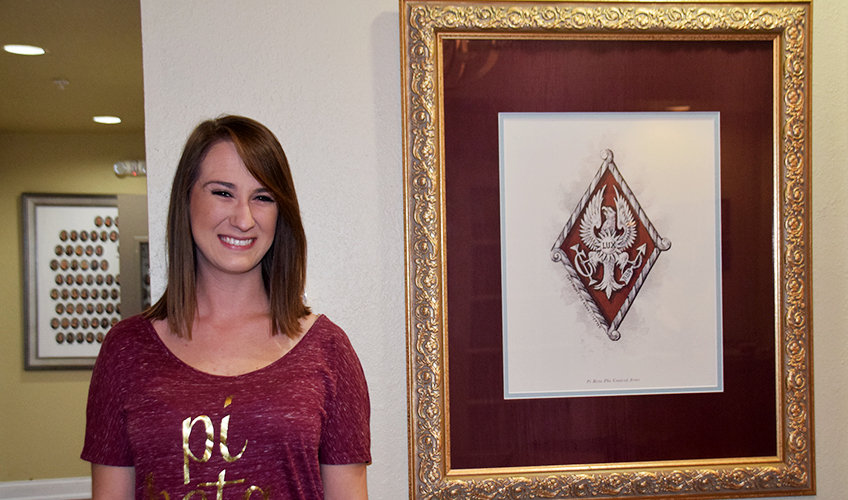 When Florida Epsilon Alexandra "Allie" McFee first heard the slogan "University of Central Florida (UCF): Stands for Opportunity" she did not know how it would impact her. As a senior in her last semester, she now knows this statement to be very true.
In the Honors College, Allie is a mentor to 17 freshmen honors students. In Pi Phi, Allie has recruited two of her Honors College mentees to join the sisterhood. In the community she has helped high school students in the Orange County, Florida, public school system to pursue the idea of a college education. In research, Allie is presenting at an undergraduate showcase about her research in bilingual learners' abilities to reach the same level of fluency as those who learn English as a primary language. UCF helped with a variety of experiences and Allie believes it has been good at providing opportunities.
Allie is especially proud of the work she does at Conductive Education Center of Orlando (CECO). Allie works part-time (about three days a week) as an aid to the speech therapist. During the day she works between six to seven classrooms; each classroom has seven children, who have Cerebral Palsy or other varied motor disabilities, most whom have no voice or cannot talk.
She calls them her "mini miracles" when she witnesses them answer a question or make strides in their progress. It is this role that has made her decision to work in the field of communications sciences more concrete. CECO's motto: Transforming the Lives of Children with Motor Disabilities, and this is exactly what Allie is doing.
After receiving her bachelor's degree in Communications Sciences and Disorders this spring, Allie is taking her passion to help others to Boston University to earn a masters degree. She is ready for it and lives by the motto "Que Sera, Sera" to help her keep focused that whatever will be, will be.
Good luck on the move to Boston, Allie! Your Pi Phi sisters are proud of you and know you're going to do great.