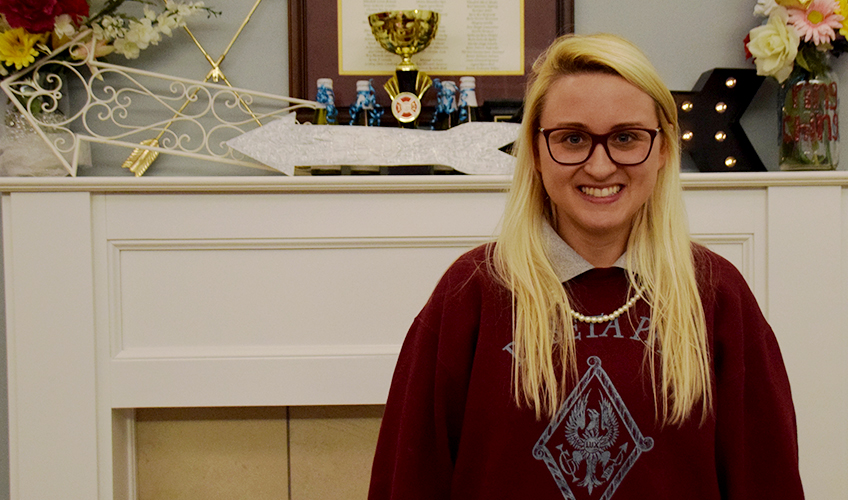 Being a first-generation college student, Indiana Theta Amanda Rychtanek Graf and her parents were worried about how she would transition into her collegiate career at Valparaiso University. Once Amanda joined Pi Beta Phi, it opened her mind to many opportunities on campus and helped her feel connected. One of Amanda's favorite college memories was watching her parents join her for a Cookie Shine. This gave her parents a unique insight into her Pi Phi and college life, and allowed them to feel confident that Amanda was surrounded by a community of supportive sisters.
After college, Amanda has continued to see the benefits first-hand how Pi Phi has made her life better. At one of her first job interviews, the interviewer asked specifically about Pi Phi since it was listed on her resume. He asked because his wife, mother and daughter are all Pi Phis. For Amanda, it was an equalizer in the conversation. They shared values and understood the fraternity and sorority life experience, which reaffirmed she was a great fit for the position.
Amanda is active in the Windy City Alumnae Club, where she consistently meets women from all over the country. As a member of the club, Amanda was part of the local planning committee for Convention 2015. It was at that convention that Amanda met collegiate members of Illinois Iota and began to talk about their experiences as a chapter. Amanda felt a calling to share her love of Pi Phi with the members and decided to join the Alumnae Advisory Committee (AAC) for Illinois Iota.
Amanda has been a positive change agent since that first conversation. She has worked with chapter members to help them understand Pi Phi in a global view, not just on campus at Illinois State University. And she has brought ideas from her own chapter to assist Illinois Iota with their sisterhood events and programming. Amanda continues to be inspired when she sees how the women have created positive change in their chapter as a result of her efforts.
Amanda continues to give back to the chapter in other ways, too. She was so impressed by Illinois Iota Quinn McGavin, Vice President of Housing, that Amanda interviewed her for an internship position. Quinn was offered the position and is now assisting Amanda in creating an overhaul of the company's volunteer program.
Amanda is extremely proud to be a part of Pi Beta Phi, an organization with such a rich heritage, which has given her a network of amazing women. "Pi Phi was the best decision I made in college," Amanda says. And as she thinks back at the many Pi Phi women she met along the way she reflects, "We are uniquely different and genuinely friends."