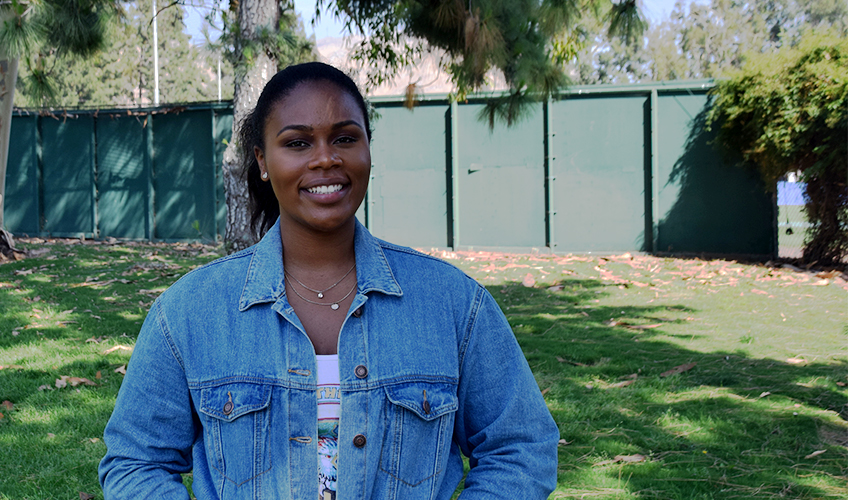 Could you imagine carrying a banner down a 150-foot elevated catwalk, in front of nearly 1,400 Pi Phi sisters? California Lambda Iman Forte can imagine this feat. She proudly carried her chapter banner during the Parade of Banners at Convention 2017 during our extra special 150th birthday celebration. Iman is currently the Chapter President (CP) for California Lambda, but if you would have asked her in high school if she would hold such a role, she would not have imagined all that this leadership position would bring her.
Iman has had a great college experience at the University of California, Riverside (UCR) and Pi Phi has a lot to do with it. When Iman came to UCR she describes herself in three words: shy, reserved and quiet. Iman previously served her chapter as Vice President of Administration and it was the encouragement of the past CP that allowed Iman to feel she could actually do the job and be good at it. "I had no plans to be CP," Iman said. "But when my Pi Phi sisters showed me that they were confident in me taking the role, I had motivation to do so." Iman recalls the night she was supposed to go in for her interview and felt she would just not go. One sister called Iman to ask if she was on her way to the interview and it was this type of support from her sisters that made Iman a more self-assured woman.
In these Pi Phi leadership roles, Iman is proud to have gained skills in problem solving and public speaking – all things that developed her as a person as a whole. Through Pi Phi, she gained the confidence to reach out to join other student organizations on campus and get involved, as well as meet people throughout the Panhellenic community. But the greatest fortune she has gained in these experiences are the sisters and network of Pi Beta Phi.