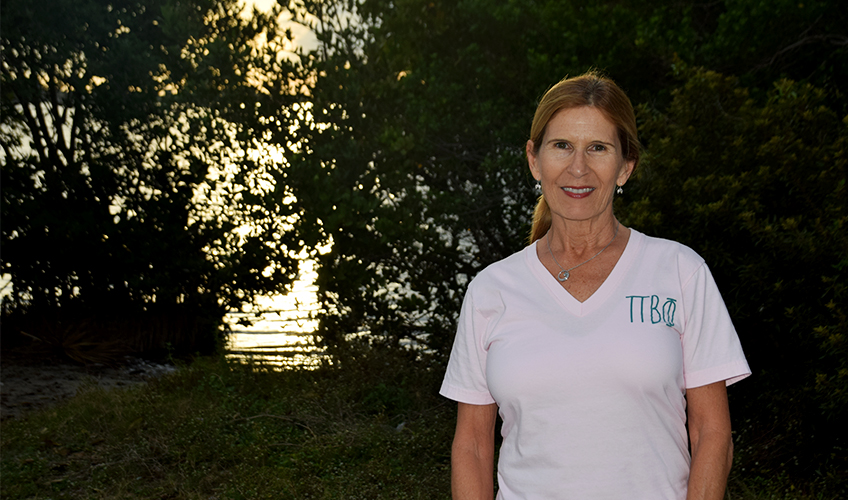 As she was looking at a photo of her father, Georgia Alpha Mary Grothjahn Van Horn cannot help but recall a conversation they had before he passed in February. They reflected on her Pi Phi friendships and he said, "That was a good investment," as Pi Beta Phi has been important her whole life.
She is proud of the friendships she has made – Pi Phi friends of all ages and from all over the country. Although she has met so many women from other chapters, two of her closest relationships are with the women from her time at the University of Georgia.
Mary and her roommate in the chapter house, Georgia Alpha Janet Beazley, have stayed in touch since pre-email and pre-social media years by writing letters, calling each other and sending cards. When Mary and Janet planned their weddings within weeks of each other, they found a non-traditional sisterhood moment. After the two attended each other's weddings, they took a double honeymoon to Moorea, Tahiti, and Bora Bora. Mary was excited to start the next phase of her life traveling and keeping up with her Pi Phi friend.
As a member of the Brevard County Alumnae Club, Mary has been able to reconnect with her Little Sis, Georgia Alpha Linda Laack Wise, after not being in contact for 30 years. Both women were living in the Merritt Island, Florida area, but kept missing each other attending opposite alumnae club meetings. They finally got together to catch up and found out their sons were the same age. Like their mothers, the two boys became the best of friends for many years.
Mary has had tremendous friendships through Pi Phi and she gets emotional thinking about it. "It's what is neat about Pi Phi Friendships," she says, "the bond makes you want to be friends and want to know each other."