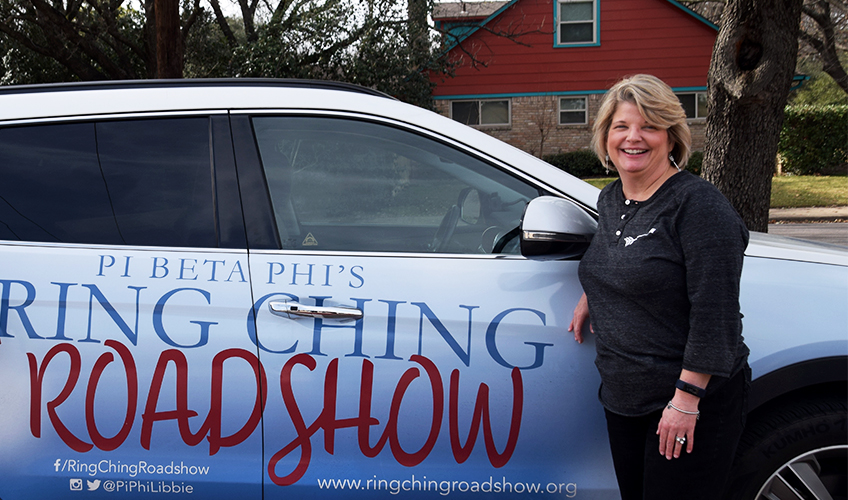 As a flight attendant in her 30th year of flying, Mississippi Beta Shelley Cary has been around the world and back. Yet, her heart has been and continues to live in Texas. It was in the Lone Star State that Shelley was first introduced to the world of Greek life; her parents were both heavily involved in their respective organizations.
Her mother, Texas Gamma Shirley Hamlett Cary, became Alumnae Advisory Committee chairman at Arkansas Beta and went on to serve as an Alumnae Province President. Shirley met her husband and Shelley's father, T. Glen Cary, in college, where he was Phi Delta Theta and Student Body President. He later served as President of the Texas Tech Alumni Association and International President of Phi Delta Theta.
You might say, Shelley Cary was born to be Greek.
Growing up, it never occurred to Shelley that she would not be an active participant in Greek life as she grew older. It was practically a given, an unspoken expectation that would guide her throughout college and beyond.
"It was just what one did in my family," Shelley said.
Shelley recalls her mother pinning her at her Initiation Ceremony, and gifting her a golden arrow wraparound ring, one she continues to wear today.
But Shelley hasn't kept it all in the family. She has kept up with her sisters from University of Mississippi (Ole Miss), too.
She has fond memories of recruitment at Ole Miss, when her sisters woke her up and took her to breakfast at 6 a.m., all clad in their pajamas. The women have continued the fun since their collegiate years.
"When we all turned 40, we celebrated our birthdays at the beach," Shelley said. "We take girls trips to Chicago and to other cities around the country. It has almost been like another college experience, in a way."
Shelley currently participates in three different alumnae clubs in Texas; with her busy travelling schedule, she has found it easier to pop in and out of multiple clubs rather than stick to just one.
"The alumnae clubs have been such a source of friendship and networking for me," said Shelley. "I don't know what women who aren't in sororities do to keep up with one another after college! It's been a wonderful way for my mom to stay involved, too — we are both in the Richardson-Plano Alumnae Club. She's still active in Pi Phi at 81 years young."
Shelley hopes to attend this year's convention in St. Louis with some of her friends from the Southlake Alumnae Club to celebrate 150 years of Pi Beta Phi sisterhood!
This or That
Seaside or Mountaintop? Seaside
Laundry or Dishes? Dishes
Early bird or Night Owl? Night Owl
Football or Basketball? Football. "In Texas, it's a religion."
Sweet or Salty? Sweet
Dog or cat? Dog
Introvert or Extrovert? Extrovert
Pulp or no pulp? "No pulp, all the way."
Silver or gold? Two-toned! Or one in every color!