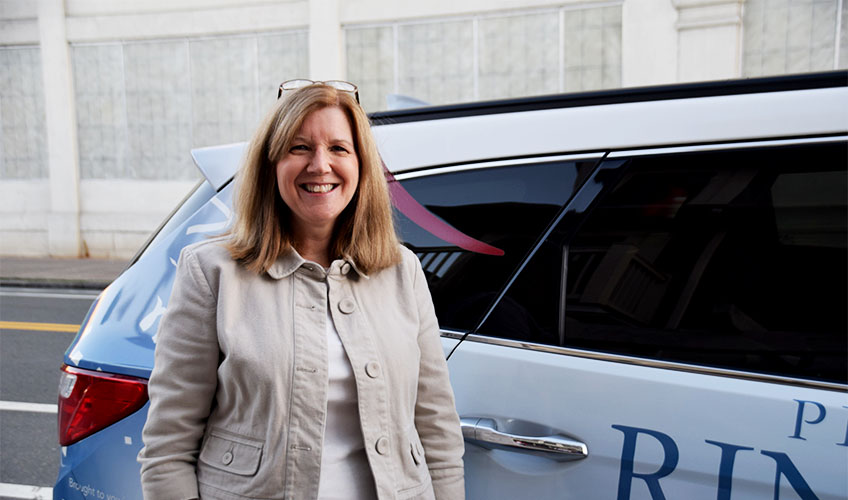 If you look on through the jewelry collection of Connecticut Alpha Jill Southworth Craft, you will see two very special Pi Beta Phi pieces. These two pieces she received from her grandmother, New York Delta Gertrude Fenner Ludington. They are her eight-pearl Golden Arrow badge and her Pi Beta Phi Crest ring. When Jill received the ring, she saw that it was very worn in and knew that her grandmother had worn it often. These special treasures are reminders of the sisterhood she shared with her grandmother.
Pi Beta Phi has always held a special place in Jill's heart. She gives Pi Phi some credit for introducing her to her husband of 34 years (thank you to a Pi Phi sister matchmaker!). Jill was a member of the alumnae club for many years, but took a break to raise her kids. "As Pi Phis, we are lucky to have a common fabric of Pi Phi and to be grounded in the same core values," Jill reflects on, "We have a variety of people and interests that ebbs and flows. Because of Pi Phi, I have made more lifelong friends than through any other organization." These lasting friendships are the most rewarding for Jill.
When Jill rejoined the Bostonian Alumnae Club, she remembers feeling as though she was getting back to home again and picked up right as she left off. A few months later, during the installation of Massachusetts Gamma, Jill took on the role as co-chair for Initiation. It was quite an honor for her to help with the founding class of the chapter, to work with Grand Council, and of course meet Past Grand President Sarah Ruth "Sis" Mullis, South Carolina Alpha. And to see the young, smiling faces of the newly initiated members, Jill had a few words: "it's just wonderful."
With a demanding full-time job and running a household, Jill wants to spend her free time with people she enjoys and Pi Phi fits just right into that for her. She loves that the women have their different interests and are involved in many things around the Boston area. "All I wanna do is hang out with a bunch of cool chicks!" she said. After hanging out with the women of the alumnae club, I have to agree that these sisters are definitely the coolest around!