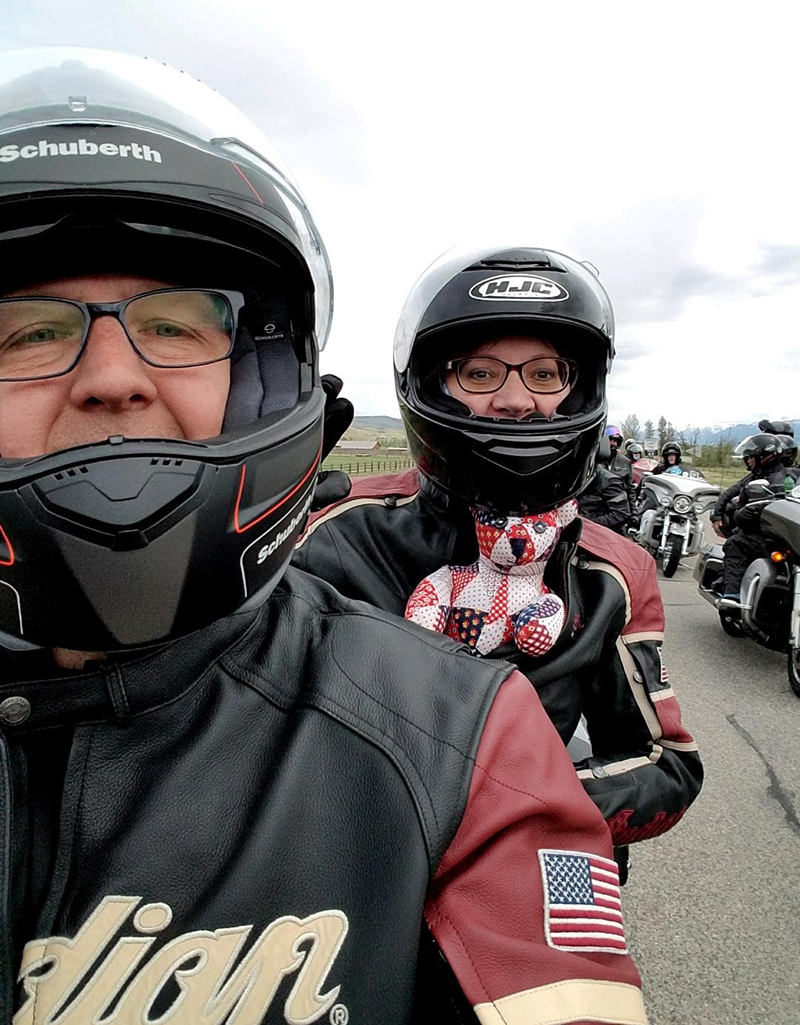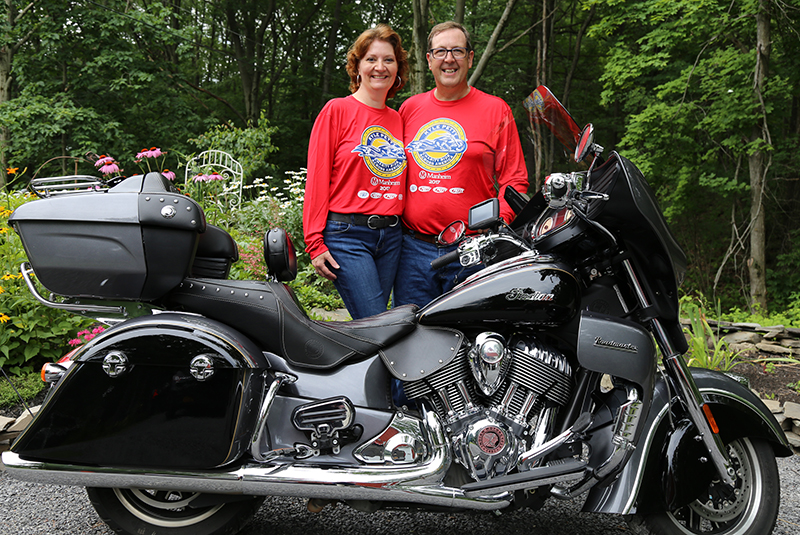 Until about 14 years ago, I never would have imagined myself riding a motorcycle across America. My husband, Doug, sure! He has been riding motorcycles since he was 15 years old and was racing in Enduros when we met. After we married, his motorcycle days seemed to be sidelined as we both settled into careers.
Doug worked as a mechanical engineer in the auto industry. One day, he came home eager to share the exciting news that his company was now going to be working with a major motorcycle company as well. It didn't take long for the passion to be rekindled and soon there was a motorcycle parked in our garage. Every once in awhile, I would venture out on short rides with him. Over time, I really began to enjoy our little excursions.
The sights, sounds and smells of the countryside are much more vivid on a motorcycle. When you drive past a pine grove in a car, you might notice the beauty of the trees, but on a motorcycle the aroma from the pines tickles your nose adding more dimension to its splendor.
One day, Doug accepted an invitation from his boss to join him on a motorcycle charity ride called The Ride to Victory.  The ride was raising money for a NASCAR-themed children's camp called the Victory Junction Gang Camp in Randleman, North Carolina. The camp offers children with life-threatening diseases or long-term illnesses a week's retreat with all their medical needs taken care of with no cost to their families. When Doug returned, he had a new desire to do more to help the camp and his enthusiasm was inspiring. He took me along on the ride for the next two years. At Victory Junction, I was awestruck with the beautiful grounds and the life-changing experiences that the Petty family was creating for these children. I was hooked!
As a teacher, I wanted to bring my experience and newfound passion back to my third grade students in a meaningful way. I knew there had to be a way to teach young children the joy of giving to others. But how? I began by raiding Doug's collection of NASCAR memorabilia and bringing it to school to liven up the classroom. That immediately got the attention of some of my reluctant learners and I knew I was onto something. This was the beginning of my school nickname, "The NASCAR teacher."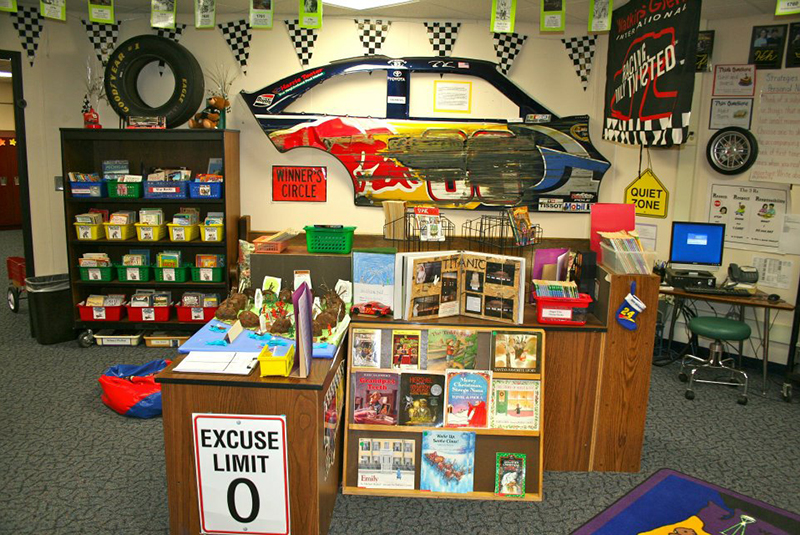 The next step was to link everything together to create a learning opportunity for my students. When I heard Victory Junction was accepting donations of quilts and teddy bears for the campers, I knew I had my connection. We studied pioneers in third grade and pioneers made quilts. Perfect! That year began the annual tradition of making a class quilt to donate to the camp. Over the years, parent volunteers were eager to help. The children loved designing the quilt and being part of such a worthy cause. During one Ride to Victory, I had an opportunity to personally deliver our class quilt to Kyle Petty. The students were thrilled!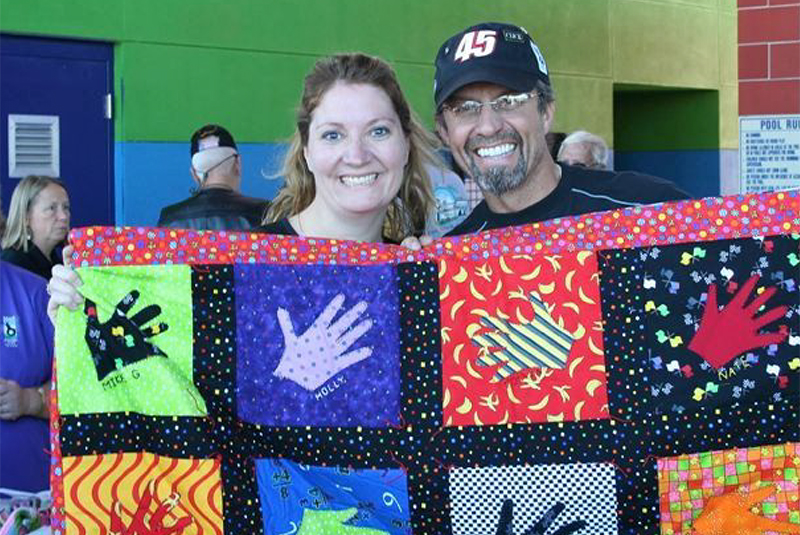 The joy we found in supporting Victory Junction led Doug and I to also look within our local community for other organizations needing support as well. In 2012 and 2013, we participated in the Michigan Ride For Kids to support the Pediatric Brain Tumor Foundation. Each exhilarating experience of riding our motorcycle to do something good for children in need made it clear that our ultimate goal would be to one day participate in the Kyle Petty Charity Ride Across America (KPCRAA). Doug's boss and now close family friend, Gary Johnson, had been on the KPCRAA many years with his wife Nancy. They would often ask us to join them, but life events always seemed to get in the way.
Finally, this past September, Doug and I decided this was the year we were going for it! Taking time away from school during the school year is always a difficult thing for any teacher or administration to consider, but when I explained the desire I had in my heart to participate, my principal and superintendent both generously gave me the thumbs up! This could be our once-in-a-lifetime to make such a significant impact on the lives of children and their families. Little did I realize the huge impact it would have on my life and my students.
I was teaching second grade now and instead of making a quilt, we decided to make a teddy bear. Construction of the bear soon began as the children chose the fabric and then took turns pinning the pattern in preparation for sewing. A close friend then help me sew it all together. The children squealed with delight when they saw the finished bear. Now it was ready for its long journey.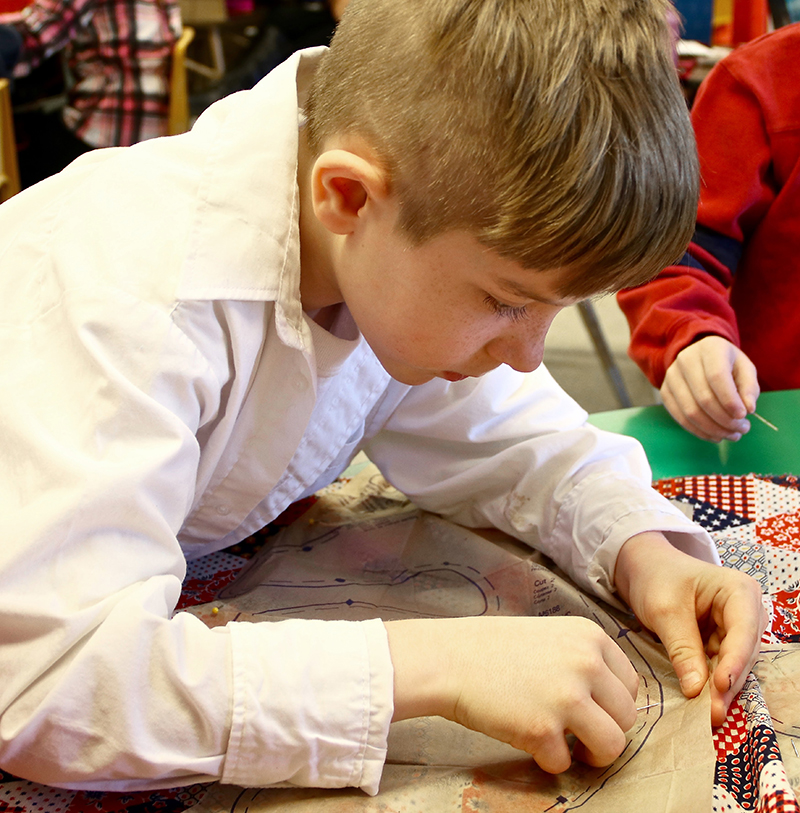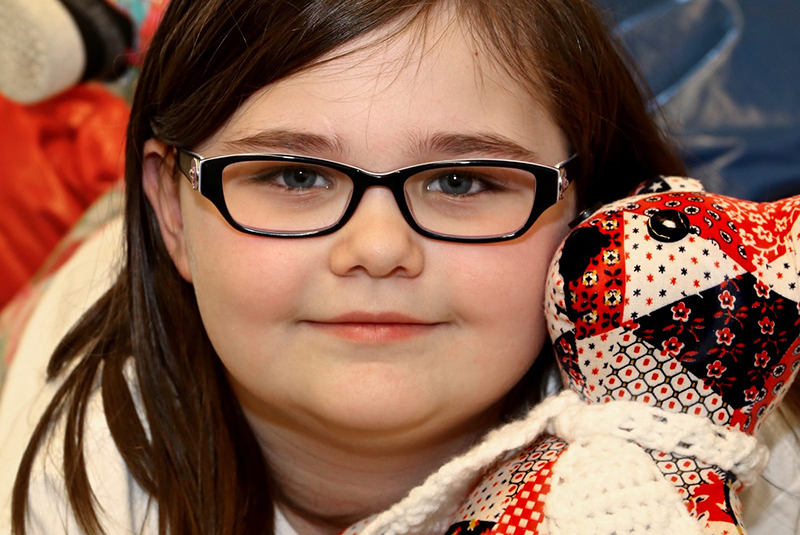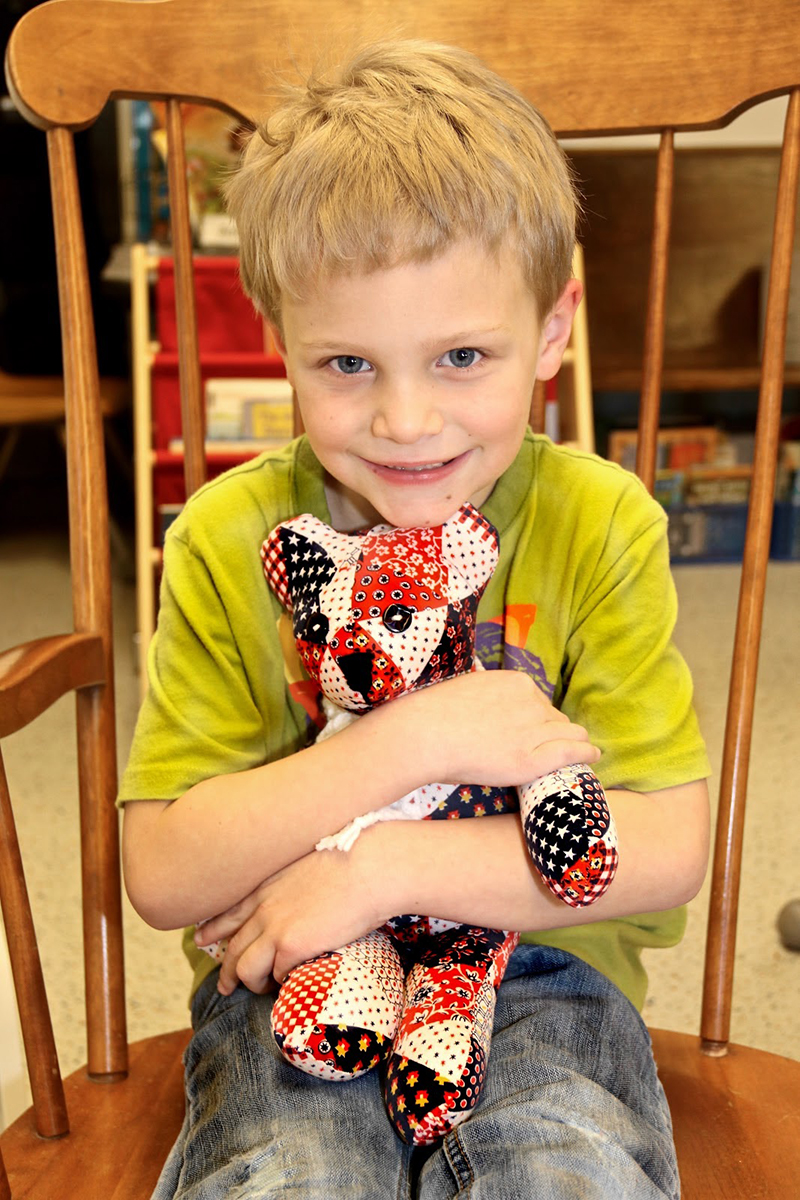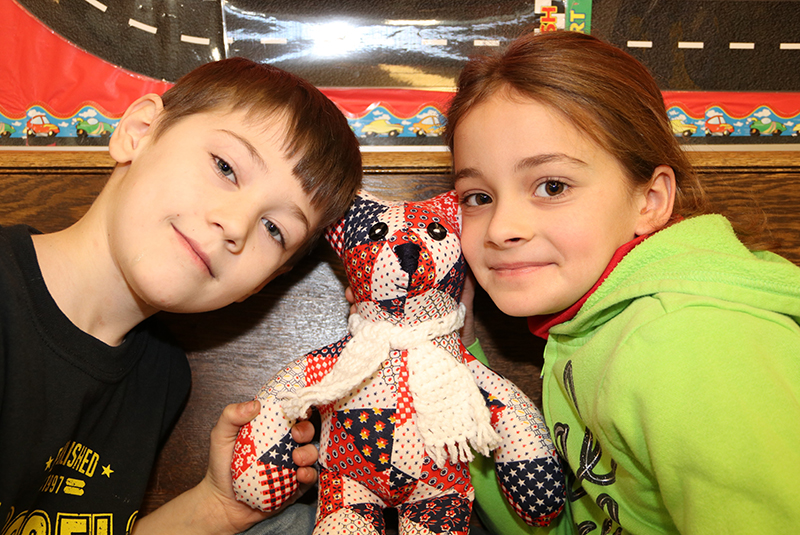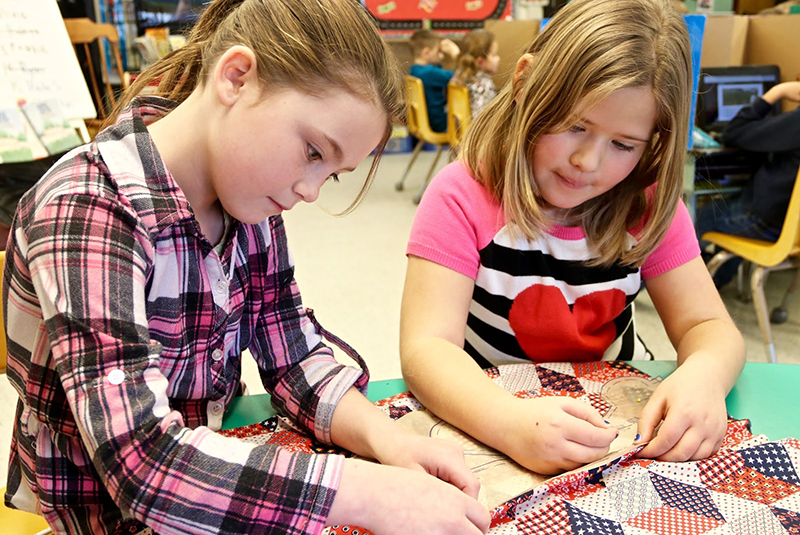 Unbeknownst to us, while we were busy with our sewing project, NBC Sports Network was busy with a project of their own. They were putting together a documentary about the KPCCAA and were looking for stories of campers and riders to include. Word of our class bear got to the producer, who then called to ask if the children and I would be interested in sharing the bear's story in their television broadcast. After we recovered from our surprise, we happily agreed.
The bear's journey across America began two weeks before the official ride. Doug needed to get our motorcycle to Portland, Oregon. So with the bear safely stowed, he rode away from our hometown of Dundee, New York, to Portland. Each day, he took photographs of the bear's adventures and sent them to us in the classroom. We tracked the bear's progress and learned interesting facts about each place the bear visited. Each day was filled with anticipation to hear from the bear and Mr. Wills.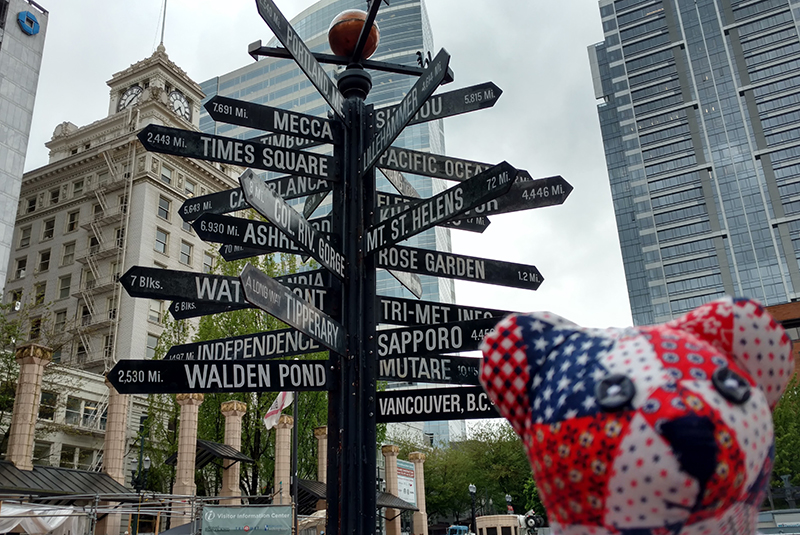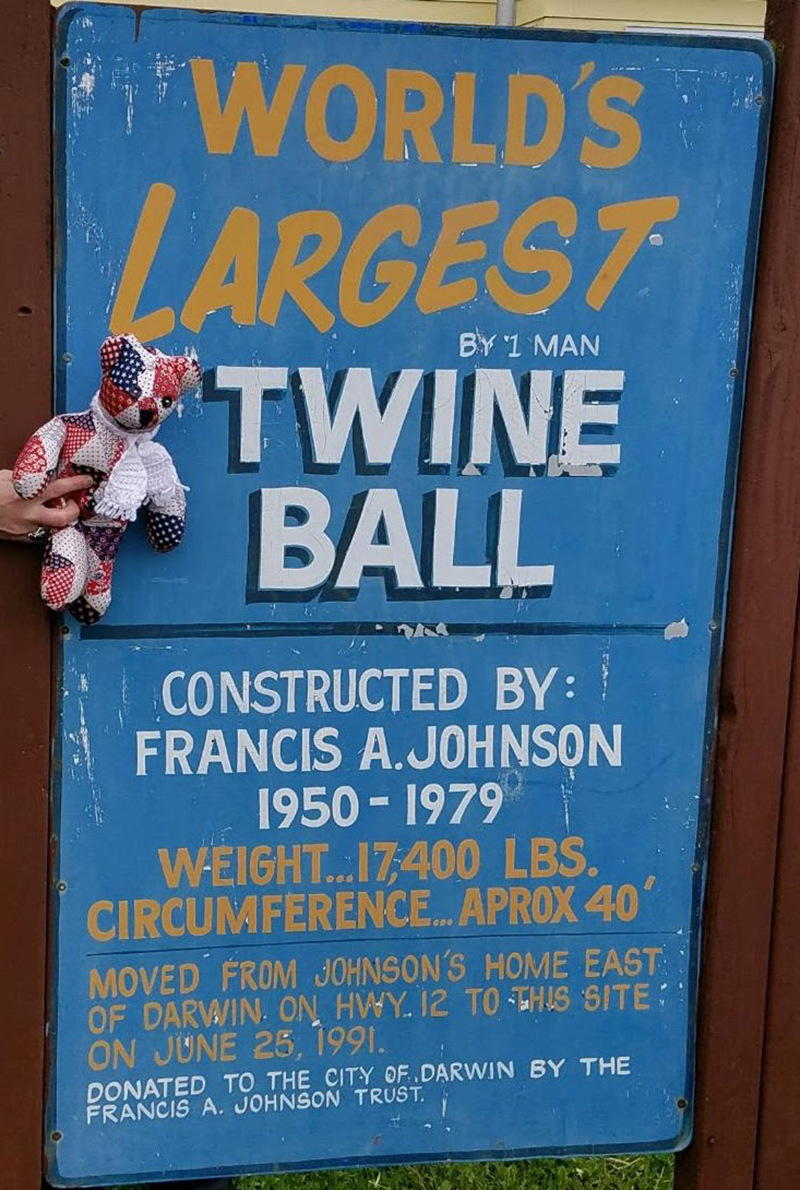 During the journey out, the bear traveled approximately 3,100 miles and gazed at the rambling horse farms of Kentucky and majestic mountains of Wyoming. Eventually, I flew into Portland and met Doug, the bear, the production crew for NBC Sports Network and 123 fellow riders. Immediately I felt at home with these genuine people who were all gathered.  It didn't take long to make lifelong friendships and to become a family. The bear was quickly accepted as well. Riders from all across the country were eager meet it and to hear its story. Some of the more well-known riders to meet the bear were former NASCAR drivers Donny Allison and Harry Gant. Heisman Trophy winners George Rogers and Hershel Walker also cuddled with the bear. NASCAR driver #38 David Ragan, Bill Davidson from Harley Davidson Motorcycles and Richard Petty also gave the bear some love.
The bear's story continued to grow as the ride progressed over the 2,400 mile trek from Oregon to Minnesota. As we were welcomed into each small town the bear made more and more friends. Law enforcement officers, mayors, and citizens were all delighted to nestle with the bear and hear its story. The mayor of Gillette, Wyoming, even asked to have her picture taken with the bear while sitting on Doug's motorcycle.
During the ride the bear traveled on the historic Lewis and Clark Trail along the winding Columbia River, over magnificent mountains of Wyoming and through the breathtaking Badlands. Sometimes I would tuck the bear inside my jacket so it could get a better view.  One day, the NBC Sports crew filmed the bear riding on the back of the motorcycle's luggage rack through Yellowstone National Park. I'm sure its eyes got wide as we passed herds of bison.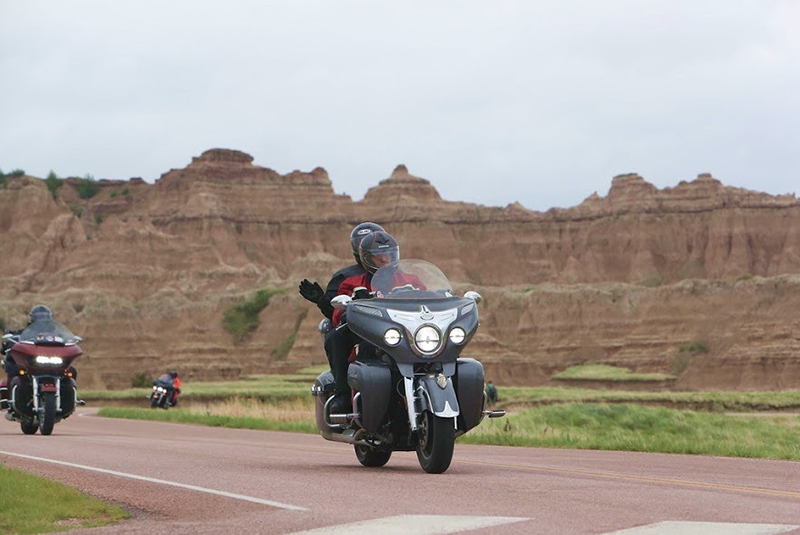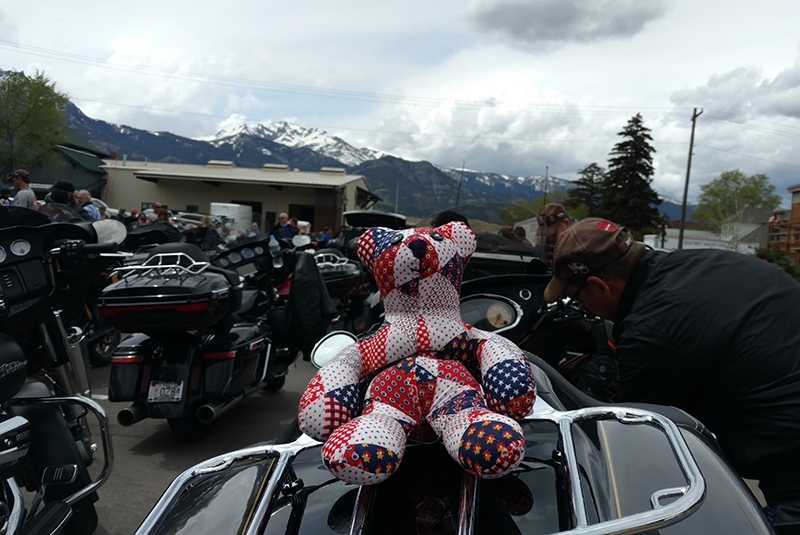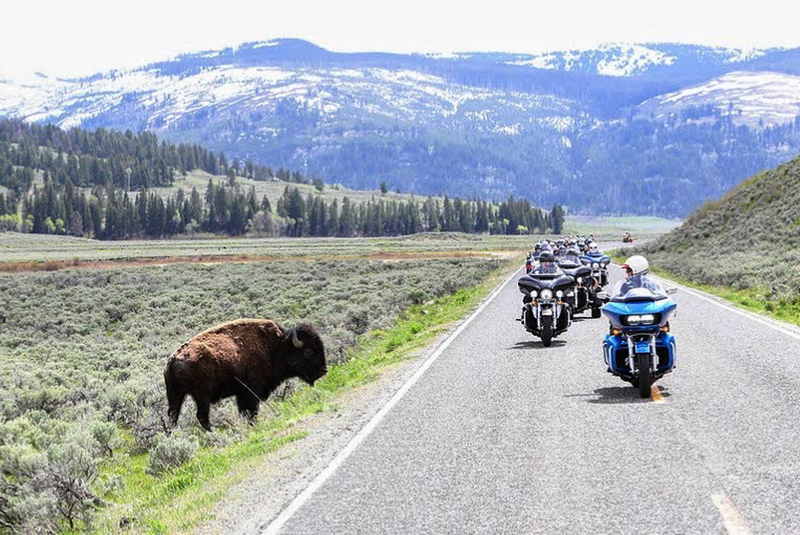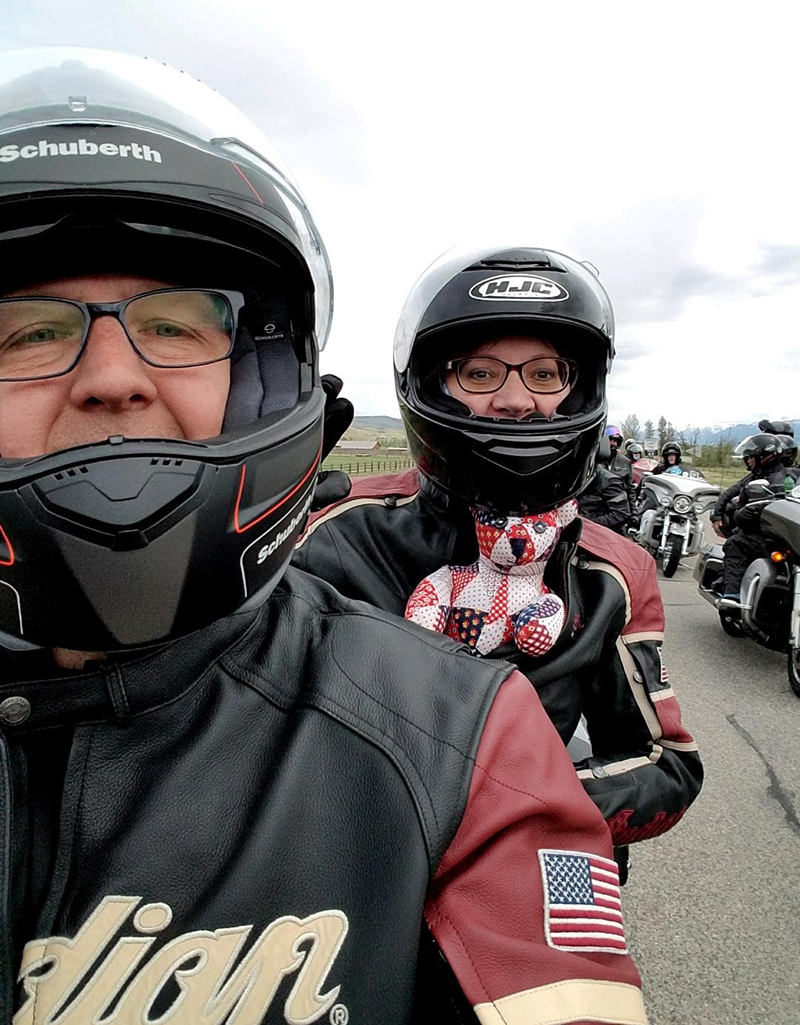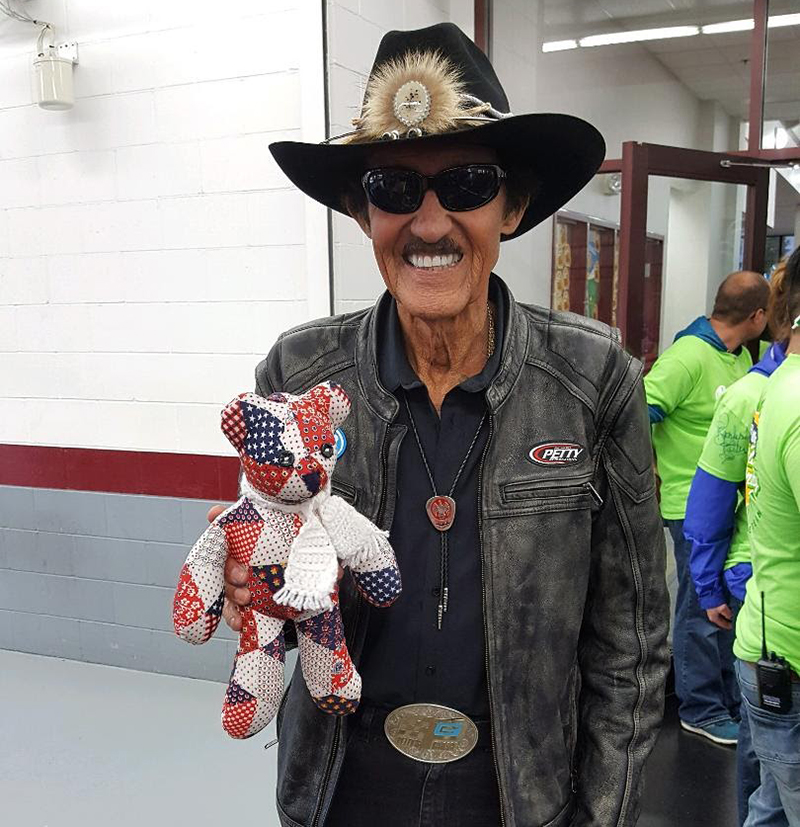 However, because we often rode through rain, hail, sleet, snow and high winds, the bear mainly rode safely in the luggage compartment. After a hard day's ride in extreme weather, Kyle eloquently reminded us that the challenges of riding in bad weather for a few days was nothing compared to the adversity the children at camp have to face every day of their lives. With that perspective, we knew we could rise above the weather and work together to keep each other safe.
One of the rainiest and foggiest days of the entire ride will remain one of my favorites. This was the day we rode to Mount Rushmore. The fog was so dense we couldn't even see the monument upon arrival. It didn't matter though, because that was the day NBC Sports had arranged for me to FaceTime with my class. It was so great to see my students' faces when they appeared on the telephone screen. Kyle even joined me to say hello to the children. He thanked them for their generosity in making the bear. The smiles on their faces told me they had experienced the rewarding feeling that comes with giving to someone else. My hope was they would carry it with them for the rest of their lives.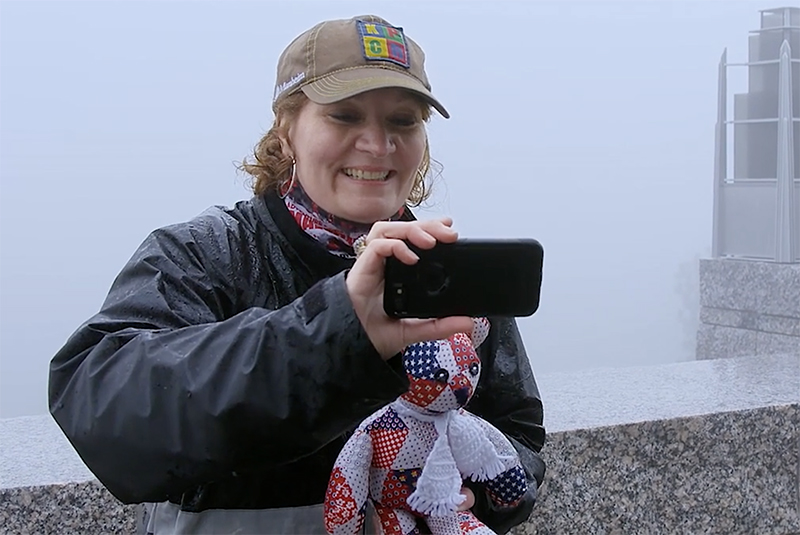 It wasn't long after my return that my hopes were realized. School was out and I saw two of my students having a lemonade stand in their front yard. I stopped for a refreshing drink and a quick hello. I was brought to tears when they jumped up and down with excitement to tell me that they were going to donate half of their earnings to Victory Junction. Witnessing your students apply a lesson you taught them to the real world that would make them better people is simply amazing!
At first glance, one may think proceeds from a tiny lemonade stand is not enough to make a difference. However, every little bit helps. In fact, due to generous donations from individuals, private and corporate sponsors and riders, the 2017 KPCRAA raised $1.3 million dollars for Victory Junction. It also won the 2017 National Motorsports Press Association (NMPA) Spirit Award! This award recognizes character and achievement in the face of adversity, sportsmanship and contributions to motorsports.
I will be forever grateful Doug and I had the opportunity to be a part of such a phenomenal group of people. We are hopeful to continue our journey with our new ride family for many more years to come. And for the bear, I am delighted to say it has found its way safely into the arms of a loving child. With the support of the Petty family, I am in the process of telling the bear's adventures in a children's book. I am hoping the bear's story will become one more way to shine the light on such a worthy cause and to help more deserving children attend a camp of their dreams.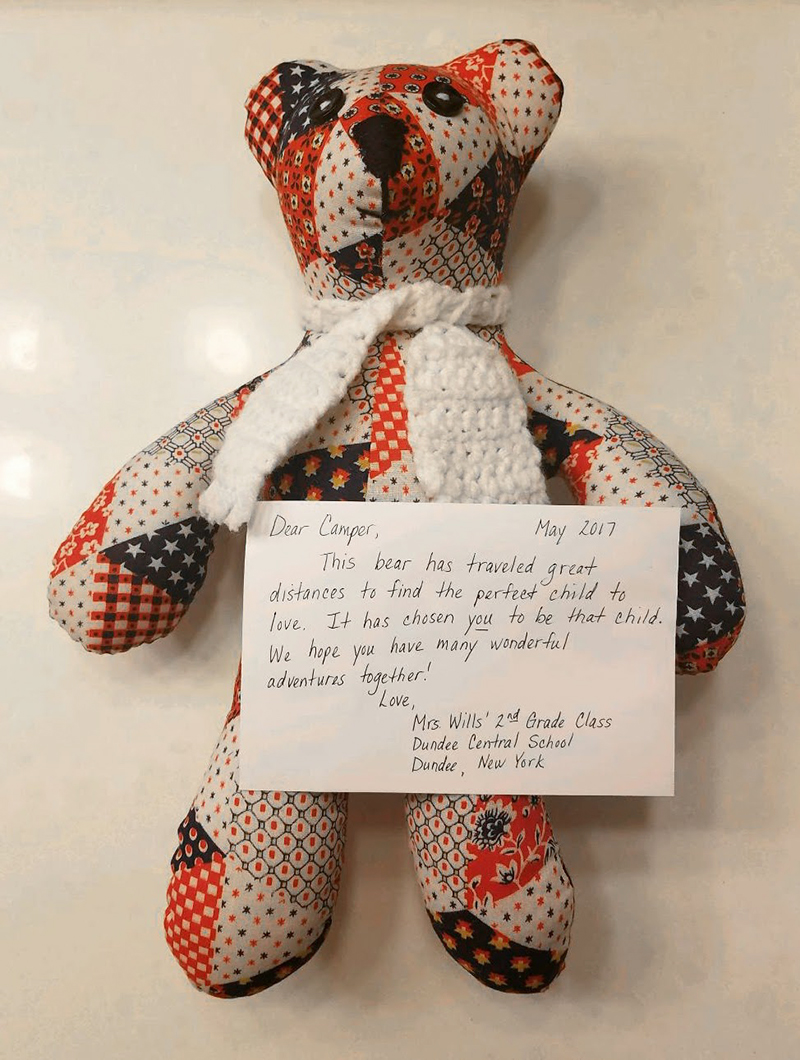 To learn more about the Kyle Petty Charity Ride Across America go to http://www.kylepettycharityride.com. More information about Victory Junction Gang Camp can be found at https://victoryjunction.org. To watch the video from NPC Sports Network about my classroom and the bear, please click below. The video is a clip from the "Ride to Victory: Stories of the Kyle Petty Charity Ride."
This blog post is courtesy of Kentucky Gamma Stacey Gable Wills.