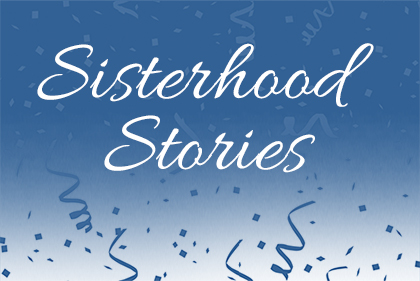 Today's Sisterhood Story comes from Jackie Harbour, Michigan Gamma.
I am so incredibly thankful to be a Pi Phi and what Pi Phi has given me – especially as of late. Last spring, my husband graduated from the MBA program at University of California Berkeley and received an amazing job opportunity. At the time we lived in the San Francisco Bay Area where we had careers, family, friends and my Alumnae Advisory Committee (AAC) role – it was our home. The new job was located in Seattle, Washington so we were faced with a difficult decision. One of my first thoughts was, "What about California Beta and AAC?" My husband, knowing how much my involvement meant to me, asked if they would let me do it remotely. Thankfully, after talking with my Regional team, I was allowed to continue in the Chair position from Seattle. This connection to my friends on AAC, the chapter members, and the area has helped with the transition to a new city.
The second way Pi Phi has recently helped me was with my own job search with the relocation. I used the move to pivot my career and pursue my true passion – wedding planning. I became a Certified Wedding Planner a few years ago but was nervous to make the leap from a stable, secure, and comfortable job. Shortly before we moved, I quit my job and we relocated to Seattle. Wedding and Event planning is a completely different world than I was used to and it took some time to craft a plan of break in. I made a list of wedding planners in the area who showed talent and similar personalities and styles through their portfolios. I planned to reach out to some and pick their brain on how they started and any advice they had for new wedding planners in a new city. To narrow this down the list, I thought about potential shared connections and life experiences that could help the introduction and Pi Phi came to mind. A simple search of "Seattle Wedding Planner, Pi Beta Phi" in Google lead me to Katie, and even better she was on my list of admired local planners. I emailed her – letting her know how I found her and our connection, how much I enjoyed her work, and asked if she had anytime to meet for coffee. To my surprise, she emailed me back quickly saying that she'd love to meet and help a fellow Pi Phi! Our coffee chat was wonderful and we instantly connected like old friends. We got along so well that during the chat, she offered me a opportunity to work with her for the wedding season as an apprentice and share her knowledge and connections. I couldn't believe it – learning the industry, making connections with vendors, working weddings – it was more than I anticipated from a simple coffee chat and it was all thanks to Pi Phi.
Thank you Pi Phi, Region 8, the California Beta chapter, California Beta AAC and Katie for making my move and life in a new city a wonderful one.