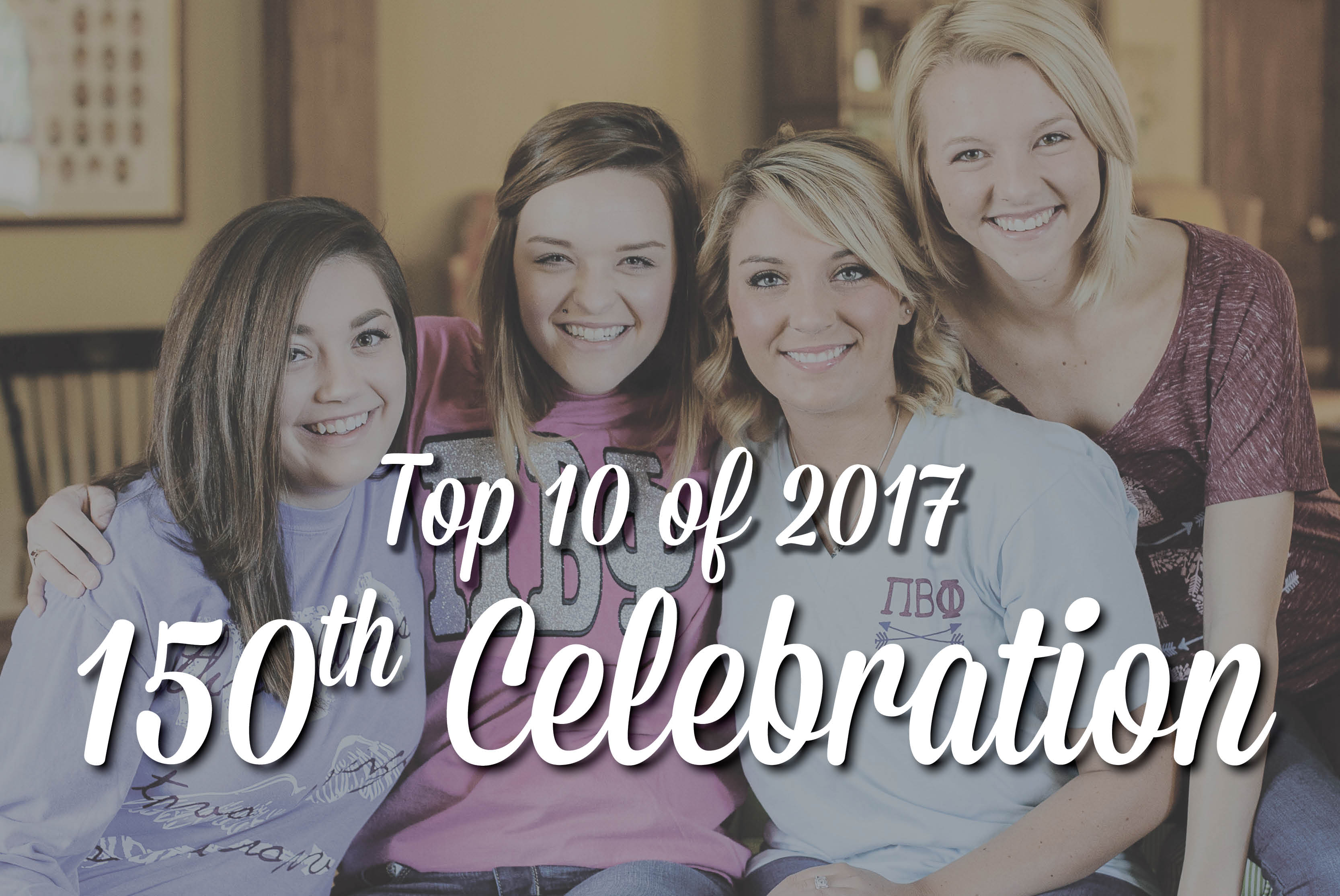 As this special 150th year comes to a close, enjoy a recap of our Top 10 moments of the 150th celebration. It's not everyday that you celebrate 150 years of sisterhood. Thanks to the many alumnae, collegians, friends, Fraternity Officers and Headquarters staff who helped make this a year to remember. It was truly one for the books!
10. Raising $120,018.67 on Pi Phi Giving Day
Pi Phi Giving Day 2017 was also a great success. On April 28, 1,390 donors came together to raise $126,618.67 in honor of our founding. Hundreds of Pi Phi sisters and friends shared their love for our sisterhood on social media, encouraging participation and posting photos using #PiPhiGivingDay. Thank you to all who honored Pi Beta Phi's 150-year legacy with your gift. The Foundation can't wait to put these dollars to work in Pi Phi leadership training, academic scholarships, literacy efforts and much more!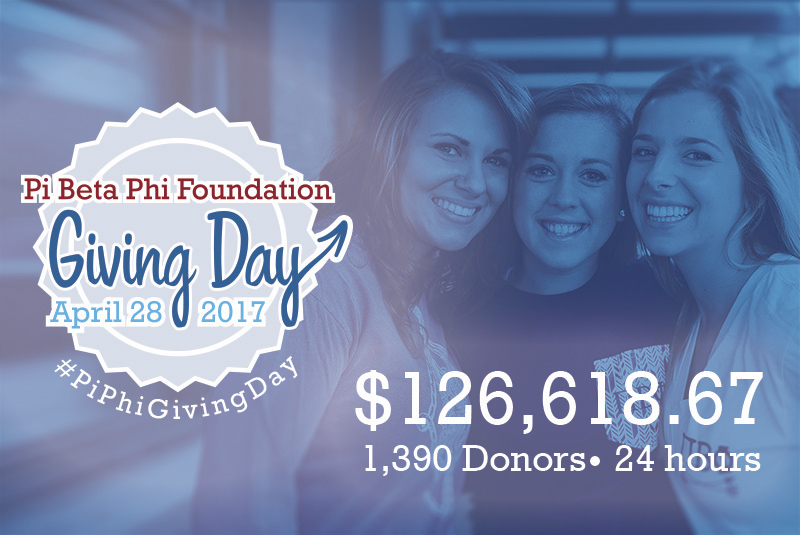 9. Launching SHINE THROUGH, Pi Phi's Largest Philanthropic Effort to Date
At the 2017 St. Louis Convention, Pi Beta Phi Foundation launched the largest-ever Pi Phi philanthropic effort: a campaign to raise $28 million to sustain the future of our beloved organization. Inspired by the Latin word at the center of the Pi Beta Phi crest, "lux," meaning light, the SHINE THROUGH campaign calls all Pi Phis to have an endless impact on our sisterhood. As Pi Phis, we have so much of which to be proud. And yet, our greatest opportunities still lie ahead. The challenges our sisters face today have never been more complex or more pressing — or more shared. Our founders' vision hasn't changed, but the resources needed to reach it have. With your support, Pi Beta Phi Foundation will address the ever-evolving needs of our sisters and society as we strive to achieve Pi Phi's largest philanthropic endeavor to date. For more information, visit www.pibetaphifoundation.org/campaign.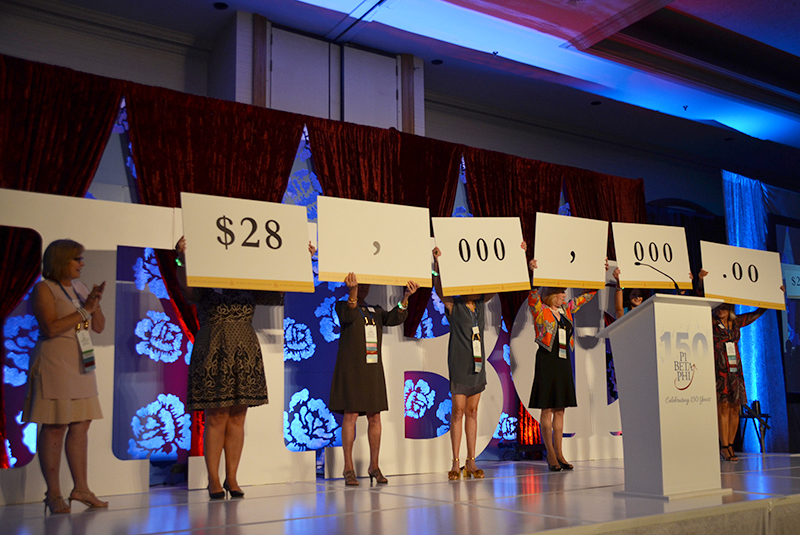 8. State of Pi Beta Phi Address
At the 2017 St. Louis Convention, Grand President Paula Pace Shepherd, Texas Epsilon; Foundation Board of Trustees President Beth Seidelhuber Sordi, California Kappa; and Fraternity Housing Corporation Board of Directors President Lisa Gamel Scott, Colorado Alpha; delivered the State of the Organization address to the convention body. The women not only provided a by-the-numbers summary of Pi Phi's big wins this last biennium, but they also shared inspiring stories, celebrated the importance of Pi Beta Phi's 150 birthday and provided information on the fraternity and sorority community landscape of today. Convention affords the membership a unique opportunity to hear a joint message from all three entity Presidents. After all, we are one Pi Beta Phi.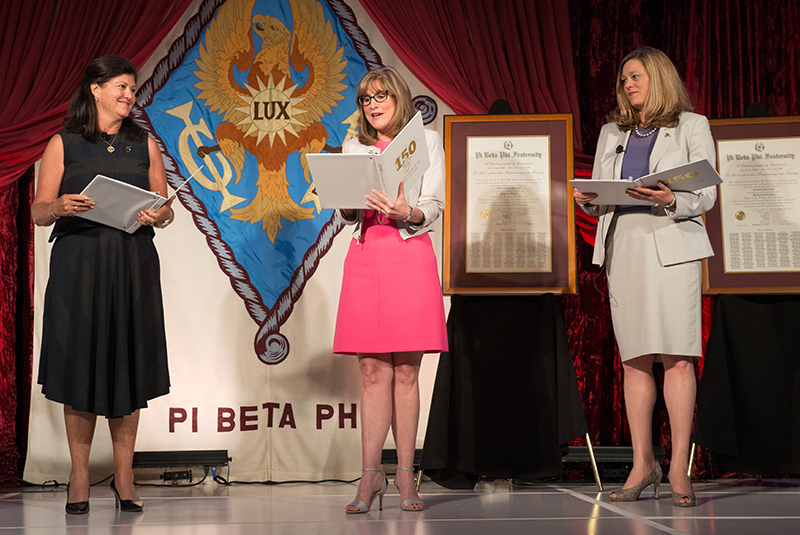 7. Distributing 40,000 New Books at Convention
At the 2017 St. Louis Convention, we distributed 40,000 new books to St. Louis area schools, after-school programs and community programs serving students from low-income families and Title I schools. During the distribution, Pi Phis from across the country wore "I Am One" T-shirts to signify our army of Pi Phi volunteers as literacy advocates. The women helped lift, carry and sort books and facilitate interactive children's activities including story time. The Fraternity also hosted a Walk for Read > Lead > Achieve as an advocacy effort for the importance of literacy. Rep. Dean Plocher, R-Des Peres was in attendance and spoke about how reading transforms individuals. Also in attendance was a representative from Mayor Lyda Krewson's office.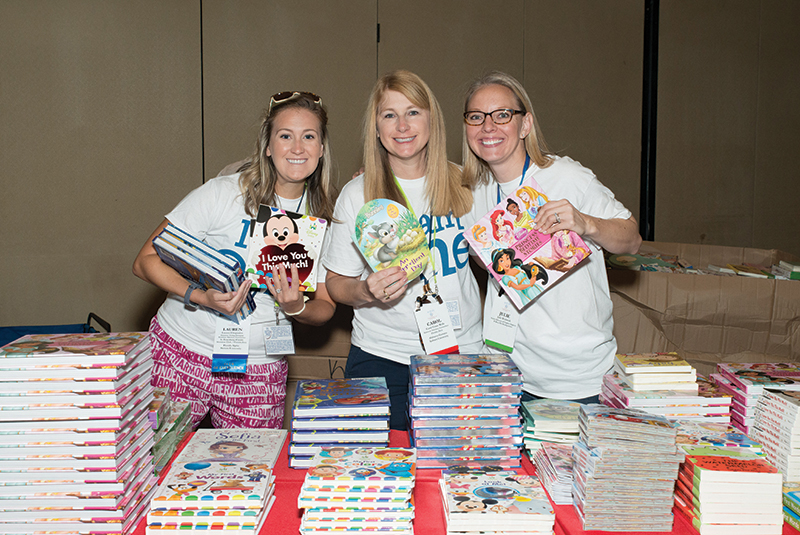 6. Initiating Our 300,000th Member
Our 300,000th initiated member was Illinois Zeta Julia Paoli! Julia is a freshman and serves on the Resident Board for her residence hall, planning events and celebrations. She's also a Pi Phi legacy! Her older sister is Illinois Zeta Sarah Paoli and her aunt is Illinois Zeta Gail Paoli Greene. Julia loves Pi Beta Phi because all her sisters are genuine and she's excited to help make a difference in children's lives through Read > Lead > Achieve. The Fraternity presented Julia with wine carnations and a special heritage badge donated by Illinois Zeta Jane Hayes Rader, a member of the Southern Illinois Alumnae Club. Jane has served the University of Illinois in many roles and is active in the Illinois Alumni Association.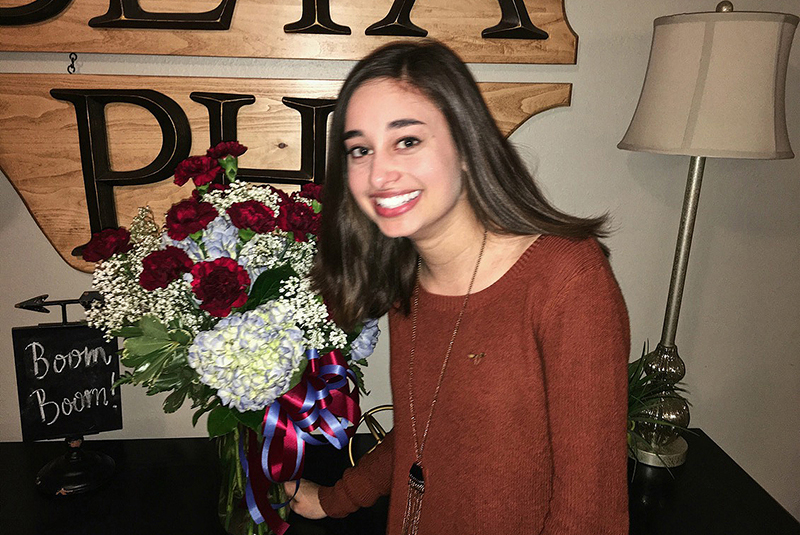 5. Launching the Historical Website
150 years of Pi Beta Phi sisterhood is now just one click away! Pi Beta Phi was pleased to launch its historical website commemorating the 150th anniversary. Visit history.pibetaphi.org to see an interactive timeline, search The Arrow archive and read about some of the most memorable aspects of the Fraternity. Each chapter and alumnae club also has its own page where members submitted chapter and club histories.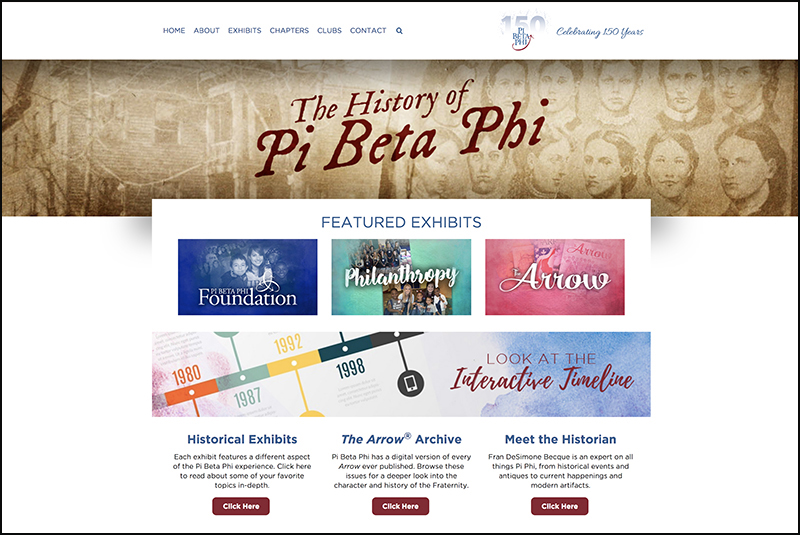 4. Creating the Commemorative Arrow
We celebrated 150 years of Pi Beta Phi sisterhood with a special, 80-page commemorative edition of The Arrow. The magazine featured rare photographs and letters from the archives and is a must-have keepsake for any Pi Phi. The magazine was mailed to all members and arrived in mailboxes this past April. Thank you to the Pi Beta Phi volunteers and members of the Headquarters staff who put in many hours of hard work on this special edition of The Arrow. A special thank you is extended to Fraternity Archivist and Historian Fran Desimone Becque, New York Alpha. Without her expertise, advice and patience, this issue would not have been possible.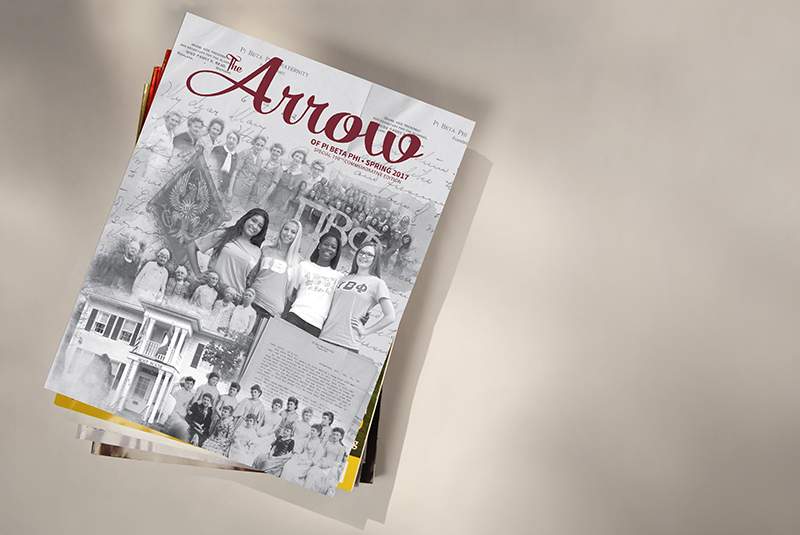 3. Ring Ching Roadshow
Would our 12 founders have guessed their vision lives on today through more than 200,000 Pi Phis worldwide? To celebrate our sisterhood, we spent the past two years on the road, gathering stories from coast to coast. The Ring Ching Roadshow visited sisters, chapters and alumnae clubs across North America. Libbie, the Ring Ching Roadshow car, attended Pi Phi celebrations like Cookie Shines, football games, sisterhood dinners, literacy advocacy events and more. We shared Libbie's adventures at www.ringchingroadshow.org and on Facebook, Twitter and Instagram. Now you can enjoy the stories gathered on the road here on "To The Point." Just click the "Ring Ching Roadshow" tab on the homepage of piphiblog.org.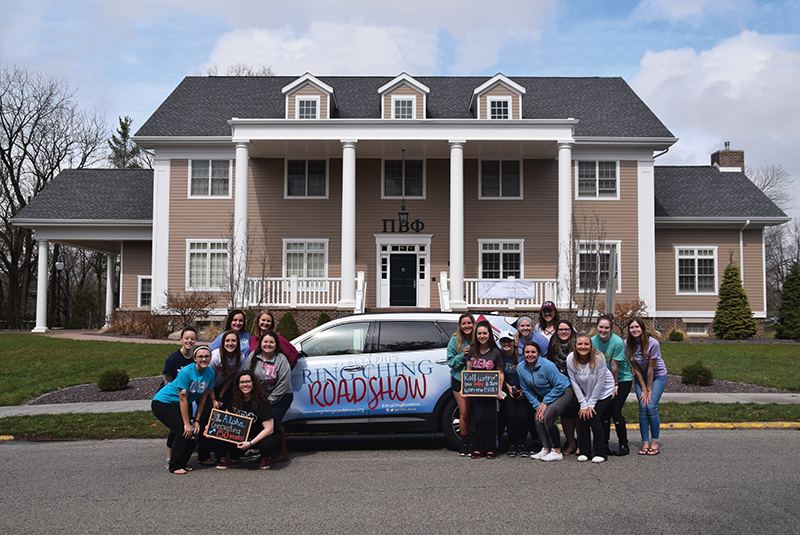 2. Dinner by Chapter and 150th Celebration at Convention
More than 1,400 Pi Phis came together at the Scottrade Center for Dinner by Chapter at the 2017 St. Louis Convention, a huge birthday celebration commemorating the Fraternity's anniversary milestone. Guests were welcomed in style; women entered via a red carpet walkway and Grand Council members arrived by motorcade. Members mingled and milled about, snapping selfies in front of the large 150 display outside of the arena. Once inside, Pi Phis participated in a much beloved tradition: the Banner Parade. Following the banner parade, guests dined on a delicious meal and were treated to entertainment acts including a stilt walker, hoola hoop performers and a juggler. The birthday celebration ended with a full marching band that performed a few upbeat songs and the singing of "Happy Birthday" and birthday cake for all.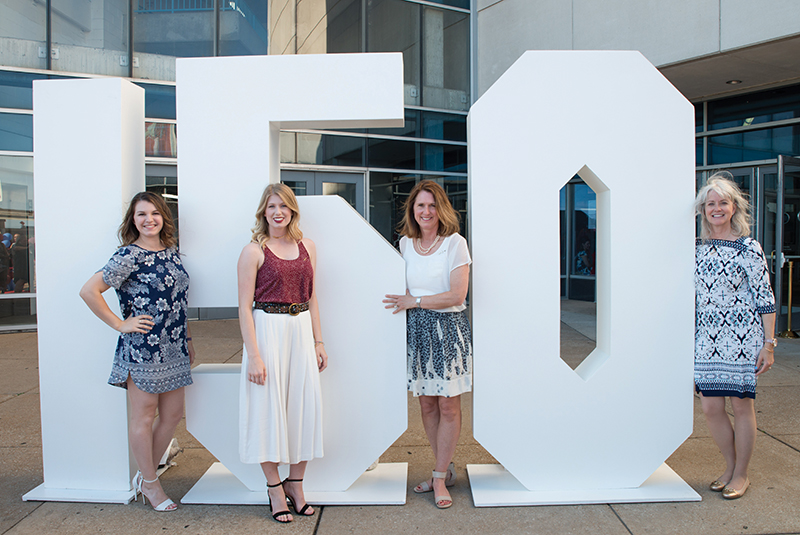 1. 150th Founders' Day Festivities
This year on Founders' Day, we celebrated our 150th anniversary with sisters around the world. Grand Council celebrated Founders' Day at Pi Beta Phi Headquarters. Grand President Paula Pace Shepherd, Texas Epsilon, gave a special address via Facebook Live. The address culminated with a wine and silver blue balloon drop and 150th birthday cake presentation. The cake was decorated with silver blue frosting, golden arrows and wine carnations. More than 50,000 people watched the Facebook Live address and there were nearly 20,000 comments, likes and shares on Pi Beta Phi's social media pages on April 28, 2017. Numerous posts used #PiPhi150 to help share and celebrate our milestone anniversary.