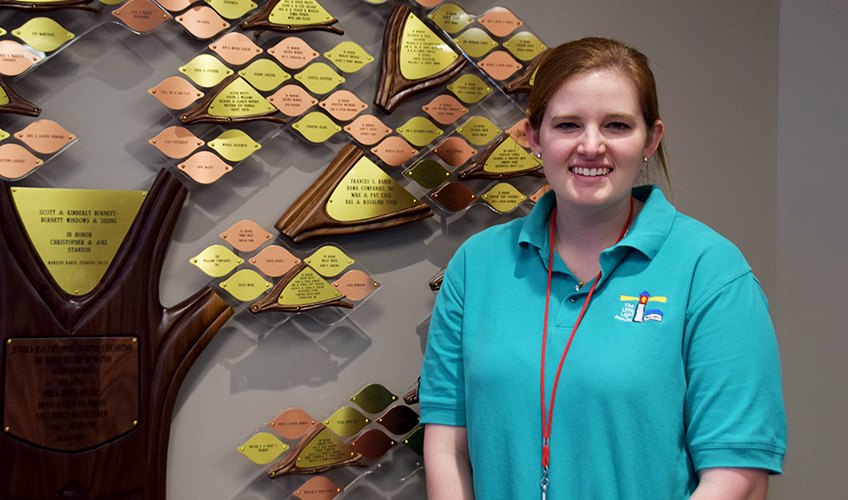 The Tulsa, Oklahoma Alumnae Club held their annual luncheon to honor Diamond, Golden and Silver Arrows at the Little Light House (LLH) facility in town. But the connection between LLH and Pi Beta Phi goes much deeper than the annual event. According to its website, Missouri Gamma Marcia Mitchell and her husband, Phil, were searching for a service that could help their daughter with special needs in early life learning. When they could not find a service in the Tulsa area, they embarked on a journey to develop a special program for children, thus they opened the Little Light House.
The LLH's mission is "to glorify God by improving the quality of life for children with special needs, their families, and their communities." I was thrilled to learn there are a number of Pi Phi sisters who work in this facility. One of the outstanding teachers I met during my visit was Purple Class Teacher Kimberley Carter Hechtner, Oklahoma Beta.
Kimberley learned about LLH from fellow Oklahoma Beta Lauren Uhlenhop Gebhard, who moved to Tulsa to start a speech pathology masters program. The two women met at Oklahoma State University when they worked as home teachers for Oklahoma Beta Pam Knox Carpenter's son, who has autism. They shared a passion for working with children with disabilities. Lauren mentioned LLH on social media, which intrigued Kimberley, so she contacted Lauren for more information. In June 2014, just two weeks after graduation, Kimberley moved to Tulsa to work on the Educational Service Team.
Kimberley is currently the Purple Class Lead Teacher. In the Purple Class, they are focused on preschool readiness, so Kimberley works primarily with three to six year old students in classes of up to 12 children. Kimberley's teaching plan includes pre-reading skills, pre-writing and pre-math. Additionally, she helps her students with life skills like figuring what a new classroom environment may look like as they go from one classroom to another, greeting and welcoming others and telling information about themselves.
"Some days I am overwhelmed at how much I want to give my kids," Kimberley said. "But then I think about God's mission for my life and the school. God wants to change their lives and use me to teach them … but they have taught me way more than I taught them." Whether it is utilizing tracing to strengthen a student's eye control to playing pretend to help a student reach social goals, Kimberley strives to prepare her students the best she can. But she does not do it alone. Kimberley praised the amazing team of therapists, speech pathologists and associates she works with at LLH.