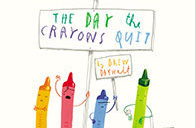 As the holidays approach, the idea of buying gifts for ALL your family and friends can be overwhelming. Who will like what? We think that giving books is always in style and our amazing staff here at Headquarters has put together a list of their favorite books that also make great gifts! There's something for everyone on this list and we hope you find some inspiration from our suggestions. Happy Holidays!
Children's Books
Caroline Majers, Indiana Epsilon
FHC Housing Director
Favorite Book: The Little Mouse, the Red Ripe Strawberry, and the Big Hungry Bear by Don and Audrey Wood
Why: It was the first book I learned to read on my own – In first grade I had to read it out loud in front of the rest of the class (although I may have read it so much I memorized it).
It makes a great gift because: it's a fun children's book!
Janet Miller
Operations Manager
Favorite Book: Charlotte's Web by E.B. White
Why: In third grade, our teacher would read a few pages a day to us. I will never forget how exciting it was to be read to, it was better than watching it on TV. I remember connecting to Charlotte and Wilbur's friendship and felt I was their friend, too. The story of the two will have you laughing and crying.
It makes a great gift for: third graders to read as well as any age to be read to.
Jenny Whittom Schmidt, Missouri Gamma
Assistant Director of Marketing and Communications
Favorite Book: The True Story of the Three Little Pigs by Jon Scieszka
Why: It's a great twist on a classic — the story of the three little pigs from the wolf's perspective.
It makes a great gift for: first through third graders.
Favorite Book: Hooray for Diffendoofer Day by Dr. Seuss, Jack Prelutsky and Lane Smith
Why: It shows us that education doesn't have to fit a mold.
It makes a great gift for: any child, teacher, parent, even a goofy aunt/grandma who lets the kids get dirty when she babysits.
Emily Baumann Kohlberg, Missouri Gamma
Human Resources Director
Favorite Book: Wild About You by Judy Sierra
Why: I love this book because I'm making memories reading it with my kids and I love the lesson it shares about the importance of family (of all kinds).
It makes a great gift for: a family expecting a baby (or the family hoping to have a baby someday). It shares a great message about loving your blessings, whether or not it's what you expected.
Bree Melton, Virginia Theta
Literacy Coordinator
Favorite Book: Shark vs. Train by Chris Barton
Why: This is an imaginative, energetic, and hilarious picture book.
It makes a great gift for: your preschooler or kindergartener as a read-aloud book or for grownups with a good sense of humor!
Jordan Aschwege
Multimedia Designer
Favorite Book: The Last Basselope by Berkeley Breathed
Why: Growing up, it was one of my favorite books to have my parents read me before I went to sleep. The story was creative, the characters were fun and unique, and it beautifully illustrated. It stars Opus the Penguin (you might remember him – maybe not by name, but certainly by appearance) as he and his friends go on a trek to find the thought-to-be-mythical Basselope – a basset hound with blue antlers.
It makes a great gift for: any child with a vivid and wild imagination.
Eily Cummings
Marketing and Communications Director
Favorite Book: The Day the Crayons Quit by Drew Daywalt
Why: This is a favorite in our house. The book is funny and educational with a positive message to boot.
It makes a great gift for: children ages 2-7. Who doesn't love a new book?
Janelle Schroeder, California Mu
Electronic Media Manager

Favorite Book: Eloise: A Book for Precocious Grown Ups by Kay Thompson
Why: It's all about a little girl with a HUGE imagination who grew up in the Plaza Hotel in New York City. It's hilarious, even to read as an adult.
It makes a great gift for: little girls with big imaginations.
Adult Books
Katie Jackson
Communications Specialist
Favorite Book: Is Everybody Hanging Out Without Me (And Other Concerns) by Mindy Kaling
Why: This is one of my favorite books because it's funny, relatable and so easy to read. Since I bought it I've read it twice. Mindy is funny, witty and insightful. Her stories are interesting as they offer a glimpse into the personal and very real life of a celebrity.
It makes a great gift for: the 20-something female in your life, someone who's finding her way or someone who just loves celebrity memoirs!
Jill Pampel
Pi Beta Phi Foundation Marketing and Communication Director
Favorite Book: Animal, Vegetable, Miracle by Barbara Kingsolver
Why: I loved this book because it was part narrative and part investigation. The author tells the story of how she and her family learned to live off of food ONLY raised in their own neighborhood or grown at their home.
It makes a great gift for: foodies! I'd recommend it for anyone interested in learning more about agriculture, home-growing your own food and sustainability.
Kristen Massey, Illinois Iota
Alumnae Services and Programming Coordinator
Favorite Book: The Likeness by Tana French
Why: This book is a murder mystery that I couldn't put down. The plot is suspenseful, has very interesting characters, and a perfect ending.
It makes a great gift for: someone who loves a good suspense or crime mystery. The author has several other books that are just as good, too!
Gabbie Rimmaudo
Event Coordinator and New Chapter Support
Favorite Book: Bossypants by Tina Fey
Why: Tina Fey is absolutely hilarious! Hearing stories about her life from college, to her time on Saturday Night Live to present day really provides insight into how determined and strong she is as a female comedian and writer. Tina Fey is relatable in this autobiography!
It makes a great gift for: any woman in your life who just needs a good laugh and some inspiration! She boosted my confidence reading this book.
Maggie Skeffington, Indiana Gamma
Recruitment and Collegiate Support Coordinator
Favorite Book: The Great Gatsby by F. Scott Fitzgerald
Why: You may have been required to read this book in high school, but don't be afraid to give it another shot! Fitzgerald's beautifully written social commentary on the American dream will transport you back to 1920s New England, a glamorous era of debauchery and desire for the finest things in life. You'll fall in love, uncover a mystery, and question your loyalty in this 180-page work of fiction!
It makes a great gift for: everyone! It's a classic, quick read with a message that resonates in any era.