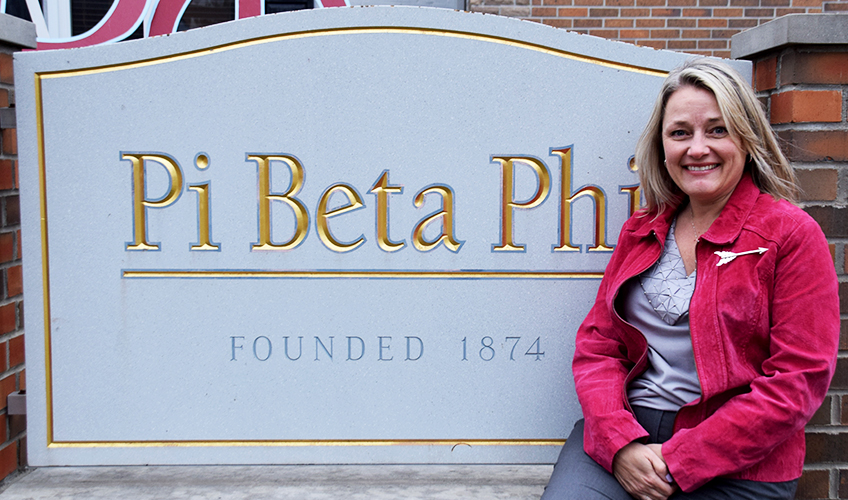 Iowa Gamma Ann Wear Wiley's involvement did not end after her four years in college. She served the Fraternity as a Traveling Graduate Consultant (now Leadership and Development Consultant). After that, Ann joined the Iowa Eta Alumnae Advisory Committee (AAC) and has currently serves on Iowa Beta's AAC for the last five years. But the best gift she has given to Pi Phi, is her daughter Iowa Gamma Elissa Wiley.
Elissa joined Iowa Gamma in 2011, and Ann was thrilled for the opportunity to share the sisterhood with her daughter. They talk about the core values, which frequently come up in conversation about life. They discuss the Pi Phi Creed and often wink at each other when they hear a phrase special to the Fraternity. As expected, they have a huge collection of arrows — clothing and jewelry included. The two have matching carnation rings, showing the Fraternity's flower. Each have arrow rings and Ann gave Elissa her badge to wear.
When the family moved Elissa into the chapter house, Ann could not help, but giggle because her daughter was assigned the same bed in the cold air room that she had many years ago. Ann recalled the joy filled moments she spent in the same house. It means so much to have that tight bond between mother and daughter. "It just is special," Ann said.
Ann has seen her daughter create special bonds with her own sisters and knows the most special thing about Pi Phi are the relationships between women. Ann met her best friend Iowa Alpha Laurie Hoskins, while both serving on Iowa Eta's AAC. They are both still friends serving on Iowa Beta's AAC and are involved in the alumnae club together.
When Ann served as a consultant, it was the relationship with her supervising council member Pennsylvania Beta Jean Wirth Scott. She calls Jean "an icon in my life." "I think so much of her and her guidance, advice and support during the years [I was] breathing Pi Phi every day," Ann said.
For Ann nothing is more important in our lives than relationships we have with people. She is thankful that Pi Phi values the connections between members. She is especially appreciative of alumnae and volunteers who are the backbones of the organization. Those who volunteer their time are critical to make Pi Phi better and are amazing examples of modeling lifelong membership.