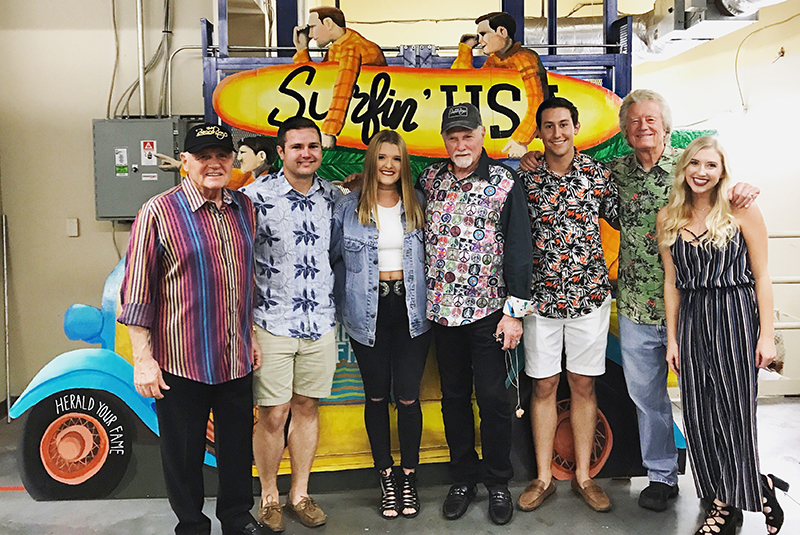 This year, homecoming for the Oklahoma Beta Chapter at Oklahoma State University (OSU) was bigger and better than ever. The overall theme for the University was "Herald Your Fame," a snippet of our alma mater song. Fraternity and sorority pairings were encouraged to choose their own sub-theme that reflected "fame" in some way. As a result, our chapter's homecoming directors chose "Surfin' USA" as a way to embody the Beach Boys. They wanted a unique theme that would invoke happiness and nostalgia for all that saw our deck. The Beach Boys are one of the most iconic groups of all time and our directors felt they were exactly what our house decoration wanted to embody.
For homecoming week, each group participates in a house decoration, a harvest carnival booth and a sign competition. The house decoration is the largest and most time-consuming project. Our chapter, paired with the men of Farmhouse, "pomped" (pushed tiny squares of tissue paper through chicken wire in a pattern) for six weeks leading up to homecoming. Every member spent long hours in the pomping room to complete our project together. This is where some of our fondest homecoming memories were made. Our house decoration won second place overall. It featured Pistol Pete (OSU's mascot) surfing on a wave where water actually cycled through our decoration. We were so proud of this accomplishment. Personally, it was one of the most rewarding experiences I've had in college.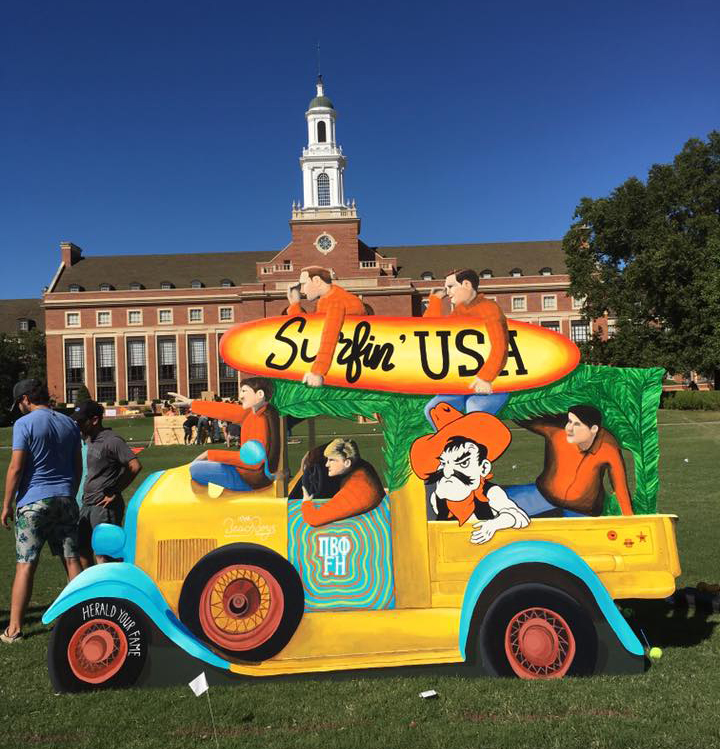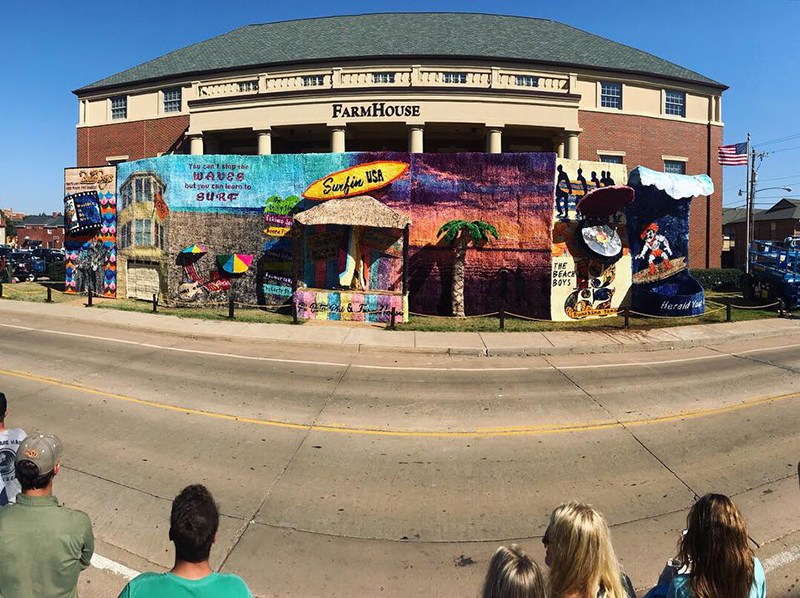 Part of our decorations included a "Surfin' USA" sign, which took about two weeks to make. It is inspired by one of the Beach Boys most famous album covers with Pistol Pete in the background. A small team worked tirelessly to finish the sign which was then displayed on Library Lawn on campus. It was the sign that caught the eye of the Beach Boys themselves. I learned about the band's interest through a text message from one of the producer's sons, Garrett. He sent me the text below on the day of homecoming.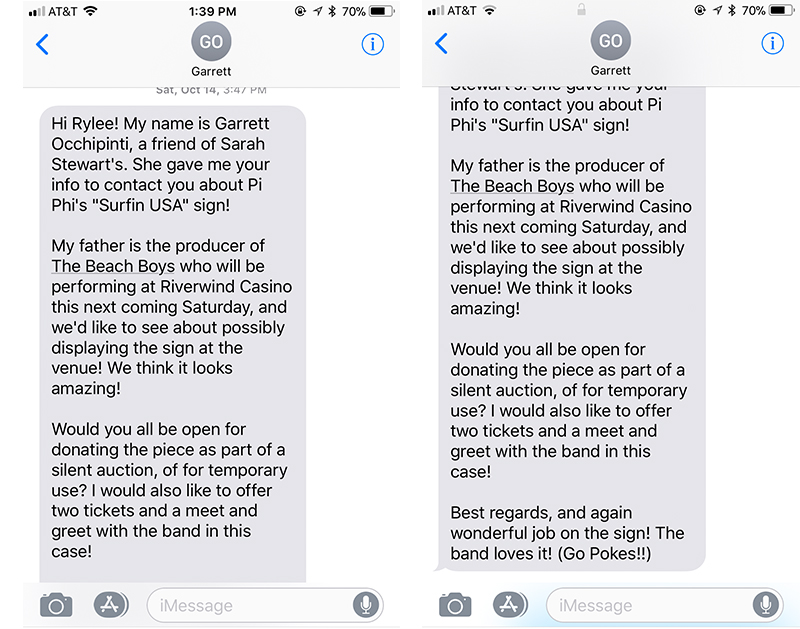 When I received the text, we had just received word at halftime of the football game our chapter placed second in house decoration and third overall. We were so proud and overjoyed! Then, the text arrived and I immediately called our head director and yelled into the phone, "THE BEACH BOYS SAW OUR SIGN. THEY WANT TO GIVE US MEET AND GREET TICKETS!" She was shocked and we both laughed at how wonderful of an end to homecoming this was. I kept in contact with the producer's son and asked him for four total tickets to honor more of our directors. The concert was the following weekend.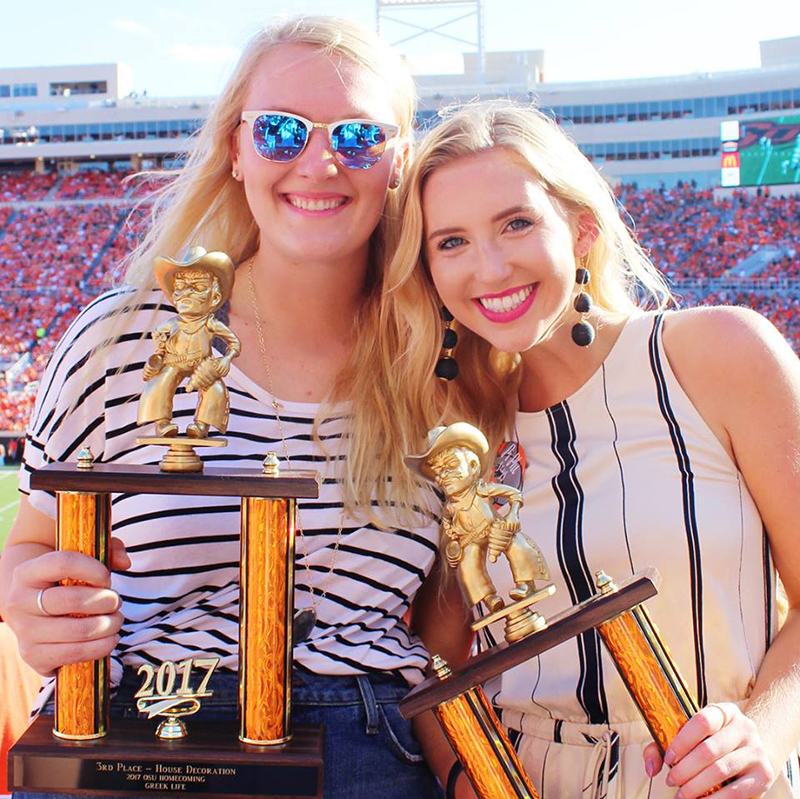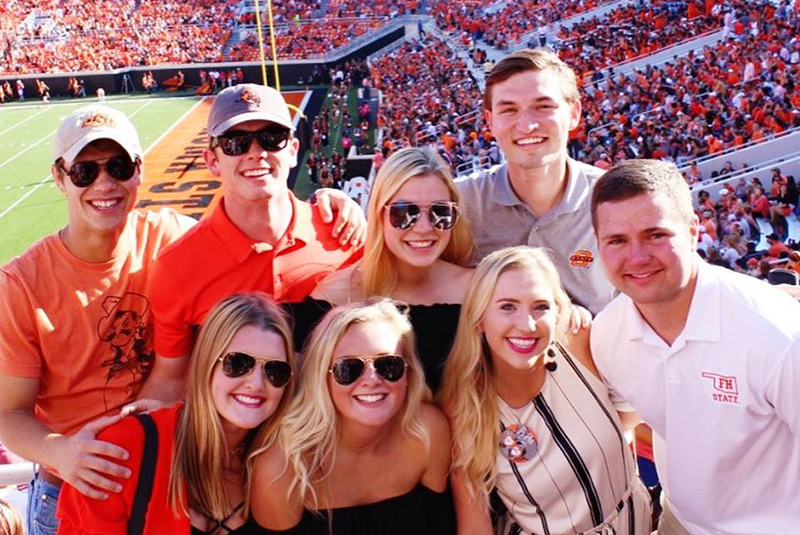 The four directors transported the sign to the Beach Boys concert. Crazy enough, this is the same night that a tornado ripped through southern Oklahoma. The casino where the concert was held had rain pour through the roof. Not kidding! It forced an evacuation! Our directors survived the tornado in a basement WITH the Beach Boys. It was memorable to say the least and they LOVED their time with the group. They were so friendly and complimentary of the sign. It truly was the perfect ending to homecoming.
We also enjoyed our homecoming experience because the men of FarmHouse are some of the kindest men we have had the opportunity to work with. We would not have been nearly as successful without their creativity and hard work. And it was truly a group effort. Our entire chapter worked together to finish our house decoration. At one point, we made a goal for our chapter to complete 800 pomping hours in one week to get on track with finishing. We completed the goal in the last 10 minutes. Memories like that got everyone together for a common purpose and felt so good to accomplish. Pomping sounds silly but it actually ends up being a wonderful opportunity to get time with someone you may normally not see. Whenever time was up for our decoration to be completed, hundreds of girls from our chapter stood on the other side of the street and cheered and hugged. We would've been proud of the work we did during homecoming even if we did not place at all.
The blog post is courtesy of Oklahoma Beta Chapter President Rylee Pittman.