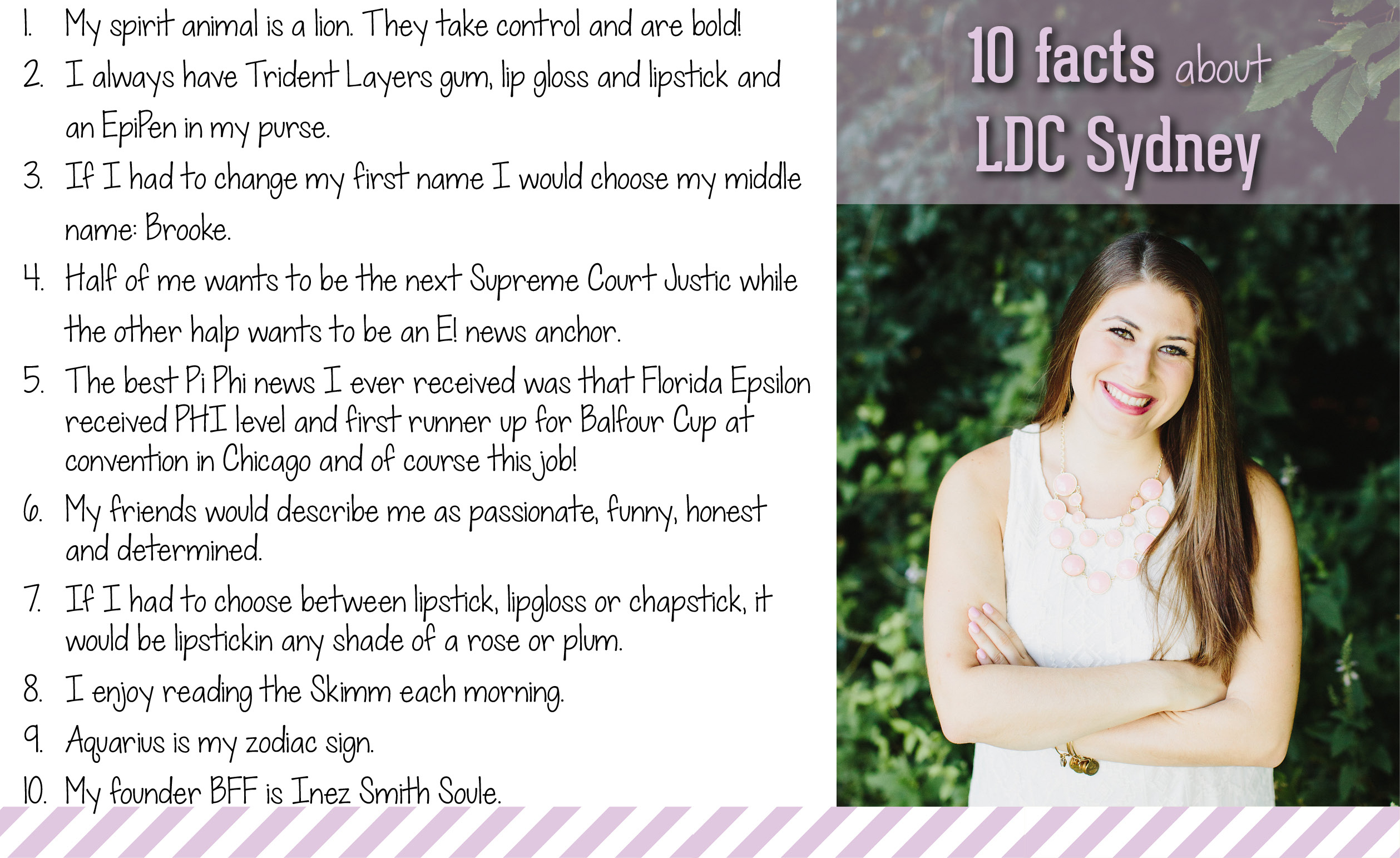 This post is courtesy of Florida Epsilon Sydney Alexander, Resident Leadership Development Consultant.
The mission of most organizations is to ensure the sorority experience develops its members during their undergraduate years. In Pi Beta Phi's mission statement, it states that Pi Beta Phi aims to "promote friendship, develop women of intellect and integrity, and cultivate leadership potential." What most people do not see is how the sorority experience benefits not only the members, but the campus that it is a part of. As Pi Beta Phi accomplishes its mission, the college campus is positively affected.
Due to media headlines that tend to highlight negative stories, and movies that illustrate untrue, stereotypical experiences, many college campuses are having discussions as to why Greek life should remain on their college campus. If your campus administrators, parents or members of the community ask why your organization should still exist on your college campus today, I have just the answer for you.
Sororities positively impact campuses by…
Promoting campus involvement: The sorority experience encourages involvement within the chapter, but most importantly on the college campus. An average Executive Council is made up of about eight to ten individuals and chapters are much bigger than that. Whether it is student government, dance marathon, orientation leaders or campus ambassadors chapters encourage their members to join other organizations outside of their sorority and to use the leadership skills they have learned within the organization to better their community.
Creating a sense of belonging: After going through the formal recruitment process, a woman is given a bid into a sisterhood of women with similar interested and values. Sorority women over the course of their undergraduate years find a home away from home on their campus and in their chapter due to the lifelong friendships they have made. Women are more likely to stay at the university because of the relationships they have made during their sorority experience.
Committing to academic success: On most college campuses, the average GPA for a member in the Greek community exceeds the average college student. Organizations set standards and have ways to assist members who do not meet those expectations. Therefore, the sorority holds their members accountable and provides resources to ensure they are excelling inside of the classroom.
Generating mentorship opportunities: I do not mean just the Big/Little relationship. Chapters typically have representation from every class at the university. This diversity typically serves the university as a way to help with a smooth transition into college life. Membership offers tutoring for those younger members who are struggling, finding members who are in organizations that others want to be a part of and members that are in the same major that demonstrate how to succeed.
Providing community service: Every organization has a philanthropy, and each chapter is expected to raise money or awareness for the cause it supports. The money raised may not directly benefit the university, but as students of the university they are representing it well by holding large scale community events on or around the campus community. Most chapters or Panhellenic councils set a certain amount of hours of community service that chapter members have to complete each semester. From Adopt-A-Street, going into local schools and reading to children, to serving the homeless, the community can see that the sorority experience promotes service to others.
Increasing graduation rates: A study in The Journal of Behavioral and Experimental Economics published that "four-year graduation rates are notably higher for Greek members than non-members." If you take each of the points above, it leads to members of a sorority finding mentors, friends, campus organizations and a community to stay apart of.
Members benefit from the sorority experience just like the campus benefits from having each chapter a part of its community. It is a mutually beneficial relationship that sometimes is easy to forget when the positive stories rarely make headline news. Each organization may have different letters, philanthropies or ritual, but the experience on each campus is similar and the impact each organization has on the campus is just as valuable as the impact it has on its members.