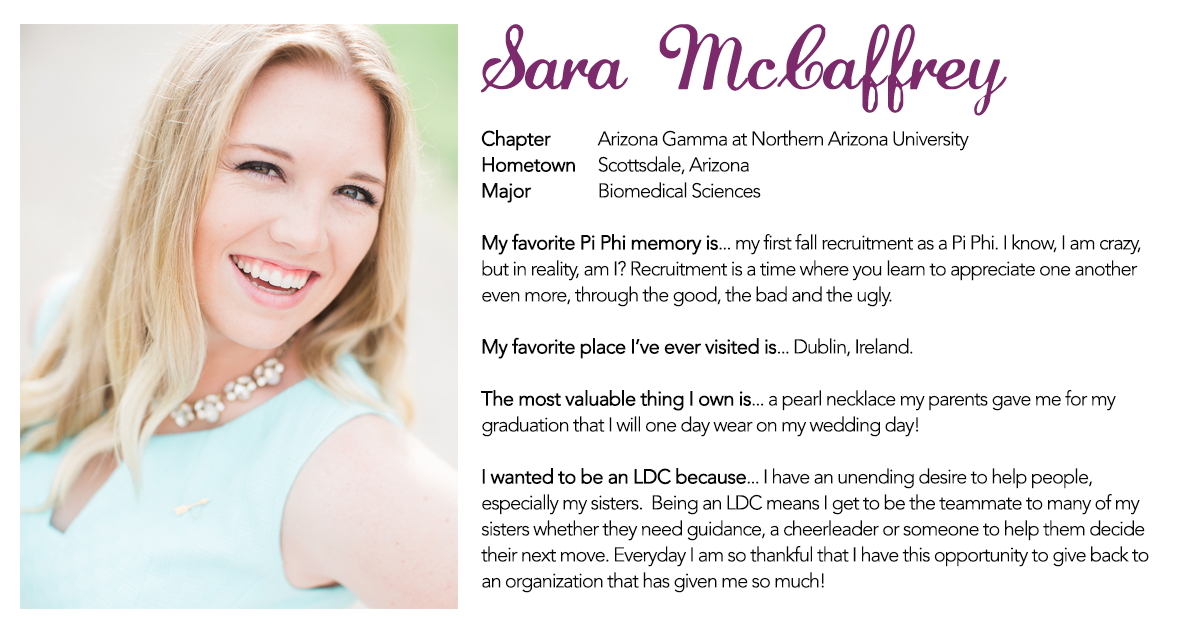 This post is courtesy of Arizona Gamma Sara McCaffrey, Resident Leadership Development Consultant.

Hi All! My name is Sara McCaffrey and I want to give you a peak into my life as a Resident Leadership Development Consultant (RLDC). Currently I work with the women of Chapman University Pi Beta Phi.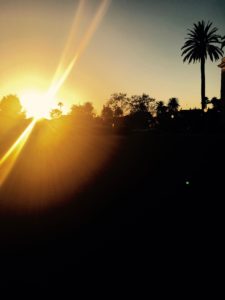 8:00 a.m. – I wake up to the lovely sound of my iPhone playing an "upbeat" tune. Then, I need to turn on my Keurig not because I necessarily need coffee but I am in love with the taste! After I make a small breakfast I get ready for my day.
10:30 a.m. – In order to find parking in California, especially near a university, you MUST leave early.
11:10 a.m. – Finally, parking!! And it is close to campus? …  This is going to be a good day! Don't get me wrong though … I enjoy when I have to walk so I can get extra steps in to crush my co-workers in our weekly FitBit competitions.
11:15 a.m. – I try to find a seat at the only Starbucks on campus, which you can imagine is nuts!
12:00 p.m. – My first meeting is done! Elections are coming up and meeting with Leadership and Nominating Committee (LNC) Chair, Amanda is important! I have a little time in between my meetings so I hop over to the Piazza, which is the main community space on the Chapman campus. In the Piazza the women are tabling for "Pi Phi Parlour" which is a weeklong fundraising event leading up to a give back day with a local ice cream and soda shop! Who can turn down a waffle cone with a fresh vanilla bean scoop??
1:00 p.m. – I head back over to Starbucks to meet with a few more members to discuss plans for events such as a Cookie Shine, finance presentations and of course, recruitment!
5:30 p.m. – I head back to my car and go home to my apartment. The complex has an awesome gym and it is nice to be able come home and focus on my physical health.
7:00pm – The whole time I was at the gym I was thinking about food, so the first thing I do when I get back is make a delicious [healthy] dinner. During dinner I check my email and work on my reports and any other update material. I am a busy bee and I like to do things like this while I eat!
After I clean up my dishes I take some time for myself and indulge in an episode or two of Gilmore Girls because who doesn't want to re-watch a classic?
I'm so excited to see what tomorrow has in store for me … Goodnight!
XOXO,
Sara McCaffrey