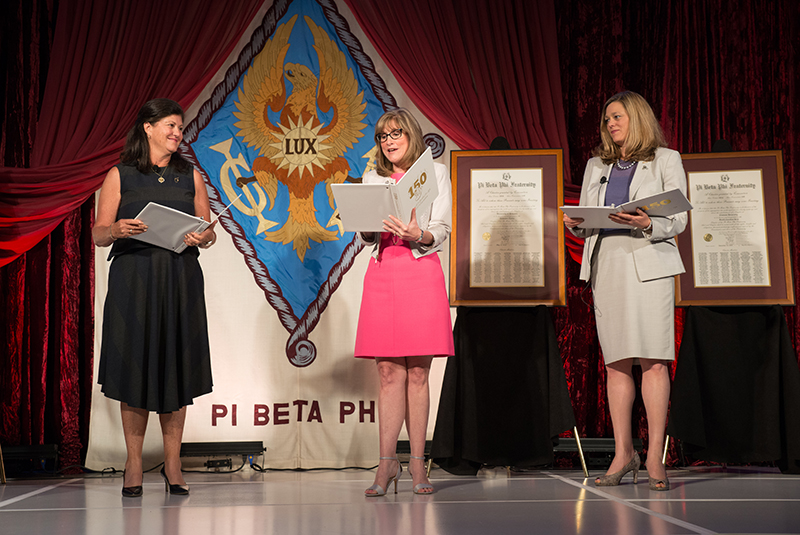 At the 2017 Convention in St. Louis, Grand President Paula Pace Shepherd, Texas Epsilon; Foundation Board of Trustees President Beth Seidelhuber Sordi, California Kappa; and Fraternity Housing Corporation Board of Directors President Lisa Gamel Scott, Colorado Alpha; delivered the State of the Organization address to the convention body. This is how it unfolded …
INTRODUCTION
Paula
So much of our work over the past biennium has been leading to this event. I still can't believe it's finally here. With all the planning and preparations for this celebration, you may have thought other parts of the Fraternity's business slowed down … but quite the opposite! Volunteers and staff and have been working together to execute the Fraternity's strategic plan. There continues to be much collaboration between the three Pi Beta Phi entities: Fraternity, Foundation and Fraternity Housing Corporation.
Over this biennium we have celebrated milestones, created innovative programming, launched new initiatives, collaborated in new and exciting ways, and continued to grow our great sisterhood.
I would like to re- introduce my friends Beth Sordi, Pi Beta Phi Foundation Board President, and Lisa Scott, the Fraternity Housing Corporation Board President. We are very excited to share with you many of the highlights from the last two years in our joint State of the Organization address. This is the second Convention the three of us have shared the stage for this address. What a pleasure it's been over the past four years to work alongside one another and what a privilege it is to share this message at Pi Phi's 150th anniversary.
Beth
Some of you may not know that each of us served as graduate consultants, now known as leadership development consultants, for Pi Beta Phi. During our travels, we visited 83 chapters combined across all collegiate regions.
Although each of us represents a different entity of Pi Phi, we want to be clear that today we share one message. Each of our unique experiences will always bring us back to one Pi Beta Phi and how the vision of 12 women changed us all. Right from the beginning … out of many, we were one. From Beta badges to diamond arrows, we are all connected through the story they started.
Lisa
The Fraternity, the Foundation and the Fraternity Housing Corporation all work together for the betterment of Pi Beta Phi and we cannot be successful without one another.
We're proud of our shared accomplishments over the past two years and look forward to the continued work we will do for the success of one Pi Beta Phi.
Paula
Throughout the weekend we'll talk about what a difference our founders have made. How they could never have imagined how their vision could mean so much to so many. In 1867, they built much more than a fraternity for women … they created something that for many of us has become integral to who we are. And when we're all together in spaces like this … it's a feeling similar to coming home. That feeling is found wherever Pi Phis are together.
It was found when 12 collegians decided to put their values front and center and create a space for women to come together. They created the ideals that have changed and evolved as our membership has…but at the core has always remained the same — to promote sincere friendship and provide leadership to women.
Beth
And there are so many ways this shines through. It can be seen in our membership growth, the philanthropic service given by our members, our exceptional programming and the strength of our partnerships.
We're excited to share this with you today.
Paula
As of right now there are more than 21,500 collegians who have found their home in Pi Beta Phi and almost 210,000 living alumnae who are a part of our organization. We initiated almost 14,000 collegians this biennium growing our total number of members ever initiated to nearly 300,000. To put this in perspective, if all Pi Phis lived together in the same place we'd be living in a space the size of downtown St. Louis. (Kind of like this weekend!)
Pi Beta Phi currently has 140 collegiate chapters and 288 alumnae organizations. We continue to have one of the largest alumnae networks in the National Panhellenic Conference. It's a point of pride that our alumnae members can find a home in almost every major city in America as well as several around the world.
Pi Beta Phi has continued to make extension a priority over the past biennium. We established three chapters in the past two years and welcomed 440 colonizing members into our organization. In July 2016, Pi Phi added a new collegiate regional team to focus on the new chapters — Collegiate Region Nine. This team helps us ensure the greatest potential for success for our newest chapters. We are happy to report that we've also added two new alumnae organizations to our roll call.
The number of alumnae initiates continues to grow as well. This weekend we will be increasing that number by seven and how lucky we are to gain these women as sisters.
While these members won't have the "typical sorority experience," you'll find most women seeking this opportunity aren't typical at all. Time and again we find the women interested in Pi Phi's alumnae initiate program are women who have been leaders in their communities for years, have consistently been living Pi Phi's core values, and already have a special connection with Pi Phi. Our Fraternity is made stronger by their membership and we look forward to seeing this number grow.
FRATERNITY HOUSING CORPORATION
Lisa
Of our 140 chapters, about half have a stand-alone house. The other half have a facility that is either university owned, a third party rental, a storage unit or a designated meeting place. Some facilities have sleeping space, some a meeting space, some gather for meals, others study together. In any case, these are the spaces that allow our collegians to spend time with sisters and build relationships. And these are the moments that help shape our Pi Phi experience.
The Fraternity Housing Corporation is dedicated to helping chapters achieve a premier housing experience — one that is sustainable for years to come. Today, the needs of our members, campuses and facilities are changing. As a result, housing is becoming more complex and oftentimes a daunting responsibility. FHC, in partnership with the Fraternity, is poised to own and manage certain chapter facilities where it makes sense and provides assistance to locally-owned Chapter House Corporations who just need a little elevated guidance.
Most other National Panhellenic Conference groups have established National House Corporations or are considering it. It is the most effective way to address a variety of concerns such as: deferred maintenance and issues with facilities that negatively impact the collegiate experience, increased risk, pressures to stay competitive, member satisfaction, diminishing volunteers, volunteer satisfaction, incredibly complex city, state and federal rules and regulations and federal labor requirements. We all face the same struggles and we are determined to find a way to address them and remain relevant.
The Pi Phi model is to provide the opportunity to a CHC to transition into FHC when the local group determines they have obstacles that cannot be overcome or they see resources with FHC they cannot obtain locally. There were 10 Chapter House Corporations made the decision to transition into FHC this past biennium and FHC will continue the good work those CHCs started and create a sustainable model for the chapter long term.
The Pi Phi facility on campus is a vital part of the Pi Phi experience. It provides a once-in-a-lifetime opportunity for our members to gather, learn, and grow together.  Within these living spaces, our members meet, build sisterhood, support each other, and create lifelong friendships.
I want everyone to think about your time as a collegian — whether you are in college right now, 10 years out, or 50 years out. Think about where you lived and spent your time – whether it was a live-in Pi Phi chapter facility, a dorm, apartment, or another space on campus. These are the places that enabled us to spend time with sisters and build the bonds of sisterhood. When Pi Phis are together, it feels like home. And home is where the story begins.
FOUNDATION
Beth
There's much to share about Pi Beta Phi Foundation. The Foundation is one of the youngest of the 26 National Panhellenic Conference foundations and yet ranks seventh in programs and services provided and eighth in overall asset size.
One of our core values, and a cornerstone of our member experience from the very beginning, is philanthropic service to others. In this biennium, Pi Phi's commitment to Philanthropic Service to Others continues to shine. More than 6,000 of our members, chapters, clubs and Pi Phi Friends were Foundation donors. And only in its second year Pi Phi Giving Day, celebrated on Founders' Day, raised almost $200,000 for the Friendship Fund — talk about the power of Pi Phi in action.
And did you know the Foundation currently invests more than $2 million annually in our sisters and communities? We're investing in programs like College Weekend, scholarships, Emma Harper Turner grants to sisters in need, Leadership Institute and Fraternity Day of Service Signature Events.
Every one of you has the tools to be a philanthropist by dedicating your time, your financial resources and utilizing your Foundation.
We are so proud of the focus of our individual members, chapters and alumnae organizations on their contributions to their local communities and supporting fellow sisters through their service and fundraising efforts. This biennium, our chapters continued to amaze us with their philanthropic spirit.
Through your generosity, we help enable the Fraternity to realize its' mission and to ensure the future of our sisterhood. Celebrating our 150th year anniversary gives us a great opportunity to think about our future. Over the biennium, the Foundation has been working on something very special — an effort to sustain Pi Beta Phi for the next 150 years. We cannot wait to share more with you during the Foundation Dinner Sunday night. I know you'll be so proud of the strength of our sisterhood!
PROGRAMMING
Paula
Our sisterhood is also strengthened through our award-winning programming. Leading with Values® continues to be the heart of the Pi Phi member experience. From the first days as a new member, through our Pi Phi for Life senior transition program, to our modules designed specifically for alumnae clubs…truly, there's not a part of a member's Pi Phi experience that isn't touched by Leading with Values.
The newest member of the Leading with Values family is Critical Conversations®. Those programs include a Speaker Series, webisodes that can be shared at chapter meetings and AAC Topic Briefs. Our Speaker Series focuses on providing our collegians with information that will help their decision-making around big life choices.
Since the Critical Conversations roll-out at the 2015 Convention, almost 15,500 Pi Phis have been impacted by the Speaker Series program. Our 83 Critical Conversations facilitators present on the topics of alcohol, sexual assault, sincere friendship or confrontation and accountability.
In July of 2016, a programmatic dream came true for Pi Phi when 235 collegians and 31 alumnae facilitators came together at Washington University in St Louis for Pi Phi's inaugural Leadership Institute. The vision of the weekend — To develop confident women leaders who contribute to making the impossible the inevitable.
Over the course of three days, participants learned the tools needed to be a successful leader by identifying their talents and developing a plan to serve the world as resilient women. And Paige Tornow, a member of Michigan Beta is already putting her plan into action.  During her time at Leadership Institute, Paige, realized she had a desire to help people understand the impacts of agriculture on the environment and the opportunity to reduce their carbon footprint by buying locally. Because of the tools she gained at Leadership Institute, including the confidence to speak openly about her passions, Paige recently joined 2000 leaders at the Sustainable Brands Conference in Detroit where leaders in business and sustainability discussed ways to make the world a better place. Paige is thankful for the amazing group of women she met at Leadership Institute who continue to inspire and challenge her.  Because of this unique Pi Phi leadership program, members, like Paige, are making the impossible the inevitable.
We were so thrilled with the outcome and reception of Pi Beta Phi's first Leadership Institute that we will be offering TWO SESSIONS next summer in St. Louis. Collegians and those wishing to apply to be a facilitator, mark your calendars for July 12–15 and July 16–19, 2018!
SCHOLARSHIP
Beth
Getting an education is clearly the number one reason our members attend college. Personal and Intellectual Growth is important to Pi Phi, and we have made progress in this area over the biennium. We're happy to report the average chapter GPA has grown once again and is now 3.27.
Paula
No surprise, we have some chapters who are truly excelling in the area of academics. There are 22 Pi Phi chapters who have average GPAs of greater than a 3.5. This number doubled since last convention! 12 chapters ranked #1 on their campuses for the entire 2016 calendar year and four of these chapters have ranked #1 for two straight years, including California Mu, California Theta, New Mexico Alpha and Oregon Alpha.
Lisa
Today, the academic needs of our members, campuses and facilities are changing. Students on college campuses demand new and reliable technology to be successful in the classroom. Pi Phi facilities must evolve with these increasing demands and we need your support to do so. Pi Beta Phi Foundation can fund the educational components of our facilities and that need is growing and changing as fast as technology itself.
Beth
Because academics are critical to the overall success of our members and tuition costs are far outpacing inflation, we place a great deal of importance on awarding scholarships. Over this biennium, the Foundation has awarded more than $500,000 to 257 member students. This upcoming year, we will award more than $200,000 to 100 recipients like our Pi Phi sister, Ashleigh.
Ashleigh is the first in her family to attend college. Attending college through a low-income assistance program, Ashleigh began her collegiate experience working three jobs to help pay for school. She wanted to join a sorority her freshman year, but couldn't due to finances. Her sophomore year, she made it a financial priority to join Pi Beta Phi. For Ashleigh, Pi Phi has paid her back ten times over, in both academic support and a sisterhood she couldn't imagine living without.
We need your continued support to help sisters like Ashleigh. Together we can help make it possible for our sisters to afford to stay in school, achieve their academic goals and be part of our sisterhood.
Lisa
Another way we support our sisters is through Emma Harper Turner grants. Everyone goes through difficult times at some point in their lives. We can make those times easier. When a sister is dealing with a crisis like a natural disaster, a family death, or illness, we can help her get back on her feet.
Beth
Your support of the Foundation helps us take care of each other.
We were recently able to help a Pi Phi alumna dealing with a personal and financial crisis. Her husband passed away following a long, hard battle with cancer. Thanks to encouragement from a Pi Phi sister she applied for a grant. Your support through that grant eased the burden of the remaining medical bills and caring for her six children alone.
PHILANTHROPY
Paula
Pi Beta Phi's commitment to philanthropy dates back 100 years and we are thrilled with the continued support and evolution of our philanthropic platform, Read > Lead > Achieve®.  When we ask our members what they love most about Pi Phi, our philanthropy tops the list. Who doesn't love that we work to inspire a lifelong love of reading that leads to a more literate and productive society? Pi Phis also love giving back to their local communities. These values continue to drive our philanthropic focus.
At our 2013 Convention in San Diego, Pi Beta Phi made an unprecedented commitment to impact 1,000,000 lives through Read > Lead > Achieve. We're happy to share that we have more than exceeded our goal but the final number is a secret which will be revealed on Monday, so stay tuned.
Beth
As a part of their commitment to RLA, we're thrilled to report that clubs, chapters and individual donors have donated over $2.2M to The Literacy Fund at Pi Beta Phi Foundation. These dollars help fund Read > Lead > Achieve initiatives and we're excited to share some of the great things we've accomplished.
Paula
One of the ways Pi Phis have made a difference in communities across the United States this past biennium is through our Fraternity Day of Service Signature Events. Since last Convention, Pi Phi has hosted large-scale Fraternity Day of Service Signature events in 10 different cities through support from The Literacy Fund. Each event included a donation of 20,000 brand new books to children in need, purchased from First Book. That's 200,000 books this biennium and 360,000 books since we began these events.
Lisa
Just this year alone, more than 450 schools, nonprofit organizations and other recipient groups attended our Signature Events and received brand new books for their programs. On top of that, more than 600 children selected their own books to take home and over 500 volunteers (like you) participated in the 2017 Signature Events. Alumnae organizations and chapters in each of these cities worked together with Headquarters staff and Fraternity officers to distribute books, promote literacy and get children excited about reading.
Paula
Jacquelyn Edwards, an alumna initiate of Pi Phi, who I had the honor of initiating at Florida Zeta, actually co-chaired the Tampa event last year which I also had the pleasure of attending.
Imagine my surprise to see her at the Fraternity Day of Service event in Detroit this year with 3 members of her family in tow.  Jacquelyn was so moved by how grateful the recipient groups were in Tampa and by how collegians and alumnae joined together to make an impact in their community that she knew she had to do it all again. Jacquelyn says herself: "It's an incredible event that makes you proud to be part of Pi Beta Phi."
Giving of our time remains at the heart of our organization. Since 2014, collegiate members have given over 570,000 hours of community service to worthy cause … almost 165,000 specifically towards literacy efforts. Oklahoma Alpha has logged more than 10,000 community service hours and Louisiana Alpha has contributed over 5,000 hours to literacy causes alone.  Our alumnae clubs have given almost 90,000 community service hours since 2014 with the Seattle Club recording more than 15,000 service hours.  Your halos are certainly glowing brightly as you make our world a better place through your philanthropic service to others.
Beth
It's been four years since the Foundation launched its Special Impact Grants and Local Impact Grants. Over the biennium, we've awarded $70,000 in Special Impact Grants to seven deserving nonprofits focused on advancing literacy. Through Local Impact Grants, chapters and clubs to have the opportunity to support and build an ongoing relationship with a literacy organization in their community. The Foundation matches designated donations by the chapter or club to the local organization. In the past two years, nearly $325,000 has been awarded through this program.
One program that consistently receives support through Local Impact Grants from the Greater Kansas City Alumnae Club, is Reach Out and Read Kansas City. They sent this message, "Thanks to the wonderful generosity of our Pi Phi friends, Reach Out and Read Kansas City is able to provide books and services to more than 29,000 children at 52 healthcare clinics throughout our area. Eighty percent of these children are considered highly vulnerable for reading and school failure. Thanks to your support, these children are provided with resources they need to break through education barriers and become the leaders of tomorrow."
Pi Phi's Champions are Readers® program continues to be one of our most successful Read > Lead > Achieve initiatives. And because Champions are Readers packets are free because of the generosity of Foundation donors, the program has doubled in size with more than 24,000 children served through the CAR program in the past four years.
The McKinney Texas Area Alumnae Group sees the impact of their time with students through the CAR program.  The teachers tell them they love how CAR reinforces the importance of literacy and students love getting a book of their very own to keep.
We're excited to share more information with you about the evolution of our Read > Lead > Achieve reading initiatives and tell more stories of those impacted on Monday.
FRATERNITY/SORORITY WORLD: BIG PICTURE
Paula
We have shared the State of Pi Beta Phi with you but I would be remiss if I did not share my perception of the state of Greek Life in our world today.  Let me be clear friends, Greek Life is under fire.  It continues to be a challenging time for fraternities and sororities and we, like other organizations, have been tested.
From threats to our freedom of association as evidenced at Harvard, to a pervasive culture of alcohol abuse and hazing leading to tragic deaths and far reaching implications as see at Penn State, to what seems to be an epidemic of sexual assaults, to conversations regarding transinclusion and discrimination, our sisters and brothers are threatened daily by choices which could be the demise of the Greek world.
To ensure the legacy of Pi Beta Phi for the next generation, we have work to do. There are critical moments when we as Pi Phis have to put our values squarely on the table to show everyone what guides us. We must lead bravely and with conviction as our founders taught us to do.  Only when we have the courage to stand up for what is right denouncing the things that will tear us apart like discrimination, hazing, and turning a blind eye on that which is wrong, will we be able to truly ensure the future of our sisterhood. I challenge all of us to put our values of Integrity; Lifelong Commitment; Honor and Respect; Philanthropic Service to Others; Personal and Intellectual Growth; and Sincere Friendship at the center of our decision-making. So, it boils down to this, commit to living the values of Pi Beta Phi each and every day and we will be the change we wish to see in the Greek World.
CONCLUSION
Lisa
I often think of Margaret Mead's quote, "Never doubt that a small group of thoughtful, committed citizens can change the world; indeed, it's the only thing that ever has.
Beth
And of course we know this to be true. Just look at what 12 women in a small second floor bedroom created. With almost 300,000 women ever initiated into Pi Phi spanning five generations, there's simply no way for us to quantify the impact our members have made in the world. The founders could not have imagined how far we would come in 150 years.
Paula
And so we will embrace the legacy of our founders … we will wake up every day and continue to let our light shine. And our hope is that by doing this, that our granddaughters and their granddaughters … and women we may never meet, may someday also benefit from their membership in our beloved Pi Beta Phi. We get to decide what comes next as we turn the corner to Pi Phi's next 150 years. And there's one thing I know for sure. We are not done yet … in fact, we're just getting started.