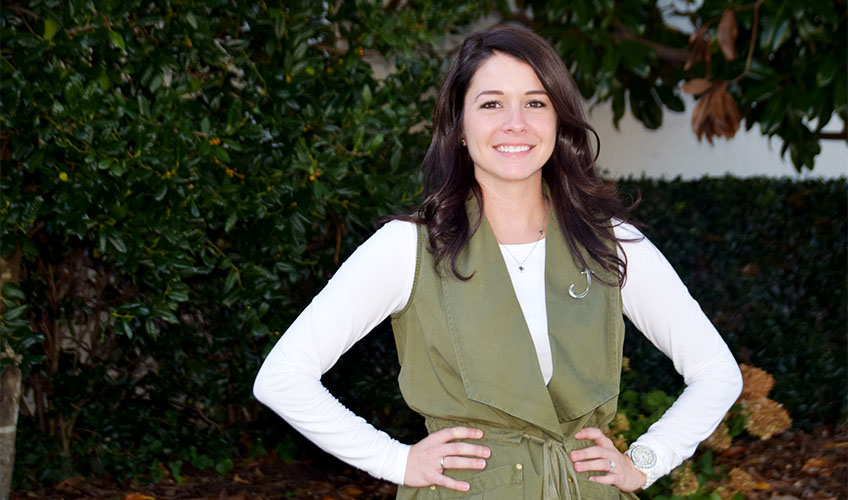 People who attend Old Dominion University (ODU) tend to stay in the area after college. I suspect it is because they are right by the beach, but it could also be because of the surrounding community. For Virginia Delta Jennifer Cauldwell Garrott, it is the people – more specifically her Pi Phi sisters, which have caused her to stay. "Hampton Roads is a very unique area," said Jennifer. "It's a big small town."
Jennifer hails from Portsmouth, Virginia, and after graduating with a degree in Communications; she bounced around until she found her niche. She knew she wanted to stay in Hampton Roads, also known as Tidewater, since her immediate family is local to the area. Fortunately, she found a series of jobs in local government and more recently moved to a position at a country club in Virginia Beach.
Over the years, Jennifer has maintained many of her Pi Phi friendships. In her area, there is a group of about 13 Virginia Delta sisters who get together once a month. They host these gatherings in their homes instead of going out, which allows them to enjoy their night of catching up in their comfy pajamas. This group of Pi Phis did not all graduate together, but the group thrives on making connections and developing the relationships regardless of age
While it's easy to remember the good times, Jennifer also recalls instances where she and her Pi Phi sisters had to come together to support one another. "I feel like this year has been the year of ups and downs in my Pi Phi Journey," Jennifer said. She opened up about a sister who recently battled an illness; chapter members sat with that sister every day, and also cooked meals for her parents and cleaned their condo. When they lost their beloved sister, the Pi Phis continued to provide support for her parents and helped prepare for her funeral service. In such a sad time, it was clear to all that the Pi Phi sisterhood transcends even death.
Despite this tragic event, the chapter also saw many highs; Virginia Delta Lindsey Germono was recently featured in The Arrow magazine for her career as a public servant. Jennifer is especially proud for Lindsey, as she serves as a consultant at the Germono Advertising Company and has seen firsthand what her sister has accomplished. Though the year has been a rollercoaster for the group, members continue to provide the love, support and fellowship to one another.
"The dinner group [in particular] is so instrumental in my life," Jennifer said, recalling the fraternity's values of Lifelong Commitment and Sincere Friendship. "It really runs though. It is crazy how a group of friends can impact your life so much."