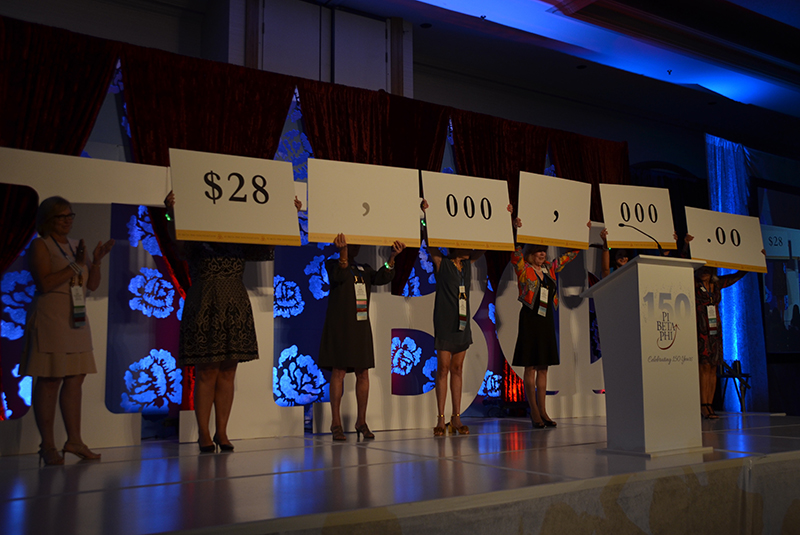 Sunday night, before a ballroom filled with Pi Beta Phi convention attendees, Pi Beta Phi Foundation announced a campaign to raise $28 million for current operations and endowments in outright and deferred gifts. The SHINE THROUGH campaign represents the largest philanthropic endeavor in our Fraternity's history and is the largest fundraising campaign ever assumed by a National Panhellenic Conference organization.
During the announcement, Campaign Chairman Jan Kincaid Clifford, Indiana Delta, alongside the Campaign Cabinet, shared the SHINE THROUGH campaign aspirations. With your loyal support, Pi Beta Phi will:
Build operationalresources to leverage our growth and sustainability,
Prepare members to leadin collaborative and innovative ways,
Provide collegians and alumnae with financial support to access increasingly expensive education,
Champion literacyinitiatives that inspire readers to reach their true potential and
Advance collegiate housing that drives member satisfaction.
"The Foundation has a responsibility to help Pi Beta Phi meet current and future needs of our members," shared Jan.
"Right now, the Fraternity and Fraternity Housing Corporation are crafting big, audacious goals that will strategically propel Pi Beta Phi into our next 150 years—and the Fraternity and Fraternity Housing Corporation need the help of the Foundation, and each and every loyal Pi Phi, to reach those goals. So tonight, right now, we present you with a campaign that at its core, is intended to sustain Pi Beta Phi. We ask you to join us and Shine Through."
Over the past several months, Pi Beta Phi Foundation quietly shared their aspirations and goal to launch this campaign. Nearly every time Pi Phi asked for support from our members, the answer was YES. And last night, the Foundation announced how much those generous sisters and friends have already committed to the campaign … an incredible $19,772,791!
If you want to learn more about the campaign to sustain Pi Beta Phi, visit www.pibetaphifoundation.org/campaign. We hope you will join us … we hope you will SHINE THROUGH for Pi Beta Phi.