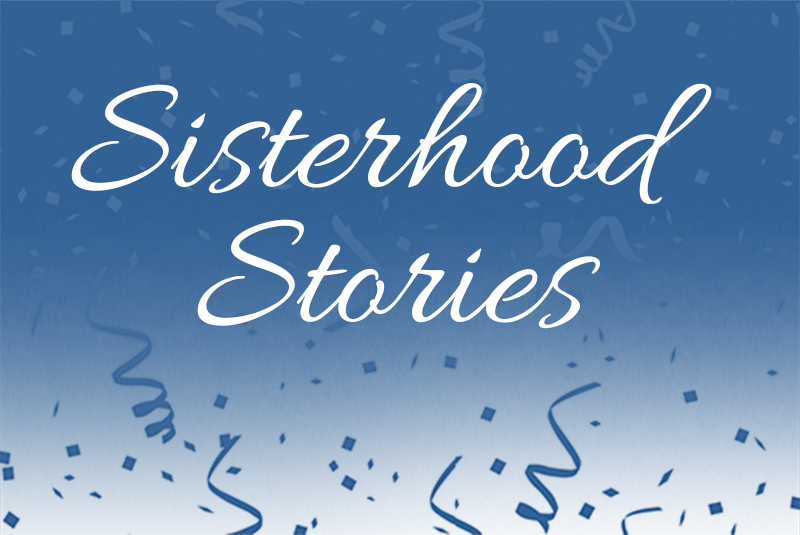 Today's Sisterhood Story comes from Evelyn Byrd Hunt, Montana Alpha, Margy Hunt Herbert, Minnesota Alpha and Brianna Herbert, Minnesota Alpha.
Pi Beta Phi Trilogy- Book 1- Evelyn's Story (Evelyn Byrd Hunt)
On a beautiful September 1957 day in Bozeman, Montana I walked into the Montana Alpha Pi Beta Phi house on the campus of Montana State College (now Montana State University) and became a New Member.  I was initiated in February of 1958. After college I had no contact with the sorority until 1982 when my daughter was starting college. At that point I joined the Minnesota Alumnae chapter for a few years, helping with recruitment and other projects. Many years passed before I joined the Ft. Myers, FL (Southwest Florida) alumnae club. In 2007 I received my Golden Arrow, which I wear with pride. While 60 years have flown by, I treasure my affiliation with Pi Phi and the special women who are part of this marvelous sorority.
I have wonderful memories dating back to the day I became part of it.  Two of the best memories are the day in 1982 when I watched my daughter Margaret Cay Hunt Herbert-Margy be initiated into Minnesota Alpha and again in 2017 as I watched and cried while my granddaughter Brianna Herbert was initiated into Minnesota Alpha. Now the three of us are attending Pi Beta Phi Convention … how special!!!
Pi Beta Phi Trilogy- Book Two- Margy's Story (Margy Hunt Herbert)
I was initiated as a  Minnesota Alpha the Fall of 1982 as a legacy.  Little did I know I would be making life time friendships and meeting two of my future sisters- in- law at the Pi Phi house. My Greek years at the University of MN were full of exchanges, initiations, home coming activities, campus carnival events, formals, candle passings and cookie shines. The college years went quickly and a few years after college I met and married the brother of a PI Phi sister. My own brother also married one of my PI Phi sisters so our PI Phi roots have grown deeper.
To my unmeasurable delight, my own daughter was initiated into MN Alpha the Fall of 2016. We now share the Pi Phi legacy with the next generation. Having 3 generations of PI Phi women in our family is such an honor and privilege. I never could imagine that all 3 of us, Grandmother, Daughter and Granddaughter would all be attending convention together, creating memories and sharing new experiences.
Pi Beta Phi Trilogy- Book Three- Brianna's Story (Brianna Herbert)
The Fall of 2016 was an exciting time in my life as I started college at the University of Minnesota and became a member of Minnesota Alpha.  Now, having read both my mother's and grandmother's stories, everyone is aware of the family legacy of which I had become. It has been so fun to hear their past memories and stories when they were active members. It is crazy to think that my mom along with my aunts and family friends had lived in the house I will be living in starting this next fall, and even are all in a composite hanging in our house!
One of the best memories I will share with my Mother and Grandmother is Initiation.  After a long night, I was shocked to see them standing beside me during my Initiation. I was so focused I had not even realized they were there until my Mom stepped up to pin me, where I received her pin, that was once my grandmother's. My Grandma cried the whole initiation (which I did not find out until after and she was a favorite with all of the girls) and this news traveled fast in our family, when she was teased quite a bit by the rest of our family.
I am thrilled to be at convention as a delegate and to share this experience with my mother, grandmother and sisters.  I look forward to the next three years as an active member of Minnesota Alpha!