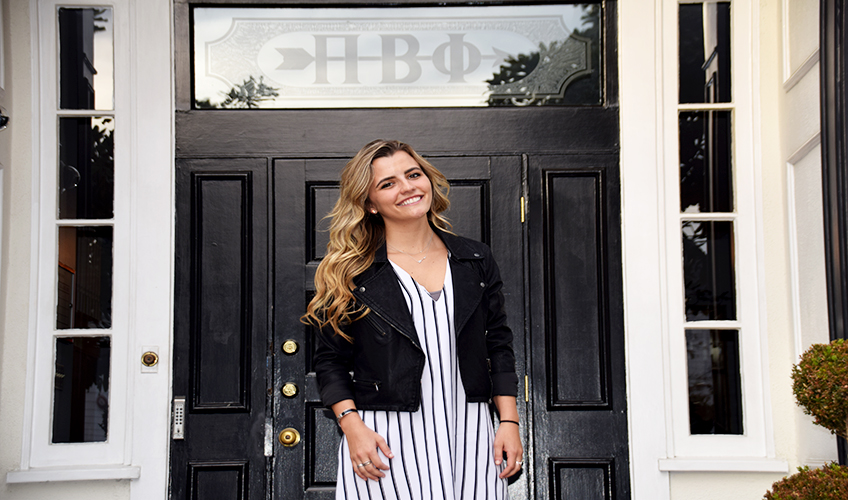 California Gamma Lizzie Yaeger's rise to leadership in her chapter is not typical, though Lizzie is anything but typical.
Lizzie grew up in the culture of the University of Southern California (USC) attending basketball and football games since she was seven years old. Her father and grandfather attended law school at USC, so she knew early it was in her trajectory. In high school, she was part of leadership, cheer, mock trial – all ends of the spectrum. It all helped her reach her goal of attending USC as she was admitted to attend for spring 2014, the second semester of her freshman year.
The delayed admission was a blessing in disguise for Lizzie. She had the opportunity to get a feel for what college felt like before she came to USC. And she became roommates with a group of other young women who were admitted for the spring as well. She appreciated the network of support that came from this small group. This support was evident when the women all decided to participate in formal recruitment as sophomores. They ended up in different chapters, but were genuinely happy to have had the recruitment experience together.
Lizzie joined the California Gamma fall 2014 New Member class and moved into the chapter house just a few months later. Her new roommate was the Leadership and Nominating Committee (LNC) Chair and encouraged Lizzie to join the committee. The work of LNC allowed Lizzie to meet the women in her chapter in a unique way and made her Pi Phi service immediately gratifying.
A sister's early graduation in fall 2015 caused an opening on the chapter's Executive Board, so someone approached Lizzie to step up to lead the chapter. So she did. Lizzie applied and was chosen to serve as Vice President of Communications (VPC) for the rest of the term. As quickly as she was in a new role, she had the support of the women on Exec and her Alumnae Advisory Committee (AAC). "AAC is like a gold mine," Lizzie said. "They know way more than you think they know. And if they don't know, they will help you find the answers."
When the time came to consider her next steps of leadership, Lizzie had the role of Chapter President in the back of her mind, but "it was up to LNC to see if they saw the potential in me," she said. And they did see it. Within one year Lizzie went from New Member to LNC to VPC and then to Chapter President! Way to go, Lizzie!