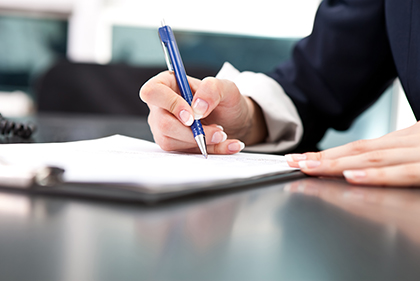 Did you know you only need one simple sentence to include Pi Phi in your will? The following statement is what is typically used when creating estate documents:
"I give Pi Beta Phi Foundation     (percent of your estate, dollar figure, securities, etc.)
to be used pursuant to the current gift agreement(s) entered into between Pi Beta Phi Foundation
and     (your full name)           ."
It's truly that simple. As you are considering your estate plan, here are two important things to consider:
Determining the Gift
It might seem like a 'no-brainer,' but before you can write that statement, you first need to determine what your gift will be. Do you want to leave a percent of your estate? Would you rather make a specific cash gift — like $10,000 or $100,000 or even $1,000,000? Do you have appreciated securities you would like to donate instead? Any of these options, or even a combination of them, is acceptable.
The amount you choose to give is entirely up to you — there is no minimum requirement for an estate gift and all bequest gifts create an enduring legacy for the sisterhood. However, if you are considering creating an endowment or partially funding a specific program, make sure to consult with Foundation staff on the size of the investment needed to make your dream come true. Your attorney, financial advisor or other trusted counsel can help you consider how your gift may impact your tax liabilities.
Gift Agreement
Once you have determined your gift size, the next best thing you can do is work with the Foundation to create a gift agreement that specifies how you want your gift to be used. A gift agreement can be as simple as completing a Legacy Gift Notification Form, or Foundation staff can work with you and your advisors to create the proper wording or documents necessary to fulfill your wishes. Your dollars can support a sister's academic career, help the Fraternity create life-changing leadership programming curricula, help a Pi Phi survive a dire financial crisis, make reading real through literacy initiatives, support your chapter's facility or Pi Phi's heritage. You also can choose to leave your gift unrestricted, so the Foundation's Board of Trustees can choose the area of greatest need at the time.
Marianne Reid Wild Society
All Pi Phis and friends who share their bequest intentions with the Foundation are recognized as members of the Marianne Reid Wild Society, named in honor of late Grand President Emerita Marianne Reid Wild, Kansas Alpha. Marianne was the first alumna to name the Foundation as the primary beneficiary of her estate, and her bequest still provides educational and leadership programming today. (Your name does not have to be listed in the Society if you would prefer to have your legacy remain anonymous.)
Supporting the Foundation — or any non-profit organization — in your will is one of the most philanthropic actions you can take and truly is an expression of your love for our sisterhood; an ultimate gift that ensures the future of Pi Beta Phi.
In November, Pi Beta Phi Foundation celebrates Marianne Reid Wild Society Month. The Foundation cannot provide legal advice, but can help you navigate the estate planning process. For questions, please call the Foundation at (636) 256–1357.
This post is courtesy of Indiana Alpha Jenny Miller Pratt, Development Director for Pi Beta Phi Foundation.