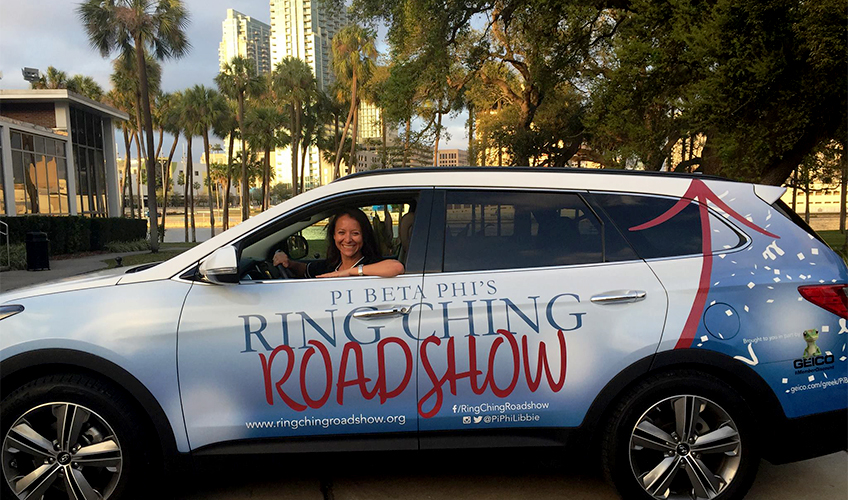 Joining Pi Phi at the University of Florida, Florida Delta Georgia Malpartida admits she did it for immediate selfish reasons: friends, fun and a place to live near campus. But through her current involvements in the Fraternity, she realizes Pi Phi means a different thing to her now then it did back then when she was in college.
After graduation, Georgia was not very active in Pi Beta Phi during the 14 years she lived in Houston, Texas, but she is making up for it now. When Georgia moved back to Florida a few years ago, she joined the Tampa, Florida, Alumnae Club to reconnect with sisters in the area. Additionally, Georgia is serving on the Florida Zeta Alumnae Advisory Committee. She has met some of her favorite people and best friends. "Pi Phi spills into all aspects of my life," she said.
Georgia is a staple in the Tampa area. She is an attendee at many alumnae club events like Founders' Day and Angels' Night Out; she trained and ran with a handful of her sisters in a local 5k; and she even supported members of Florida Zeta at their graduation ceremonies in May.
Pi Beta Phi means something different to Georgia now that she has served as an advisor. In her role, she is living our value of Lifelong Commitment. When she hears the words spoken at initiation, it makes Georgia cry. The words mean more each year and she actually understands the meaning of the words. While the words may mean something different to each person, Georgia said each Pi Phi should take what she can at the moment to get fulfilled. Later on, the meaning grows and develops as you change in your life.
Georgia truly loves Pi Beta Phi Fraternity for what it is. She leaves with me with one final thought: love the differences and commonality of the women in our sisterhood. It is what makes us unique and makes us sisters in the wine and blue.