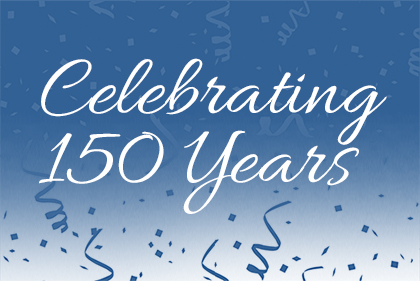 Pi Beta Phi has a long, rich history that few organizations can rival. The stories that are passed down from New Member class to New Member class bring us together as sisters with a shared history. From time to time, however, some stories get stretched, the truth marred and some stories are just plain myths. Is Susan Lucci really a Pi Phi? Is the arrow on the pack of Wrigley gum associated with Pi Phi? We've done some research and were able to substantiate some stories and disprove others.
Pi Beta Phi Nationals is located in Monmouth, Illinois.
False! Pi Beta Phi was founded on April 28, 1867, at Monmouth College in Monmouth, Illinois. Our Headquarters is located in Town and Country, Missouri. We do not use the term "Nationals" because we are an international organization!
Grand Council lives at Headquarters.
False! Grand Council members live all over the United States and have full-time careers outside of their commitments to Pi Beta Phi.
Grand Council members are paid Headquarters staff.
False! Grand Council, Directors, Regional Teams, Appointed Officers, Chapter Support Officers, Fraternity Housing Corporation Board members, Chapter House Corporation Support Officers, Pi Beta Phi Foundation Board members, Alumnae Advisory Committee (AAC) members and any other Pi Phi volunteers that work with your collegiate chapter or alumnae club are exactly that – volunteers. They are not employees or paid for their time.
More than 60 people work for Pi Phi Headquarters.
True! While some staff members are always on the road, like the Leadership Development Consultants (LDCs) and our Traveling Event Specialist, the majority of Fraternity, Fraternity Housing Corporation and Pi Beta Phi Foundation staff members live near and work out of the office in Town and Country.
You have to be a member of Pi Phi to work at Headquarters.
False! Although three-fourths of staff members are part of a Greek organization, there are both women and men on staff who live our values and work to fulfill the Pi Beta Phi mission each and every day. Seven different Greek organizations are represented on staff: Pi Beta Phi, Kappa Delta, Kappa Alpha Theta, Alpha Chi Omega, Alpha Xi Delta, Sigma Delta Tau and FarmHouse Fraternity.
These famous women are NOT members of Pi Beta Phi:
Susan Lucci, actress
Cindy Crawford, model
Meg Ryan, actress
Suzanne Collins, author of "The Hunger Games"
Minnie Pearl, actress
Sally Fields, actress
Jane Fonda, actress
Eleanor Roosevelt, wife of President Franklin D. Roosevelt
These famous women ARE members of Pi Beta Phi. To discover who else is a Notable Pi Phi, please visit the Notable Pi Phis list on the Pi Beta Phi website.
Meredith Brokaw, owner of Penny Whistle Toy Stores, author of the Penny Whistle book series, and wife to news anchor Tom Brokaw – South Dakota Alpha, initiated 1960
Sue Grafton, international bestselling author – Kentucky Alpha, initiated 1958
Barbara Bush, wife of President George H. W. Bush – Texas Eta, initiated 2002
Ann Marie "Ree" Smith Drummond, author and star of The Food Network's "The Pioneer Woman" – California Gamma, initiated 1988
Ann Turner Cook, the original Gerber baby – Texas Beta, initiated 1945
Savannah Guthrie, news anchor – Arizona Alpha, initiated 1991
Margaret Truman Daniel, daughter of President Harry Truman – D.C. Alpha, initiated 1943
Traylor Howard, actress – Florida Beta, initiated 1985
Jennifer Garner, actress and producer – Ohio Eta, initiated 1991
Jenna Dewan Tatum, actress – California Gamma, initiated 1999
The arrows on the packaging of Wrigley's Doublemint Gum are an ode to company founder William Wrigley Jr.'s wife, Ada Wrigley.
False! However fun this rumor is, it simply cannot be substantiated. We know Wrigley's wife was named Ada, but can find nothing indicating she was a Pi Beta Phi.
Mr. George Safford Parker, founder of the Parker Pens Company, honored his Pi Phi wife, Martha, by using a clip in the shape of an arrow on his pens.
False! Again, we found nothing to indicate that Martha Parker was a Pi Phi or that George Parker was influenced by Pi Phi when designing his pens. In fact, it was New York artist Joseph Platt who designed the clip in 1933.
Emma Harper Turner, Grand President of Pi Beta Phi from 1890-1893 and first president of the Alumnae Association, was first a member of the Kappa Kappa Gamma chapter at Franklin College.
True! When, through a series of misunderstandings, Kappa withdrew their charter, Emma asked for and was granted honorable discharge from Kappa. This was in the days before National Panhellenic Conference's Unanimous Agreements prohibited affiliation in more than one National Panhellenic Conference (NPC) group.
During Emma Harper Turner's tenure as Grand President, the titles of Worthy Grand Illustra Regina and Regina Secunda were abolished in favor of Grand President and Grand Vice President for titles of Grand Council members.
True! And thank goodness they were; talk about a mouthful!
The Broadway musical "Good News!" tells the fictional story of college students at Tait College during the Roaring Twenties, some of whom are members of Pi Beta Phi.
True! The show premiered at New York City's 46th Street Theater on September 6, 1927, and ran for 551 performances. A 1947 screen version starred June Allyson and Peter Lawford. A Broadway revival in 1974 featured Alice Fay and Gene Nelson. Act 2, Scene 1 of the play takes place in a Pi Beta Phi chapter house. That is the scene in which the song "A Girl of the Pi Beta Phi" is sung. The name Pi Beta Phi and the badge were not copyrighted until 1928, and one can guess that the use of the name in the Broadway show was unauthorized. It is plausible to assume that the unauthorized use of the Fraternity's name may have led to the copyright action.
South Carolina Alpha Sarah Ruth "Sis" Mullis, Grand President from 2001-2003, has attended every Pi Phi convention since 1962, shortly after her own initiation.
True! Sis has attended a total of 28 Pi Phi conventions! SC Beta's re-installation in fall 2016 was the 57 chapter installation she attended.
The Illinois Alpha chapter has been open for the longest consecutive number of years.
False! Illinois Alpha was closed for a period of time due to anti-fraternity legislation at Monmouth College. Kansas Alpha has been open the longest consecutive number of years, founded on April 1, 1873.
Pi Beta Phi is the first group to have formed an alumnae department and establish an Alumnae Advisory Committee (AAC) for each collegiate chapter.
True! The National Alumnae Department was organized in 1893 and Emma Harper Turner served as its first president. AACs were organized starting in 1913. Our members' lifelong commitment to the wine and silver blue has been recognized by the Fraternity for over 100 years!
There are no Pi Phi alumnae clubs outside of the United States.
False! There are many alumnae clubs scattered across Canada, and the farthest-reaching alumnae club is located in London, England.
Cookie Shines are a Pi Phi secret. They cannot take place with non-members present.
False! In fact, the term "Cookie Shine" was coined by John Fraser, the chancellor at the University of Kansas, when he attended the first I.C. Sorosis party given by the Kappa Chapter (now KS Alpha) in June 1873 at the home of Flora, May and Alma Richardson, charter members of the chapter. They were entertaining in honor of their sister Sara, a charter member of the Illinois Beta chapter at Lombard College. It was through her influence that KS Alpha was established on April 1, 1873. Even the first Cookie Shine had non-members in attendance! Every chapter has their own traditions associated with their Cookie Shines, but its primary purpose is to share Pi Phi memories and fellowship.
The Phi Beta PINK clothing line and "Angels" from Victoria's Secret are connected to Pi Beta Phi.
False! It's a coincidence! The Pi Phi brand and Victoria's Secret brand are not related.
The hair on the heads of the wax dolls at Holt House is from the actual founders.
False! Those figures were created long after our founders passed away.
Pi Beta Phi is the first National Panhellenic Conference group to have its own Canadian philanthropy.
True! Established at the 1967 Convention to commemorate the centennials of Canada and Pi Beta Phi, Arrow in the Arctic donations also preserve the language and culture of the north's Inuit and First Nations.
Pi Beta Phi is one of the founders of the National Panhellenic Conference.
True! Alpha Phi invited representatives from Kappa Kappa Gamma, Delta Gamma, Delta Delta Delta, Gamma Phi Beta, Kappa Alpha Theta, Pi Beta Phi, Alpha Chi Omega and Chi Omega to convene in Chicago, IL on May 24, 1902. From this gathering, the Inter-Sorority Conference (later, the National Panhellenic Conference) was born. Because neither Alpha Chi Omega nor Chi Omega were able to attend this meeting, there are only seven founding NPC organizations.
Leadership Development Consultants (LDCs) only visit chapters when issues arise.
False! The job of an LDC is to support our collegiate chapters. Each visit has a different purpose. Whether they're serving as your chapter's biggest cheerleader during recruitment or as your wealth of knowledge during officer training, the LDC visiting your chapter is there to help provide the most premier membership experience to your sister. She's visited chapters across the United States and Canada – and has lots of great ideas to share!
New Members of Pi Beta Phi are not allowed to wear our letters or the crest until they become initiated, or they can wear only "Pi Phi" – no "Beta."
False! New Members can wear all of our letters proudly starting on Bid Day!