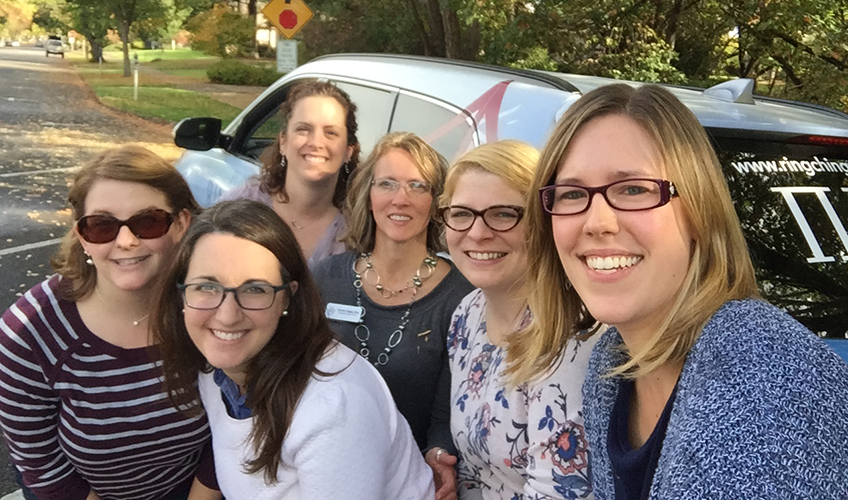 Featuring Guest Blogger Marie Metke Westom, Oregon Gamma and Collegiate Region Seven Chapter Operations/Advisor Specialist
Gathering in Salem, Oregon for their annual team planning retreat, the six members of Collegiate Region Seven — Montana Alphas Jamie Feist Daniels and Korinne Rice, Nebraska Gamma Kate Malloy, Michigan Epsilon Alison Seamon Smith and Oregon Gammas Lauren Jenkins Smith and Marie Metke Westom — spent a weekend together full of sincere friendship and lifelong commitment.
The main objective for the weekend was to determine how to best support and serve the chapters in Collegiate Region Seven. Beyond that, the women found time to enjoy each other's company, since they only get to see each other in person once or twice a year. Not to mention … the team tooled around town in Libbie and even stopped off to visit a few friends!
"We truly love each other and get along so well," said Collegiate Regional Director Jamie Daniels. "Yes, the weekend was full of intense work sessions to help our chapters, but it was also full of laugher and getting to know each other even better. We wish we could see each other more often!"
It was an extra special time for the two Oregon Gammas from Willamette University to share their beloved chapter with the broader regional team. During a house tour led by Chapter President Jaide Farr and Policy and Standards Board Chair Marie Masyczek, the team got to see the new renovations to the chapter house, which include wine and blue paint and furniture in the dining room, arrow details throughout and updated furniture in the TV room and basement study room.
After the chapter visit, Libbie took the group to the grave of Pi Phi Founder Nancy Black Wallace. A visionary woman, Nancy moved west with her husband in 1885 and became a notable citizen of Salem.
According to Collegiate Regional Finance/Housing Specialist Korinne Rice, "Visiting the grave of one of our Founder's was extra special. We reflected on what the organization looked like when it was founded, and how our work as a Regional Team helps make a better collegiate experience for our members and ensures Pi Beta Phi's success and existence long into the future."
Collegiate Regional Membership Specialist Kate Malloy agreed, "To be there visiting Nancy Black Wallace's grave — one of our Founders — with a fantastic group of women and the car that will take us into our 150th celebration is such a special memory that I will treasure forever."​
The camaraderie between the Collegiate Regional Team continued to develop over the weekend through sisterhood activities, late nights chats and enjoying gourmet cake from a local dessert shop.
"To me, this weekend represented everything I love about Pi Beta Phi," said Collegiate Regional Programming Specialist Alison Smith. "It was encouraging to be around such driven and passionate women. And of course, driving around in a souped-up Pi Phi car with sisters is bound to leave some lasting memories."
It is amazing to think that nearly 150 years ago, a small group of women at Monmouth College similarly sat in rooms at Holt House enjoying each other's company and planning for the future. With any luck, in another 150 years, women will be doing the exact same thing.