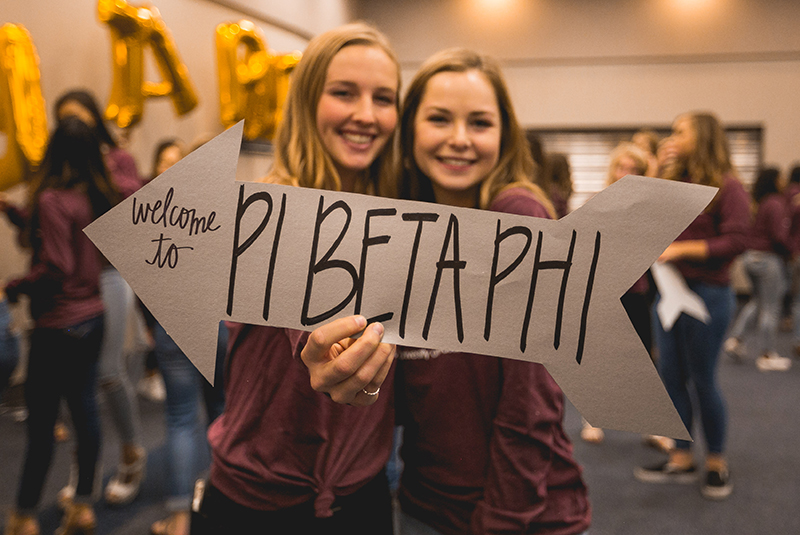 Being told that you are responsible for the reorganization of a 102-year-old chapter is both exhilarating and a little daunting, especially when that 102-year-old chapter is where you will be living for the next year. When I was offered the position to be one of the two Resident Leadership Development Consultants (RLDC) at Nevada Alpha at the University of Nevada, I knew it was going to be challenging. What I did not realize was how much of a blessing it would become.
When RLDC Samantha Eldridge, Louisiana Beta, and I started recruitment efforts, we were met with inclement weather, heavy loads and a lot more walking than either of us anticipated. But, somehow between our tent being blown away, a cancelled info session that no one attended, information sessions so large we did not have enough seats and a really fun pizza party for all interested women, we managed to recruit the women that would become the chapter's future President, Vice President of Administration, Vice President of Philanthropy and so many other wonderful women. At the time of recruitment weekend and Bid Day, it felt as though we had finally came to the apex.
However, the true work of being an RLDC comes from training, educating and supporting all the women through the New Member Education Program. Since they are all New Members, the RLDCs are the only example they have of Pi Beta Phi and it becomes our responsibility to help these young women understand the weight and honor of the Greek letters on their chest.
There have been many remarkable moments this past semester. Like when smiles start to come across the faces of the women as they host their first philanthropic advocacy event — something they organized all on their own — and it is successful. Or when the Leadership and Nominating Committee successfully slated an amazing team to lead their chapter. It was as if the meaning of Pi Beta Phi finally truly resonated in the hearts of these women. As if they understood how unique their organization is, that Pi Beta Phi represents more than 300,000 women that have come together since 12 started their legacy when only five colleges even admitted women. An organization that has stood more than 150 years, a true test of time, as it continues to evolve and support its members throughout the ages because of its amazing values, mission and vision that radiates from every single initiated member. This same purpose now resonates within the heart of 80 amazing members of the Nevada Alpha Chapter of Pi Beta Phi.
The weight and honor of helping to reestablish this 102-year-old chapter seemed so apparent to me personally through all our hard work and the success of the New Members' hard work. But it all came to head for me during Initiation Weekend. Witnessing each women become initiated, especially by Grand President Paula Pace Shepherd, Texas Epsilon, was extremely powerful. I found myself especially emotional when one of the women, a Nevada Alpha legacy, had her mom in her Initiation Ceremony. To witness the power of Pi Phi in that room was indescribable.
I feel an immense amount of pride for the women of Nevada Alpha. Not because all the hard work, late nights and long days paid off; but, because I know these women are truly Pi Phis at heart and that they have the heart and Integrity to understand the legacy they create. As Grand President Paula Shepherd said during the Cookie Shine, the goal the Fraternity has for these women is to be recognized as leaders for everything good on campus at University of Nevada, and that these women set standards for the community and campus at large. I feel with great pride that the initiated members of Nevada Alpha have the ability to lead with honor and honesty in their heart. My wish is that these women follow through with all of the pledges they promised to honor, and that they leave the legacy I know they are capable of leaving. I am immensely proud of these women and I cannot wait to see the success that 2018 brings to the Nevada Alpha Chapter of Pi Beta Phi!
This blog post is courtesy of Leadership Development Consultant Claire Bange, Oregon Alpha.