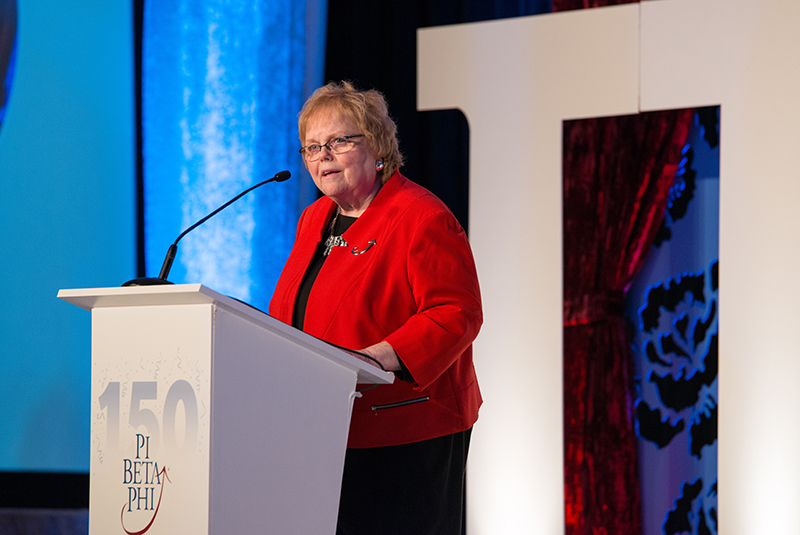 Pi Beta Phi's favorite storyteller, Ohio Beta Barbie Oliver Tootle, took the stage at the 2017 Convention. Barbie spoke about a friendship that grew into a 150-year-old Fraternity. For many sisters, Barbie's heartfelt message was a highlight of their convention experience.  
When 12 women decided to create our organization in 1867, Monmouth College had been chartered barely more than 10 years. Just two years before, in April 1865, Lee surrendered at Appomattox and a week later, President Lincoln was dead. Andrew Johnson was President. The country was in the throes of reconstruction. There were calls to impeach the President. Relations between the U.S. and Russia were in the headlines in 1867.  Money changed hands: $7.2 million as the U.S. bought Alaska from Russia.
These women were pioneers in their pursuit of a college education in the midst of so much turmoil.  They remained focused on their goals and founded a group to support themselves and others so that they would be prepared to take their place in the world. One-hundred-fifty years is a long time ago. And yet, I feel a sisterhood with our 12 founders. I feel that their story is my story. And it's also your story.
Emma Brownlee said that they did "desire a sisterhood of our own." The Beta Theta Pi's and Delta Tau Delta's already had chapters at Monmouth. She asked: "Why cannot college girls have a fraternity?" Had they not done so, one of you might have texted the same question: Why can't college women have a fraternity? Libbie Brook texted back (well, she said): "Just the thing … the men gained help by being together. We could find this also."
The founders were looking for exactly what we were when we joined: sisterhood. Friendships that would last — more than a semester, more than our college years. Founder Ada Bruen said, "Our good times were numerous." Founder Jennie Horne said that in the meetings "sisterly love and harmony prevailed."  (Though I don't remember harmony always prevailing!) Jennie continued: "Never a company of girls had better, happier times." I hope you can say that about your chapter days. I know I can. Let me tell you about my sisterhood journey.
I would not be here except for Bonnie Bell Webb. During Ohio State recruitment, in the Second Round, as I walked up to the Pi Phi House and filed in through the front door, Bonnie Webb, the Rush Chair, greeted me by name. It was January. I was wearing a coat, so I had no visible name tag. She knew who I was. She knew my name. And that did it. I started to feel like I had friends in this place. I began to notice their relationships to one another and knew this was where I should be. I followed my heart.
Founder Ada Bruen said that the friendship of her roommate Lilbbie Brook was "one of the brightest spots in my memory." Bonnie Webb is that bright spot in my memory. Who was that person for you? Someone whose interest in you was genuine? Someone who represented the values and culture of the chapter? Please tell that person "thank you."
We were initiated in the spring. After the ceremony, we each received personal notes from the actives. I saved about 30 of them. The Chapter President was Judy Morrison. I had been President of the Pledge Class and spent extra time with her that winter. In her note she wrote: "It is with great sincerity that I say that I'd be very proud to be a neophyte initiated by you someday." She thought I could one day be President! The love she shared, the confidence she gave me was a wonderful gift. As she predicted, I did become President and Judy was right — initiating New Members is a great honor and privilege.
We don't talk about the meaning of friendships very much today. But, our ritual reminds us what it is to be a sister. Tomorrow, during initiation, recapture some of the wonder and excitement of that ceremony. Remember what it was like to become a sister. I ask you — especially those of you who are entering your senior year — spend time with some of the newest members. Give them encouragement and show them the way. It will be remembered and make a difference even after 50 years.
My first convention was 1964 in Victoria, British Columbia. There I met Sara Ruth "Sis" Mullis, South Carolina Alpha. Even entering our senior year, it was clear to me that Sis one day would be the "Big Arrow," the Grand President. In the late spring of 1965, Helen Dix, a member of Grand Council who lived in Columbus, invited me to her home to discuss Pi Phi. It turned out to be a surprise Pi Phi cookout where she told me I was a winner of the national Amy Burnham Onken Award and that there were two winners — the other being Sis Mullis. Sharing it with her doubled the honor.
Here's a fun fact. Sis met Miss Onken at the convention in 1962. It would be Miss Onken's last. Amy Burnham Onken was Grand President 1921 to 1952 — 31 years. Over those years, she knew several of our founders. Fannie Whitenack Libbey, the last surviving founder, attended the 1940 Pasadena Convention and passed away the next year. I am amazed to think that I am only two people from the founders: Sis to Amy B to founders. Only one for Sis. One-hundred-fifty years isn't really that long ago! Or else it means Sis and I are really old. As there was at my first convention, in this audience is a future Grand President. Probably more than one. Perhaps it is you.
Let me tell you another sisterhood story that is about my sister – my biological sister. My sister was a Chi Omega at Ohio University. That was the first sorority house I was ever in. I was in 10th grade and it was siblings weekend. My parents never knew that they took me to what was called euphemistically a "tea" with the Phi Delts — my first fraternity party.
The Chi O's were a terrific chapter and her class was especially close. The year I joined Pi Phi, they were seniors, and I received lovely notes from some of them telling me how wonderful sorority life would be and the high regard they had for Pi Beta Phi. Yes, I kept them in my scrapbook.
Cathie's class seemed to have Chi O reunions every five years. After my sister died 18 years ago, one of her Chi O pledge sisters asked if she could put me on their mailing list so that I could tell them about Cathie's kids and grandkids. That strong bond of sisterhood reaches across letters and colors. While they are my sister's sisters, they are mine, too. When you join, your family joins, too. While you have a special bond as Pi Phi sisters, there is room for more — for great friendships with others beyond the arrow. Recognize and respect the core principles we have in common across the panoply of Greek groups. That bond can jump-start a friendship in your career, your neighborhood, your community.
What is it that defines sisterhood? Common ground. Common needs. That brought the founders together. It binds us today. Shared values. Shared dreams. And, of course, shared nail polish, shared clothes, shared "most embarrassing moments," shared dance moves (often the same as embarrassing moments). I seem to remember a couple of sisters sharing a boyfriend . . . of course, not at the same time.
You know you are sisters when you can pick up right where you left off, usually with laughter. Being a sister involves counseling, crying, confiding and more laughter. Your sister will get in your face and get you home when you need help. She will pump you up for a job interview, and make not getting an offer sound like the best thing for your brilliant future. I have heard that kind of friend called "a saving grace." We know what to call it: Pi Phi sisterhood.
Being a sister isn't always easy. It takes work and sacrifice, patience and time. The Chapter Presidents out there know what I'm talking about. There are always a few sisters who challenge everything. Older members here recall that "back in our day" there were a lot of university and Pi Phi rules for living in a chapter house: hours we had to be in at night, duties around the house and expectations for attendance. There were some sisters who pushed the limits time and again. What could we do about a sister who seemed not to care? Or who willfully disregarded the rules? In the words of Dean Wormer in "Animal House": put her on double secret probation? We persisted in setting the bar high and she persisted in ducking under it.
I did not stay in touch with this sister after graduation. About 15 years later, I was at my husband's softball game, sitting on a blanket up the first base line. I thought I recognized a woman across the field. While I was looking at her, all of those hours of trying to get her on board came flooding back to me. She noticed me and walked over. We sat and caught up on sisters we had seen and what they were doing now. When we ran out of things to say, there was a lull. And then she said: "I'm glad to see you. I want to thank you." Her earnestness was obvious, but I looked at her, puzzled.
She confessed that she knew she had been a pain when in the chapter. That she had challenged authority. Challenged me. But she wanted to thank me because I wouldn't let her go. I kept pulling her back. She realized that the easy thing would have been to ask her to leave. But the better thing was to show her what was possible. What could be. We did that, multiple times. We reminded her of all she could lose. And she has held onto Pi Phi ever since.
Fifteen years is a long time to wait to hear a very unexpected "thank you." Who do you owe a "thank you"? It turns out that I was a better sister to her than to most of the chapter because I cared about her and wanted her to be part of us, even when she was unlikeable. Now that's a sister. I encourage you to do what you think is right. It will change your life. That's what our founders had in mind.
To honor 150 years of Pi Phi, act like a founder. Our founders took risks, including forming a fraternity of women. Take a few chances. Embrace risk and failure — it makes the successes sweeter. Find your passion, your voice. Stand up and speak up. Where you see a need, fill it. Where you see opportunity, share it with others. Remember, your sisters have your back. They may not agree with you, but they will defend your right to your opinion and, with a golden arrow and a song, they will guide us all back to common ground.
What else can we learn from the founders of our sisterhood? Think big. Set high standards. Seek excellence. Care for one another. Have great fun. Be a friend. Be a sister. Let's all be founders of a better world. I wish for you sisterhood that lives up to Founder Jennie Horne Turnbull's description: "Never a company of girls had better, happier times." Here's to another 150 years of sisterhood in Pi Beta Phi!
This post is courtesy of Ohio Beta Barbie Oliver Tootle. These remarks may not be reproduced in whole or in part without the expressed permission of the author.