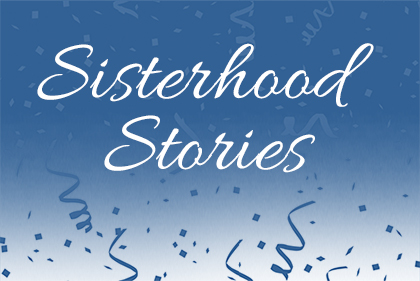 Today's Sisterhood Story comes from Sue Robinson, Missouri Alpha
Ever had a Perfect Pi Phi day? I was lucky to have one of those on April 28, 2017. It was a day I shared with a group of Pi Phis, each of whom has helped make my Pi Phi experience so memorable from college to today.
For years, I've talked about taking a day-trip on the train to visit Monmouth, Illinois. Amtrak runs roundtrip from Kansas City to Chicago daily and stops near Monmouth. I've ridden it many times, always planning one day to visit Holt House. Last summer, when I saw that Founders' Day fell on a Friday and would be Pi Phi's 150th anniversary, a once-in-a-lifetime adventure began.
My traveling companions came from different chapters and generations … they included mentors, mentees, best friends, three pairs of moms and daughters, former Grand Council pals, my Beta Buddy, the original cast of the first Collegiate Region 5 and our beloved Fraternity Historian Fran Becque. Some were old friends, and some met for the first time.
I've never seen a group of Pi Phis so excited to go somewhere at the crack of dawn! Three got on at 5 a.m. in Lawrence, Kansas, tipped the conductor to reserve seats for the nine of us who boarded in Kansas City, followed by two more who joined us at LaPlata, Missouri. I'm not sure Amtrak knew what to make of the Arrow girls. We talked, we ate, we laughed and even Facetimed with our Grand Vice President Collegians and Grand Vice President Finance, who called to wish us a happy Founders' Day enroute.
As you can imagine, being there on the day, 150 years after the founding of I.C. Sorosis, this wasn't an ordinary visit to Holt House. We'd had a little rain, the pink dogwoods were in bloom, and the house was beautiful. From the minute we walked in, greeted by Denise Turnbull, our official hostess, everyone was smiling. We sat down to a lunch where, unbeknownst to the guests, they were seated in the order that I'd met them (starting in 1975), giving me the rare privilege to share how each had made my personal Pi Phi journey so special.
Then came the magic. As only she can do, Fran set the scene. It was a Sunday afternoon. The founders most likely would have gone to church, had lunch just as we had, before they crowded into Ada and Libbie's upstairs bedroom.
It was an honor to spend the afternoon in the place where those clever Founders conspired to create all this, and even more so with sisters and leaders who continue to inspire me with their sincere friendship and lifelong commitment.
The hour was late when we arrived home, but none of us can stop talking about how this was one of the coolest things we've ever done with Pi Phis!