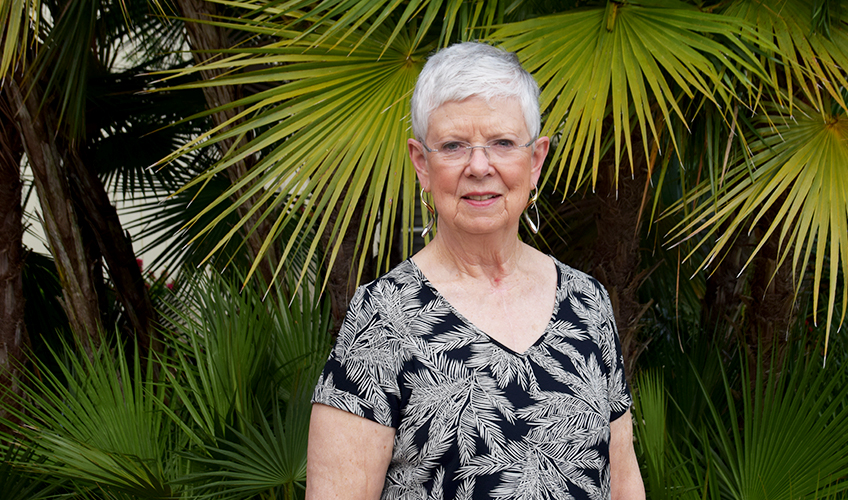 In 1964, Indiana Beta Susan Crane Kyle moved to Fort Myers, Florida and called Pi Beta Phi Headquarters to find an alumnae club. The closest club was 80 miles away in Sarasota. She was so eager to meet Pi Phi sisters that in 1970 she received the charter for the Southwest Florida alumnae club.
Today, she is the only charter member that is still active in the alumnae club. Since 1974, she has held the annual holiday party at her home. The more seasoned members of the club look forward to coming to the event to see the holiday decorations, including a two story tall Christmas tree. Though she is the last of the charter members that remains active, the club has always meant a lot to her and she wanted to stay involved – there is no way she would give it up.
One sister she has been able to reconnect with is Indiana Beta Ann Lyons Sutton. Susan and Ann lived together in the Indiana Beta Chapter house and had not kept in touch over the years, until Ann moved to Cape Coral near Fort Myers. Through the alumnae club they linked up and were able to rekindle their friendship and sisterhood. Recently, Susan had surgery and Ann helped her through the entire recovery process. "Never be afraid to reach out to your sisters," Susan said. "The bond is so strong, they are always there to help if you just ask."
The club is so interesting and so diverse – a lot of snowbirds and women from all over the country. It is wonderful to get to know people from all over. Susan has held nearly every leadership position in the club. And she is one of the first to welcome a new member to the area by taking them out to lunch or getting to know them at a meeting.
For the work she has done, she was the recipient of the Fraternity's prestigious Evelyn Peters Kyle Angel Award for Club Service in 2015. "Pi Phi is forever," Susan said. "No matter where you go, you run into other Pi Phis and there is an automatic bond."