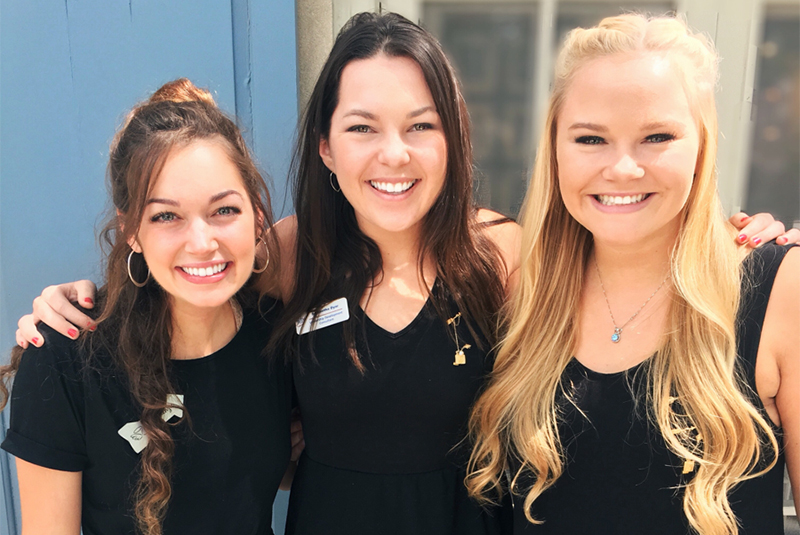 Recruitment as a collegian is many things – exhilarating, terrifying, overwhelming, exciting, anxiety-provoking. But most of all, it is rewarding. The meaningful conversations and the formation of friendships make the late nights and the endless recruitment prep worthwhile. There is something uniquely special about sharing something of importance with another. It has the effect of making hearts race, jittery with excitement – albeit, these symptoms may also be blamed on the excess of large iced coffees that collegians drink by the gallon to start their recruitment mornings. When successful collegians recruit, they are selfless in sharing; they share their most authentic selves, they share their values and interests and most importantly, they share their love for this great organization. As a result, they are able to form meaningful connections with extraordinary like-minded women.
Now as a Leadership Development Consultant (LDC), the experience is no less rewarding. As an LDC, I am able to be a part of multiple recruitments across the country from the beginning of August to the start of October, partaking in the joys and accomplishments of chapter women as they put in the long hours to find potential sisters, littles, roommates and best friends. LDCs support chapters during recruitment in a variety of ways. Ultimately, we are there as cheerleaders and resources, offering insight and expertise on a variety of topics, from bumping logistics and membership selection to conversation skills and values-based recruitment. While LDCs may oversee recruitment, their role is not to take over or lead the recruitment experience. Their function is to encourage members and officers to challenge themselves and consider areas for growth and improvement during the process. The goal of an LDC is to support the chapters and meet them where they are, wherever that may be.
And at the end of the five (give or take) intense and exhilarating, strange and wonderful days … we leave. We pack our bags and do it all over again. But just as the collegians do, LDCs become invested in and inspired by the chapter. And while it may hard to leave, we are excited for the next stop, the next first round of recruitment and the next Bid Day full of hugs and (hopefully) minimal glitter. Like the fictional character Yoga Jones from the television show Orange is the New Black, we recognize the brief, provisional nature of our visit: "Work hard to make something as beautiful and meaningful as you can, and when you're done, pack it all in and know it was all temporary."
The best part of living, eating and breathing recruitment for two months is being able to see the commonalities among all chapters. Every campus culture is unique, and yet the Pi Beta Phi experience links both collegians and alumnae alike. At the end of the day, every chapter – from Nebraska Beta to Alberta Alpha to Vermont Beta – is looking for women who will live out our core values of integrity, lifelong commitment, honor and respect, philanthropic service to others, personal and intellectual growth and most clearly, sincere friendship. To best prepare for a successful values-based recruitment, chapters should promote these values and ask open-ended questions that examine whether potential new members share in these guiding principles. As Shawn Eagleburger, Director of Strategic Initiatives for Pi Beta Phi says, "Values attract and repel members." Just as much as we want to attract people to our organization, we also want to repel others. We want to attract members that will be servant leaders, sincere friends and true sisters. And we want to repel – to put it bluntly – those who will not. Therefore, chapters must know their image and values and use that knowledge to their advantage to find members who align with Pi Beta Phi ideals. It is okay to repel potential members, as long as we are attracting Pi Phis.
And attract Pi Phis we do. Recruitment is crazy and hectic, but fundamentally it's purely about meeting new people. And in that way, recruitment prepares us for the other 364 days of the year, and ultimately, life. It gives us the skills and confidence we need, it reminds us to be present and genuine and it allows us to be curious and generous with our time. And, you will only get to experience the wild and wonderful thing that is recruitment at most three times during your collegiate career, so enjoy it. Unless of course you become an LDC … in which case do not forget that applications open soon and know that you are in for a fun ride!
#BeAPiPhiLDC
Interested in becoming a Leadership Development Consultant? Know someone who would be great serving the Fraternity in this capacity? All seniors and recent graduates are invited to apply for this opportunity. Pi Beta Phi seeks women with varying levels of experience and diverse backgrounds. The selection process includes several opportunities for the interview team to get to know applicants through one-on-one conversations, team dynamics and presentation styles. Applications for the 2018–2019 year will open on October 2, 2017, and are due December 4, 2017. To learn more about the program and application process, visit www.pibetaphi.org/ldc.
This blog post is courtesy of 2017-2018 Leadership Development Consultant Samantha Dyar, Connecticut Gamma.