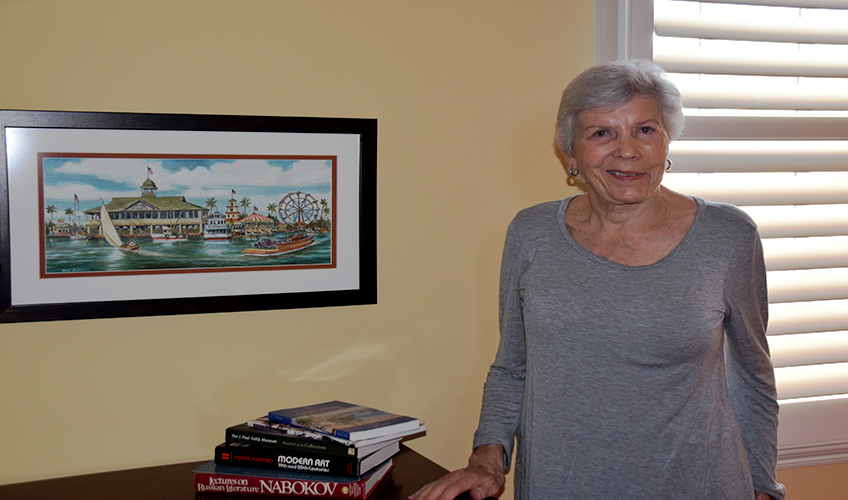 She remembers the invites from friends to spend a week in the bungalow by the beach. She remembers the sun in her face and the sand in her toes. For as long as she can remember, California Gamma Phyllis Speek has always wanted to move to the beach.
During our visit, she made fresh squeezed orange juice and we shared a sweet pastry as she told me the wonderful story of her life and her journey to this beautiful home.
Phyllis was born in Columbia, Missouri, but due to the Great Depression, her family moved west to Compton, California in 1933 to find work. Her father worked on the Hoover Dam as part of President Roosevelt's Works Progress Administration (WPA). Phyllis attended Stephens College, a two-year progressive women's college, in Missouri. She transferred to the University of Southern California to participate in the dental hygiene program, and pledged Pi Beta Phi as a junior.
Still determined to make it back to the beach, she took steps toward that goal. In the 1950s and 1960s, she began to buy property in Whittier and La Habra, areas in East Los Angeles, for a $1,000 down payment. In the 1970s, Phyllis took courses at Fullerton State College in real estate and real estate law. She eventually bought multiple duplex rental properties in Newport Beach. Finally, in the 2000s, Phyllis was able to purchase a lot thirty feet wide in Corona Del Mar, California, just half a mile from the beach.
Phyllis began the home renovation even though she was 70-something years old. She wanted this to be an Owner-Builder home. She picked everything out – flooring, finishes, paint – and worked with contractors and subcontractors on all aspects of the building process.
Throughout the project, Phyllis never changed anything because she knew what she wanted. "The architect said I was doing it the way people should do it – with the love of heart. You need to take your time and keep it basic," she said.
It took her five years to build and her home is very comfortable – it is exactly how she works. She is proud she can entertain people in the front courtyard with a barbecue and seats for 10 people. Her home is full of memories: a cabinet that had been in her husband's family for nearly 200 years, a bureau from the couple's trip to Thailand, artwork she painted throughout her life, as well as a photo of her Pi Phi New Member class.
Across a high beam are the words "Ma Chaumiere de la Mer," roughly translated as "My Cottage of the Sea." Phyllis finally made it to the beach. "I want to stay as long as I can stay, " she said.