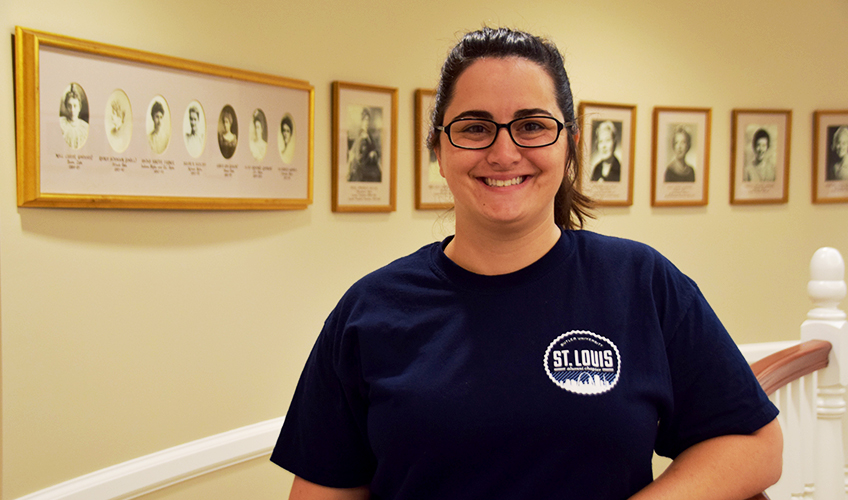 "The Butler Way demands commitment, denies selfishness, accepts reality, yet seeks improvement every day while putting the team above self."
Indiana Gamma Maggie Skeffington is a proud graduate of Butler University (BU) in Indianapolis, so this quote is displayed prominently at her desk at Pi Beta Phi Headquarters. It is a reminder for Maggie to live her personal best while supporting the team around her.
As Chapter Services and Recruitment Support Coordinator, Maggie is lovingly referred to as the "Bidlily Guru" for her ability to successfully guide collegians and advisors through the recruitment tool. In fact, she supports all 140 chapters and volunteers in anything related to recruitment, whether it is data analysis, brainstorming, recruitment plans – anything you need!
Working with and visiting chapters, Maggie appreciates that each chapter has its own quirks, traditions and priorities. She also understands that our women are facing similar issues and need support as they go through their collegiate careers. Because of this, Maggie serves as a Critical Conversations Facilitator in addition to her full-time role at Headquarters. Critical Conversations is Pi Beta Phi's risk prevention education programming, which includes a four-pronged Speaker Series.
This spring, Maggie had the opportunity to facilitate with Chapter Services and Program Development Coordinator Jessie Ashton, Alabama Beta. The two visited Oregon Alpha and California Eta to present "Every Act of Yours," the newest speaker series program that talks about holding sisters accountable and being confident and comfortable with approaching sisters and friends with difficult conversations.
The program first discussed the big picture, global discussion of how individuals can fix issues as members of society. It then dives into membership in Pi Beta Phi and how the chapter can help change individuals's outlook so they can all enjoy their membership experiences. This is one of the ways Maggie lives out The Butler Way —by putting our Pi Phi team above herself.
One reason Maggie took a position at Pi Beta Phi Headquarters is because the values of the Fraternity have always resonated with her. Maggie loves working for a place that embodies its values and takes pride in what it stands for. Thank you for making an incredible impact on our chapters, Maggie!
To learn more about Pi Beta Phi's Critical Conversations program, visit: https://www.pibetaphi.org/pibetaphi/SFContent.aspx?id=29758