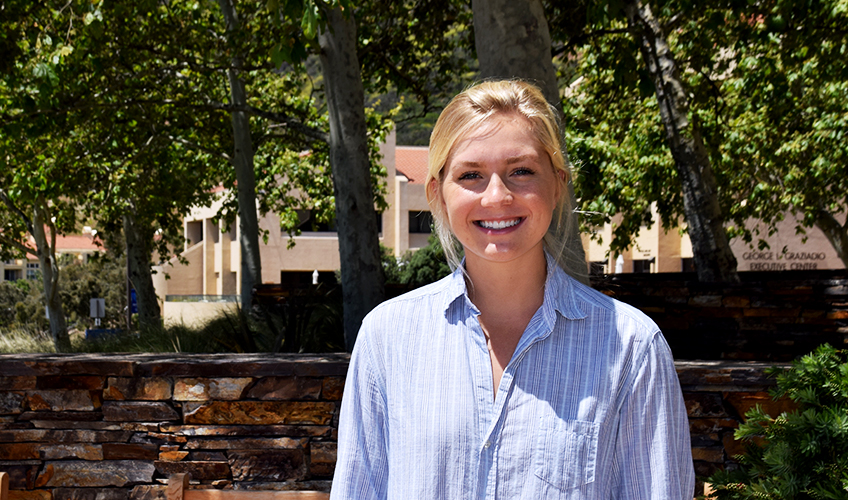 As California Mu Petra Sikorski began her search for a college to attend, there were a few things important to her: a small, Christian faith-based, academically rigorous school and an area that was equal to the beauty of her home state of Colorado. Where she landed was at Pepperdine University nestled in the mountains along the beautiful coastline of Malibu, California.
In a few months, Petra will be leaving for Switzerland, where she will spend her sophomore year studying abroad. That is something unique that happens at Pepperdine – approximately 70 percent of the sophomore class studies abroad during this academic year. Petra is thrilled for her upcoming opportunity. After discussions with her parents, Petra decided that she would study abroad for a full year to really experience the culture more as opposed to the experience feeling like a short vacation. She wants to become a local in order to better understand the culture.
Being from Colorado, Petra wanted to be in an area with a culture focused on outdoor activities. Her interest in the outdoors comes from her upbringing: both parents are active and love to explore nature. This love has definitely been passed down to Petra. She loves fly-fishing with her dad and hiking Colorado Fourteeners, the nickname given to mountains with a peak elevation of at least 14,000 feet. She started skiing at two years old and would now go skiing every weekend if possible during the winter. Petra is especially excited to ski in Switzerland, which she has been told is similar to the high altitude slopes in Colorado. But Petra will not be spending all her time in Switzerland; she has plans to travel. France and Italy are at the top of her list, but who knows where the next adventure will take her.