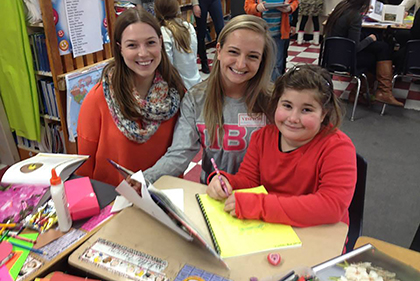 This post is courtesy of Pi Beta Phi Foundation, as seen in the Fall 2016 issue of The Bow.
For more than 10 years, the Vermont Beta Chapter at the University of Vermont has been facilitating Champions are Readers® at John F. Kennedy Elementary School in Winooski, Vermont. Visiting the school every week during the school year, the members of Vermont Beta have made an impact on hundreds of lives, including third-grade teacher Lisa Goetz.
John F. Kennedy is a small elementary school in the Winooski School District, just minutes away from the University of Vermont campus. Currently, 87 percent of the school's students live below the poverty line. The Vermont Beta Chapter implemented Pi Phi's Champions are Readers program at the elementary school more than 10 years ago due to the extreme need for literacy improvement.
Lisa Goetz has been teaching third grade at John F. Kennedy for 16 years. This school year, she has 22 eager eight-year-olds in her classroom. Year-after-year, Lisa credits much of her students' creativity and success to Pi Phi's involvement. "As a teacher, it is my job to create their love of reading and love of learning," Lisa explained. "But I know I can't do it alone. On average, five to 10 members from the chapter come to my classroom each week. It's because of Pi Phi these students get the special attention they need to succeed."
Lisa described Pi Phi's presence as enthusiastic and essential. "A party is only as good as the people who show up," she laughed. "But it's true! And when the Pi Phis show up in my classroom, the children light up. From day one to the end of the school year, they run to the women when they arrive and shower them with love. They are drawn to the Pi Phis' passion. They know it means their learning is about to come alive."
Winooski, Vermont, is home to the U.S. Refugee Resettlement Program, a division of the Administration for Children and Families, that provides resources to new populations assimilating to American society. This means many of the students are first-generation Americans and are just beginning to speak English. There are 22 languages spoken within the Winooski School District, which makes not only reading, but learning, a more challenging task. Many of these children come from families where no one has attended college, or for some, even graduated high school.
"It is critical these children are exposed to college students on a regular basis. Not only is the interaction integral to their development, but they learn about what it's like to go to college and what it means to earn a degree. They say 'I want to do that, too.'"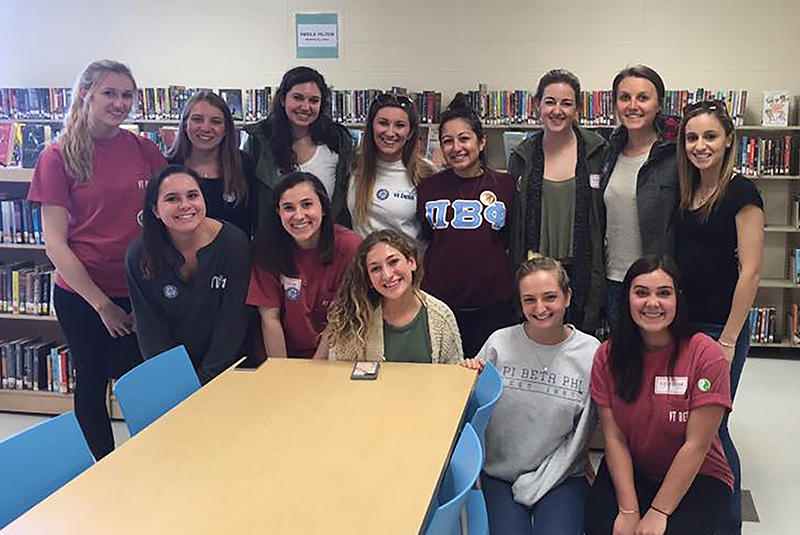 Over the years, Vermont Beta's Champions are Readers facilitation has expanded into something even more influential. "When the women come to the classroom, their main focus is on reading and writing, but they also are involved in math and social studies. They especially are involved in our classroom's Six Celebrations of Learning — an interactive, six-part project that involves all of those skills. It spans throughout the year and involves plays, reports and fairs. It's when the children, and Pi Phis, have the most fun."
The members of Vermont Beta truly embody Pi Phi's core value of Philanthropic Service to Others. They begin their service at the beginning of the school year, and continue to work with the children until the last day of their second semester. "We don't see it as extraordinary," said Vice President of Philanthropy Lindsay Sweet. "All of our members feel connected to the John F. Kennedy students and the Winooski community. Understanding the importance of literacy and making a difference in the lives of others, is just a natural part of being a Pi Beta Phi."
"I literally couldn't do what I do if it wasn't for Pi Phi," Lisa added. "They have been a part of my team for so long, it's hard to remember what is was like without them! It's sad to see women graduate, but so encouraging when New Members arrive and are as eager as the rest. It's clear they want to be in the classroom. I think it's because they know they are making a very real difference in the lives of students that need it most."

Champions are Readers® (CAR) is Pi Beta Phi's unique reading enrichment program for students in prekindergarten through third grade. A grant from Pi Beta Phi Foundation's Literacy Fund allows for chapters and clubs to facilitate CAR for free, covering the cost of folders, activities, certificates and books for the classroom. 
In the 2015–2016 academic year, 23 alumnae clubs and 55 chapters reported their participation in CAR. A total of 5,793 CAR packs were ordered, impacting the lives of thousands in local communities. Visit www. pibetaphi.org/championsarereaders to learn more about the CAR program and how you can get involved.