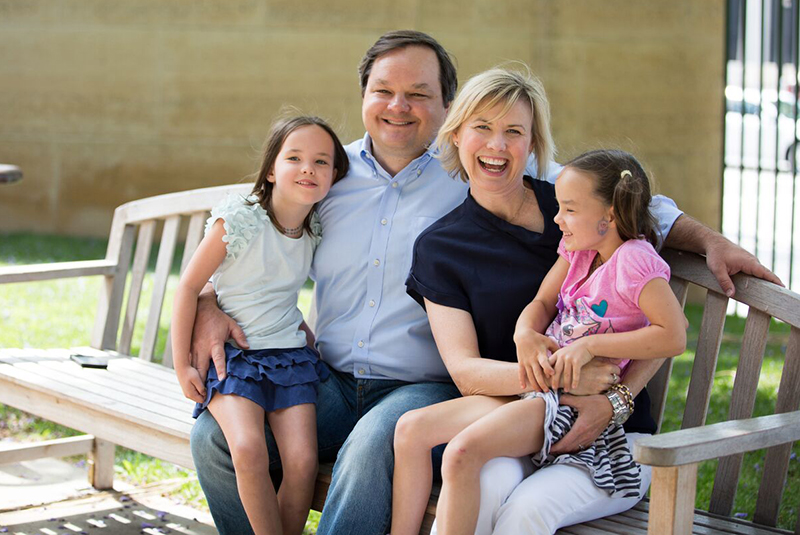 After graduating from the University of Texas with a master's in tax, I went on to pursue a career in financial planning. I spent the better part of 20 years working with families on their financial, charitable and estate plans. However, it wasn't until our family moved across country from Los Angeles to Jacksonville, Florida, that the idea for my book came together.
Shortly after our move, I had a 'what if' moment where it struck me that we had just moved 2,400 miles away from my sister-in-law, the named guardian for our four-year-old twin daughters, to a town where we knew no one. What if something happened to my husband and I? How would my sister-in-law know our wishes for our daughters if I didn't write them down? She'd be left with so many unknowns.
Then, one week after our cross-country move, my mom had a freak accident. Faced with the possibility of losing her, I realized there was so much I did not know. What where her end-of-life wishes? Where were her 'important documents' located? How would she want to be celebrated? And most importantly for us left behind, what about her stories? I did not have a single one written down. She could be gone in an instant and her legacy would be left up to me to recreate for her granddaughters.
It wasn't long after the experience with my own mom that my mother-in-law was going in for surgery and began asking me about documents she would need 'should something happen.' I was once again facing the possibility of losing a loved one without knowing her wishes. It was the culmination of these experiences that inspired me to write the book, "Missing Pieces Plan." The book is a resource that all families need — yet, it did not exist. Even with tidy estate plans, pieces seemingly complete, there are often pieces that are missed. And I believe, these missing pieces can have the greatest impact and leave the greatest impression on our loved ones and generations to come.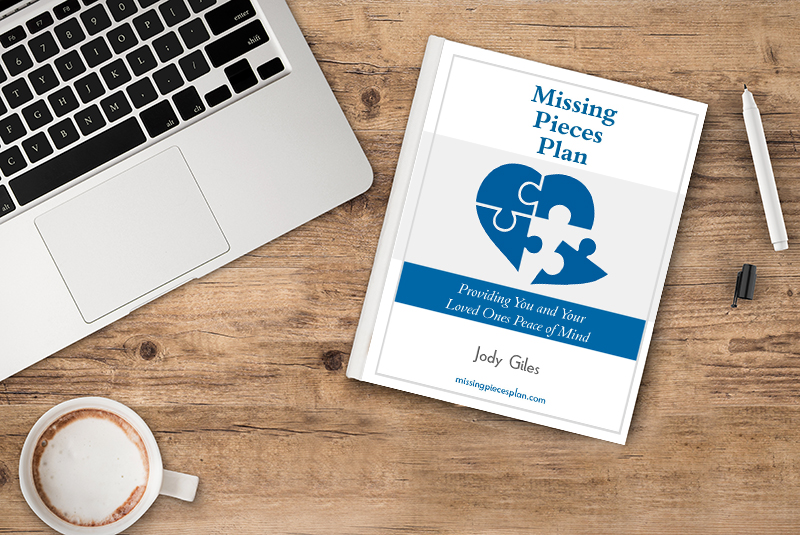 Many of these pieces are the ones most of us don't want to talk about and therefore are often left out of traditional financial plans. There are 10 missing pieces revealed in four sections of the book; Legal, Letters, Insurance and Legacy. There's a saying, "leave a legacy, not a mess." I believe incorporating these missing pieces into your plan allows you to "leave a legacy, not a mess."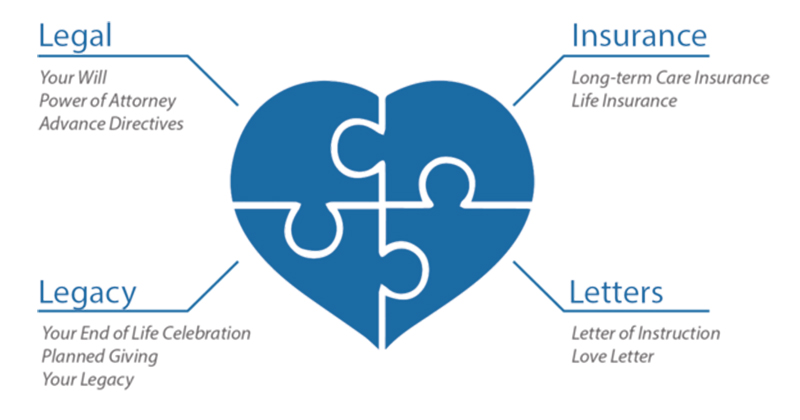 The one piece most often ignored, but that can leave the greatest lasting gift, is your legacy. Before you stop reading, I promise crafting your legacy isn't what you might think. Your legacy is your story. That's it. And, everyone has a story regardless of age or stage in life. Regardless of how complete our estate plan is, sadly, documenting our stories is often overlooked. Maybe we think our loved ones won't care about our stories? Maybe no one has asked us to write them down?
So, why will they matter? I love the quote "you might think your story doesn't matter, but it does to someone." I am certain my grandmother would say her life wasn't worthy of a "legacy." I would wholeheartedly disagree. As one of her adoring granddaughters, there are countless stories I wish I knew. They are her story, her legacy. They matter to me. What was her favorite memory of her mother? Her father? Does she remember the day I was born? What was her favorite childhood memory? What was it like being a mother while your husband was at war? What was it like facing breast cancer in the 1960s? If there's one recipe you want me to teach your great-grandchildren, which one would it be? And I am desperate to know, where did you get the red and green candies for your peppermint bark? I can't find them anywhere!
My grandmother may not be here to ask the stories of her life, but my mom is. I am now on a mission to make sure her stories are not lost. Like how as a little girl the doctors put tar on her hands to help "cure" her eczema; what it was like to change schools in the middle of her high school career; how she took the bus by herself to the salt mines in Dallas lugging salt rocks home in a beach towel that she'd then sneak into school and suck on during class; the list of her favorite foods as a child; how she became the chaplain of her Pi Phi chapter; the story of how she was throwing an Oscar party on the night I was born; and many, many more.
Even in my forties, my stories matter, too. They will matter to my daughters one day as well. Rather than hope they'll know the stores, why not ensure they'll know them by writing them down? Stories like my favorite childhood memory, how I met their dad and my wish for them as they become young women.
From our stories, our legacy is crafted. Not only is sharing our life stories important, it's also a gift to share the stories of our stuff. Yes, our stuff. It may be hard to fathom, but when a loved one dies, it is often the "stuff" that can cause the most contention among those left behind. Estate planning attorneys I interviewed for the book unanimously shared that most feuds after a loved one's death were over sentimental items. The heirlooms that may not be of much financial value, but hold vast sentimental value.
What if you could ask your loved ones what heirlooms are important to them? What if you could ask them why? What story does it carry with it? What if you could share what heirlooms you hope will be passed down to you? The passing of the items can be now or later, but making your wishes known for your "stuff" today, is a gift. By documenting whom you want to get what cannot only help to eliminate or reduce feuds, it can be part of your legacy.
How does the story of your "stuff" become part of your legacy? Here's an example. My mother-in-law gave me a gold bracelet that my father-in-law had given to her. It has the letters L-O-V-E on it. When she gave it to me, she shared that when my father-in-law gave it to her, he only had enough money for the four letters, L-O-V-E. Not enough for the "I" or the "YOU." I love this story. I smile every time I wear it, thinking of the exchange between them. Knowing this story, I treasure it even more. How will my daughters know the story when they receive the bracelet one day? I've written it down for them.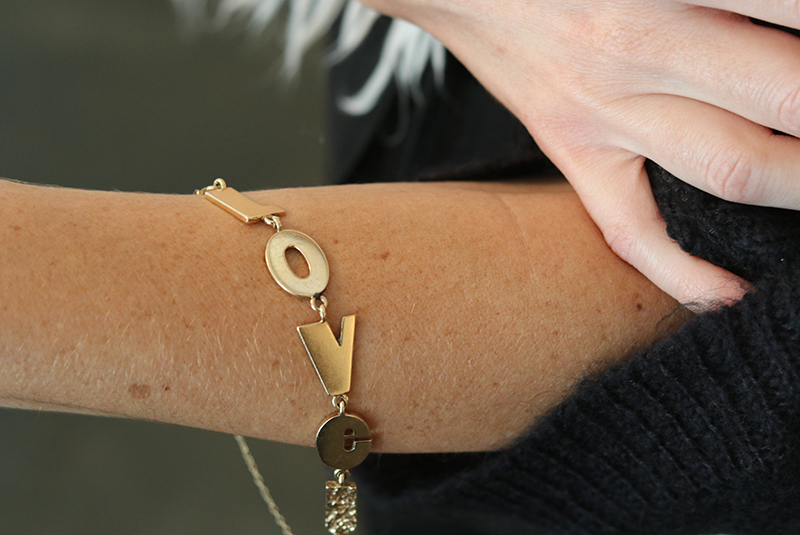 Here are two more examples where sadly, the opposite is true. Where I don't know the story about the heirloom. The first is the collection of my maternal grandmother's teacups. I would love to know, why teacups? Where did they come from? Is there a story behind each one? What was their significance to her?
The second example is a portrait I have of Mama Sue. My paternal grandmother, Fufu, painted this portrait of her mother-in-law, affectionately named Mama Sue. I would love to know what their relationship was like. What was is like to paint her? How long did it take? What did you talk about? Did you giggle, tell stories, smoke cigarettes? And for my daughters who are both artists, how did you learn to paint? Did you always paint? And there are so many more I would love to ask.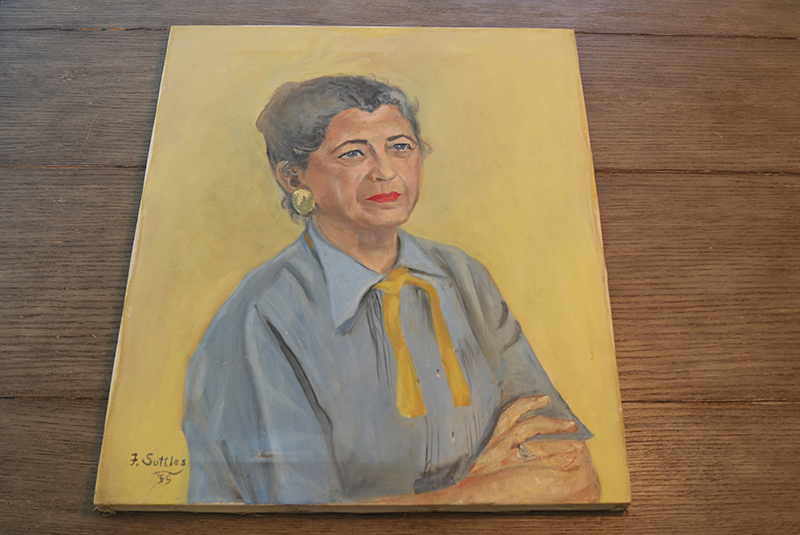 Our legacy, our stories are never-ending. And, I believe it's never too early to start making sure they are written and shared. As the holidays approach, what stories do you wish you had written down or taped of a loved one? What stories can you write down? The "Missing Pieces Plan" includes a questionnaire to assist readers in starting the process of crafting your story, your memories. However, there is no right way to craft your story. Just remember, it is important to someone. Completing this for your loved ones is a priceless gift. Christmas is coming! Is there a greater gift than the gift of your legacy? I don't think so.
This blog post is courtesy of Texas Alpha Jody Suttles Giles.