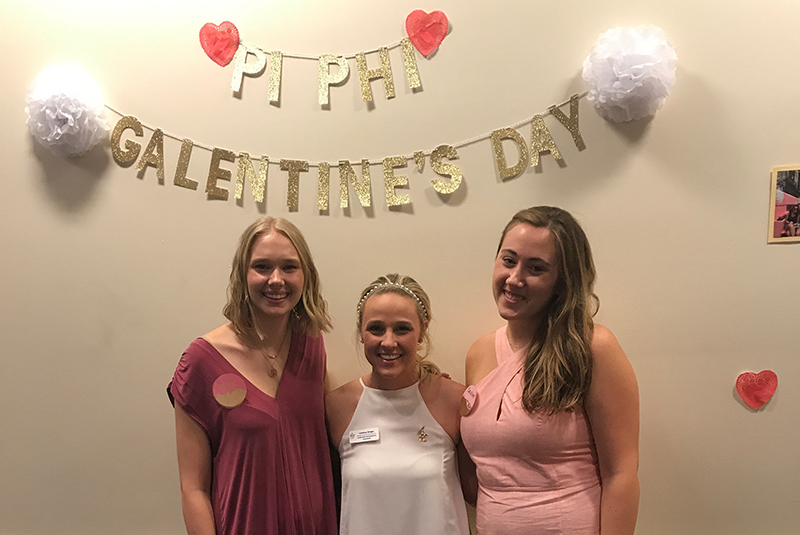 "I Love Having Pi Phi Sisters" is one of the first phrases engrained in our minds after joining Pi Phi. The phrase is a mnemonic device to help memorize Pi Beta Phi's core values. However, over the course of my journey traveling to Pi Phi chapters all over North America, I've had the opportunity to take that simple phrase and put great value and meaning behind it. As a Leadership Development Consultant (LDC), I have met some of the most incredible women through Pi Beta Phi. Women that truly exemplify and live out our core values day in and day out. I want to share some of my favorite examples of why I Love Having Pi Phi Sisters:
I — Integrity
One of the fun little things of being an LDC is seeing how unique each Pi Phi chapter is. Just when I think certain chapters will be similar … I am wrong and happily so. I love that each chapter embraces the mission of Pi Phi, but also adds a personal touch. I love that over the years these simple chapter traditions have transpired into something very important to these women. I have seen the Chapter President beam with excitement when a pair of tiny scissors are missing, which means a sister is engaged. There are Pi Phi families who have a "family restaurant," like The Olive Garden, that they insist on eating before every Pi Beta Phi event. To something as sweet and special as presenting their little sis with a fleece tie blanket in their favorites colors and patterns and the letters of Pi Beta Phi hand-stitched on one side. However, as sentimental as these traditions may be, it's the traditions we share Fraternity-wide that really matter.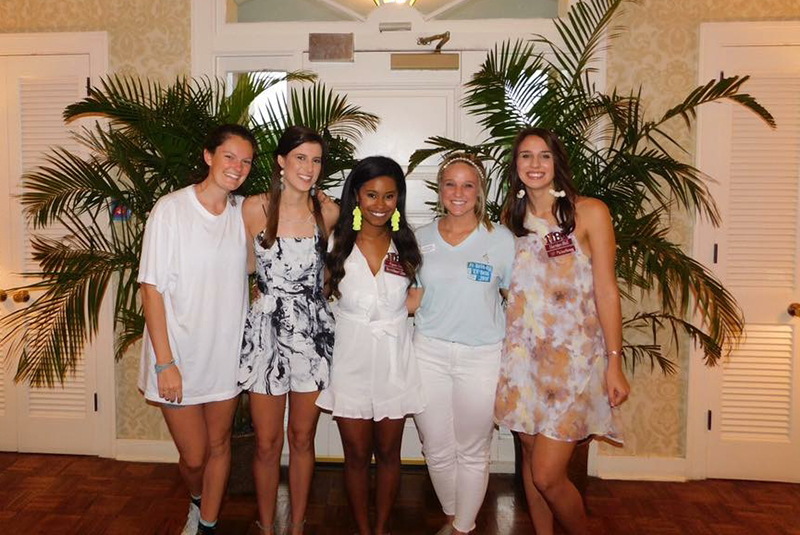 Love — Lifelong Commitment
As I had ventured into a coffee shop one day wearing my arrow badge, a woman asked if I happened to be a Pi Phi. Always eager to say yes, she had mentioned that the past week her and her New Member class had come together for a reunion. Her and a friend had showed up to the restaurant to claim their reservation and said it was under the name 'Pi Beta Phi.' The hostess responded 'which one?' Crazy enough, two New Members classes — 10 years apart — had booked the same restaurant at the same time for their Pi Phi reunions. Instead of keeping their parties separate, they had one big Pi Phi celebration!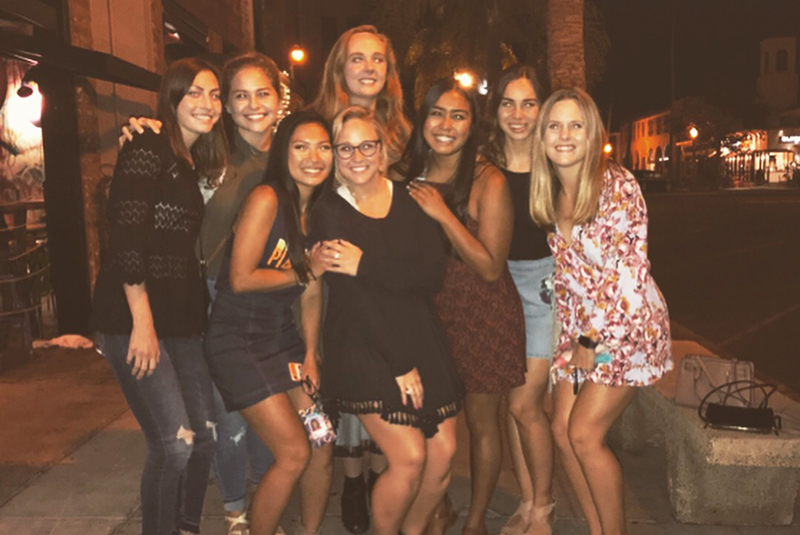 Having — Honor and Respect
Stand Up For Your Sisters (SUFYS) is an organization that works to empower young adult women who are facing or have faced difficult obstacles in life. To do so, they distribute surveys to groups of women, such as a sorority, to answer personal questions regarding issues including: mental illness, loss, abuse, eating disorders and more. Once the anonymous surveys have been completed, they are collected and redistributed. A facilitator will then lead a workshop in which the women are now representing someone else in the room. For example, the facilitator might say 'If you have ever lost a loved one, please stand.' The women would then stand, on behalf of the survey they hold, if they have lost a loved one.
A group of Pi Phis, on one campus I visited, helped start this organization, with hopes to provide women an opportunity to see they are not the only ones experiencing tribulations and, in fact, so are their sisters. I watched as these women took in these moments — an experience that they will likely never do with another group. They began to visibly honor one another with rounds of applause and snaps around the room. It was evident their respect for their Pi Phi sisters and their experiences have bonded them in a way unlike any other.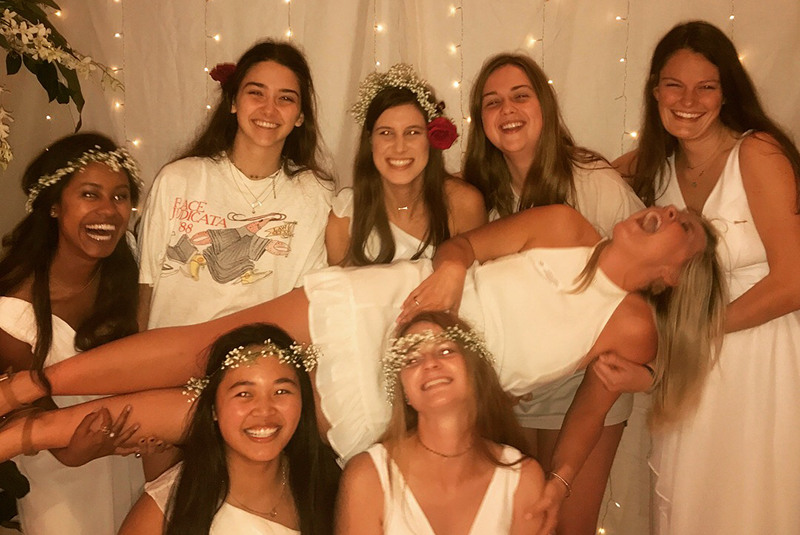 Pi — Personal and Intellectual Growth
"What are you going to study/do with your life?" is the million-dollar question that haunts all college students — and maybe even haunts them post-graduation (if you are anything like me)! While visiting a Pi Phi chapter, I had the pleasure of learning a little bit more about myself as I watched the members engage in an activity to explore where their passions lie and their strengths emerge. They dedicated a couple hours to dive into what truly made them happy. The members were encouraged to dream big and consider things you never imagined possible. As women, we often underestimate our abilities, we underestimate our worth and we underestimate our impact. We belong to and invest in an organization that works to develop strong women, women who will contribute to and make a difference in our society. The women were exuding confidence following this activity. In fact, some of them felt they had even recognized their purpose both within and outside of Pi Phi. I am full of gratitude for the women in that chapter who made an impression on what I choose to pursue following life as an LDC.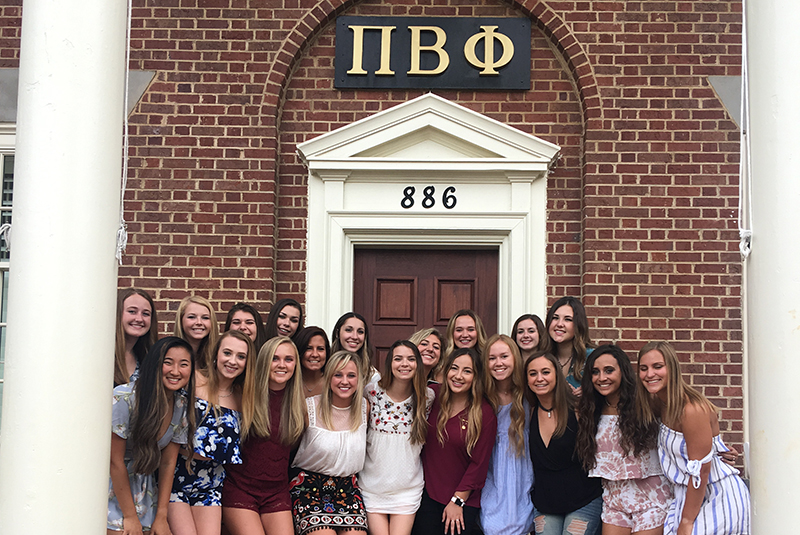 Phi — Philanthropic Service to Others
A Madame President at one of the chapters I visited, as people referred to her, was quite possibly the humblest person I have come across on this journey. This woman had taken an obstacle in life and made it into a positive solution for others. When I say Pi Phis are changing lives, this woman is doing just that. Smiling big on the outside while struggling with depression within. She did not feel like herself; she just was not finding joy in the little things she once had. She stumbled across virtual reality that allowed her to escape and use her imagination. It helped her recognize that there was joy to be found, even in the littlest of things. This woman, now 10 years later, is in the process of developing a virtual reality program designed specifically for children ages 7-17 who suffer from depression. She is working to design a virtual reality experience that is both constructive and therapeutic. Sony has invited her to their Headquarters to present her product and she hopes to have Sony partner with her in getting this implemented in hospitals arounds the country. She has successfully started piloting the program with a facility in town and I have no doubt that this sister of mine in Pi Beta Phi is a difference maker.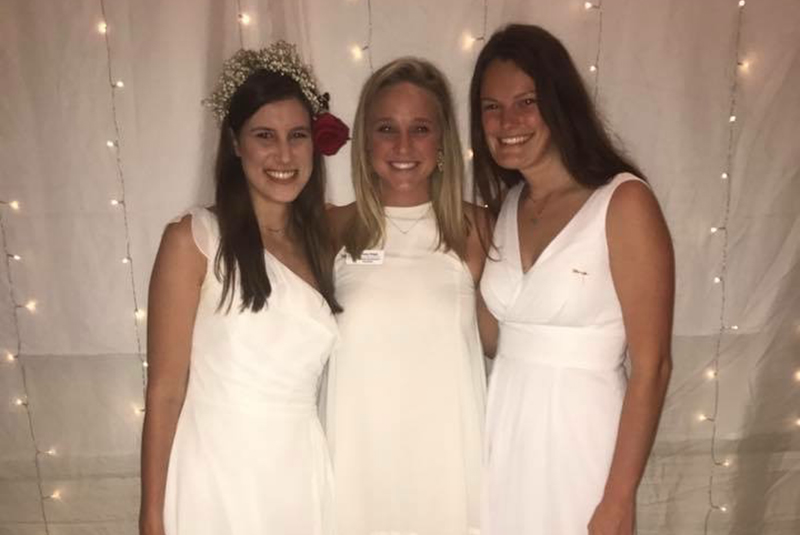 Sisters — Sincere Friendship
We all know that Bid Day is the second biggest celebration behind our birthday — except better because it is about the entire sisterhood. At another chapter I visited, I watched the New Members sprint down the sidewalk into the arms of their new Pi Phi sisters, and in doing so witnessed a near catastrophe. The woman leading the pack, amped to officially become a Pi Phi, nearly took out the women she was about to call her best friends. One after another after another were going down until it soon became a dog pile of sorority women. It felt like time had stopped and stress had hit. Either 1) I am about have to call 50 New Members' parents to explain that their daughters have been in a recruitment accident or 2) No parents will need to be called because these women will now consider Pi Phi a hazard and ditch that bid. Luckily, one of the New Members let out the biggest chuckle and yelled 'we wasted no time getting close to one another!' They all started laughing and taking selfies. What I had originally thought was going be the biggest Bid Day disaster, turned into a lasting memory I can assure you they will never forget. In some cases, friends will catch you when you fall and in others they will just fall down right with you.
As I am venturing through February, the month of love, I cannot help but reflect on one of the truest loves I have experienced: that is the love I have for the women in Pi Phi. They have helped instill a sense of confidence in myself, they have challenged me to reach for heights greater than I thought possible and they have molded me into the leader I am today. For all these reasons and more, I (will always) Love Having Pi Phi Sisters.
This blog post is courtesy of Leadership Development Consultant Lindsay Briggs, Oklahoma Alpha.