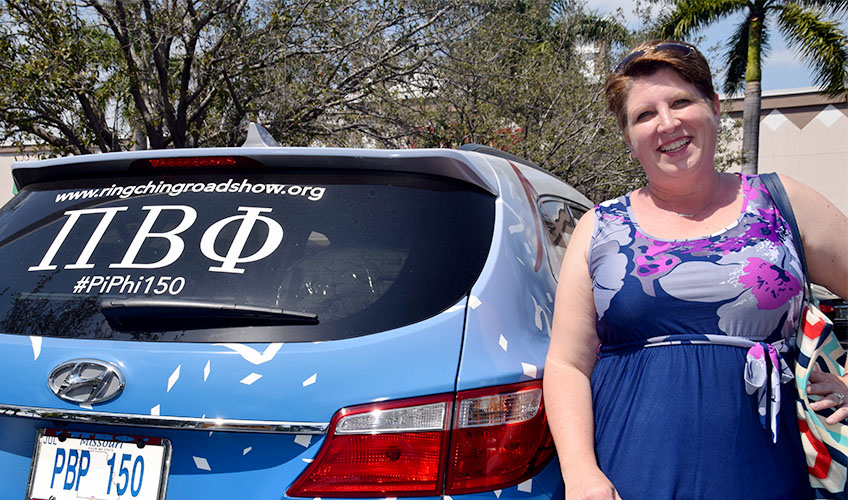 Indiana Gamma Carla Hoagland Schuyler is from Hillsboro, Indiana, which she lovingly describes is a town of 600 happy people. There is no exit on the interstate to get there, you have to take the side roads, but you pass many corn and soybean fields along the way. It is rural Indiana where her parents and grandma still live. For Carla, it is still home. Maybe it's the familiarity each visit, but she is lucky to have the opportunity to go back there.
She has come a long way since then, and now has the travel bug. Carla has lived in Columbia, South Carolina, to Gainesville, Florida, spent time in Fort Hood, Texas, and Syracuse, New York, before living overseas in Doha, Qatar; and of all the places she has lived, I was able to catch up with Carla in Fort Lauderdale, Florida.
A proud military wife of 13+ years, Carla and her husband Bill, along with 10-year-old son, Ian, and seven-year-old son, Aaron, have lived all over the world. Carla cannot say anything negative about military life. "Yes, it has been a sacrifice," she said, "but they take care of us."
Carla is proud her boys have been exposed to so many cultures because they always see something new. Last year alone, her family traveled to Austria, Czech, Hungary and Slovakia. Years prior, they've visited Singapore and Indonesia and spent Christmas in Germany and Austria. One day while living in Qatar, Ian said, "I wanna see the Eiffel Tower," so Carla was easily able to plan that trip for her family for just a few weeks later.
Along with the memories collected from each visit, they have friends internationally – Malaysia, South Africa, Netherlands, Belgium – all over the world. I asked how she does it. She responded: "Make a good impression and be your best self." Carla is definitely sharing her bright positive attitude and warm demeanor all over the world.