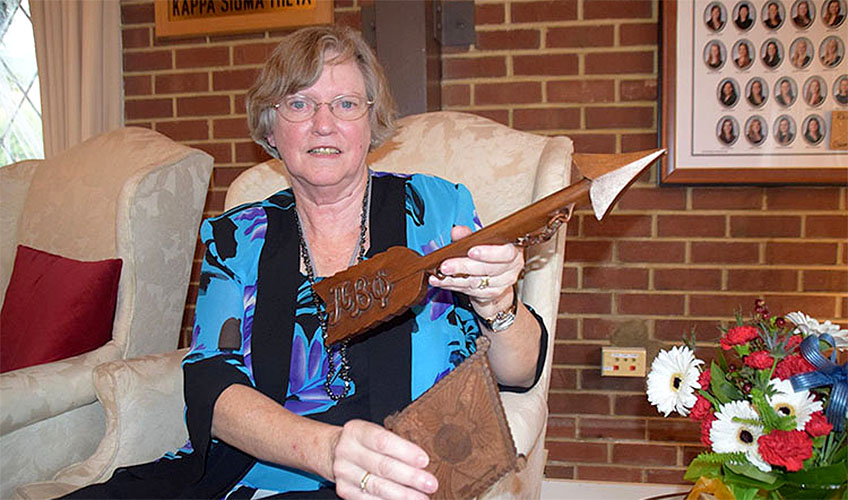 Washington Gamma Christina Maynard Cardenas traveled more than three hours through the rain, but she would not miss this surprise for anything.
Members of Washington Gamma filled the chapter house bundled in scarves and holding close to each other on the couch. Chapter President Amber asked for the alumnae in the room to go around and introduce themselves — this was her moment.
Christina shared the story of her grandfather, Milton Monroe Maynard, who spend most of his teaching career as an English professor at Monmouth College. All three of his children, including Christina's father Russell, completed their undergraduate work there. During Russell's senior year, he met Margaret Janet Ward, an Illinois Alpha Pi Phi. Around 1936, Russell handcrafted two wood-carved symbols of Pi Beta Phi as a gift to Margaret to show his love for her. When Christina pledged Pi Beta Phi, her mother passed these gifts on to her.
In 2015, Christina is celebrating the 50th anniversary of her pledging Pi Beta Phi. After discussing with her husband, she knew what she wanted to do – give these two beloved items to her chapter in remembrance of her time at University of Puget Sound.
"Since it was filled with much joy and personal growth, it seems a most appropriate time to gift to Washington Gamma that which my father made for my mother."
Her mother, Margaret, currently resides in Vancouver, Washington and Christina says she is "as sharp as a tack." She also says her mother would have been there, if she could, to visit with her Pi Phi sisters.
What a truly magical gift Christina presented to the chapter, "May you appreciate them, now and years to come."