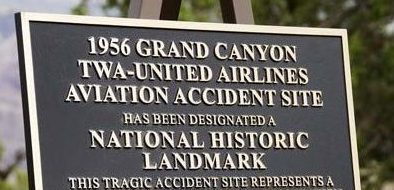 This post is courtesy of Historian Fran Becque as part of her continuing series on Pi Phi heritage.
Pi Beta Phi's 40th Biennial Convention at the Huntington Sheraton Hotel in Pasadena, California, was the largest one to that date and took place June 24-30, 1956. The final banquet was held on Friday evening and afterwards, many attendees began preparing to return home since some had early flights on Saturday morning.
Janice Haas, Missouri Gamma, was president of her chapter at Drury College. She lived in Springfield, Missouri, where Drury is located. Marie Wilson Klemp, Colorado Alpha, was the mother of a young child, and was serving as President of the Kansas City, Missouri, Alumnae Club. Lois Klein Brock, Colorado Beta, was the delegate for the Arlington-Alexandria, Virginia Alumnae Club. She lived in Falls Church, Virginia. The three boarded a TWA flight for Kansas City. Sally Laughlin, Pennsylvania Epsilon, served as her chapter's delegate and was from McKeesport, Pennsylvania. She boarded a United flight to Chicago. None of the four would make it home.
The two planes, a United Airlines Douglas DC-7 and a TWA Lockheed Super Constellation, took off from Los Angeles within minutes of each other. The TWA pilot requested to fly above the clouds and the planes were cruising at the same altitude — 21,000 feet. At about 10 a.m., each pilot reported that they would be crossing over the Grand Canyon at the same position at 10:31 a.m. Unfortunately, they did not report this fact to the same station, so that the pilots were not made aware of each other's presence.
The planes crashed over the Grand Canyon that morning. All 128 people, the total of passengers and crew on both planes, were killed.
On July 5, Grand President Marianne Reid Wild sent a letter to officers, chapters and alumnae clubs telling them of the tragic loss of the four Pi Phis. She asked that each chapter/club's membership be notified. Her instructions continued, "In loving memory of those whom many Pi Phis had come to know during the Convention, Pi Beta Phi declares a period of official mourning from July 15th to July 25th. In accordance with the Chapter Manual a small strip of black ribbon will be worn under the badge for that period in remembrance."
Pennsylvania Epsilon's chapter letter in the Spring 1956 Arrow noted that Sally Laughlin had been elected to Pi Gamma Alpha Fine Arts Honorary. In the Chapter Reports section of the Winter 1956 Arrow, Missouri Gamma reported, "A scholarship fund which is to be made available to any Drury girl, has been established under the auspices of Pi Beta Phi in memory of Janice Traer Haas, Missouri Gamma president."
At the time, it was the deadliest American plane crash in history. More importantly, it led to the establishment of the Federal Aviation Administration (FAA) to modernize air traffic control so that accidents of that type could be prevented.
Last week, a plaque was dedicated at the overlook above the Grand Canyon accident site making the crash site a national historic landmark. The marker reads: "This tragic site represents a watershed moment in the modernization of America's airways, leading to the establishment of the Federal Aviation Administration and national standards for aviation safety."