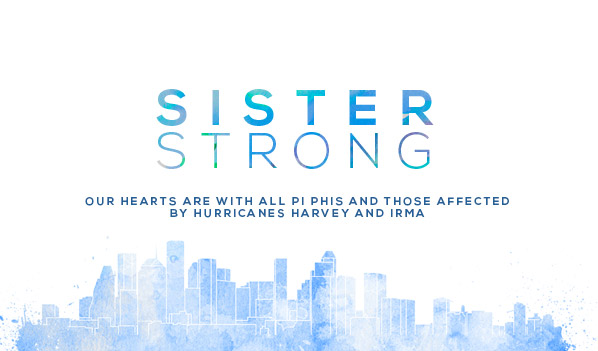 Natural disasters come in many shapes and forms: a tornado, earthquake, forest fires, or in our most recent case, hurricanes. Recently we experienced Hurricane Harvey impact Texas and now Hurricane Irma, which barreled its way up the peninsula of Florida and into Georgia. Hurricanes are extremely deadly and can have a lasting impact on our states, cities, communities and homes. When a natural disaster strikes, we want you to be prepared and our Fraternity Housing Corporation (FHC) team at Headquarters can make sure of just that.
From Headquarters, FHC monitors the storm closely and where the hurricane's path leads, specifically if the storm is headed in the direction of a Pi Phi chapter. To prepare our facilities, FHC contacts the local Chapter House Corporation (CHC) on procedures to follow before, during and after a hurricane hits. Also, asking them to contact FHC if there's an emergency related to the chapter's facility, members or employees. FHC prepares our individual FHC-owned facilities by working with a local property manager to prepare the house and with House Directors and other vendors to prepare them for the storm. We also ensure chapter members are safe and have enough food and water to last throughout and after the storm.
FHC helps our CHCs and FHC employees to prepare for the storm, but there are other procedures our chapter members and Alumnae Advisory Committee members can do to prepare for the storm, as well.
Before a hurricane, you should plan an evacuation route. Although you might not evacuate, there is the possibility of a mandatory evacuation, and you should be prepared to drive 20 to 50 miles inland to locate a safe place. Also before a hurricane, you should contact the local emergency management office or American Red Cross chapter in your area and ask for the community hurricane preparedness plan. This plan should include information on the safest evacuation routes and nearby shelters. All our members should be prepared to respond to a threat of a hurricane. Make sure each member knows of a plan and sticks with a buddy in case of an emergency.
Your university may issue a campus wide evacuation. We would encourage you to follow your university's procedures during this time. If officials indicate an evacuation in necessary, you should leave soon as possible. Make sure to unplug all appliances and turn off electricity and the main water valve. You should notify someone outside of the storm area where you are going.
Hurricane watches and warnings are very different. A hurricane watch is issued when there is a threat of hurricane conditions within 24–36 hours. A hurricane warning is issued when conditions are expected within 24 hours or less. A hurricane warning is also issued when winds of 74 miles per hour or greater or dangerously high water and rough seas are expected.
During a hurricane watch, you should start to prepare your living spaces, cars and yourselves just in case a watch becomes a warning. You should check your emergency supplies including a flashlight, First Aid kit, store drinking water and a weeks' worth of unperishable foods and fuel cars.
During a hurricane warning, you should listen constantly to a radio or television for official instructions. If you are at home, stay inside, away from windows, skylights and glass doors. Keep a supply of flashlights and extra batteries handy and make sure to avoid open flames, such as candles and kerosene lamps, as a source of light.
If you did not evacuate, start checking your facility for damages after the storm and note what should be resolved with your insurance company. If you evacuated, you should return only after authorities advise that it is safe to do so. You can do this by staying tuned to a local radio station for information. Enter your personal facilities with caution and make sure to report all damages to your landlord and insurance company. Pi Beta Phi facilities will be inspected for damages to make sure all members are safe before reentering.
Please use caution when a hurricane approaches and know the severity of these dangerous storms. Material items can be replaced, but you cannot. Be safe, use your best judgement and know your options in and outside of your community.
This post is courtesy of FHC Housing Coordinator Megan Fahrmeier, Mississippi Beta.