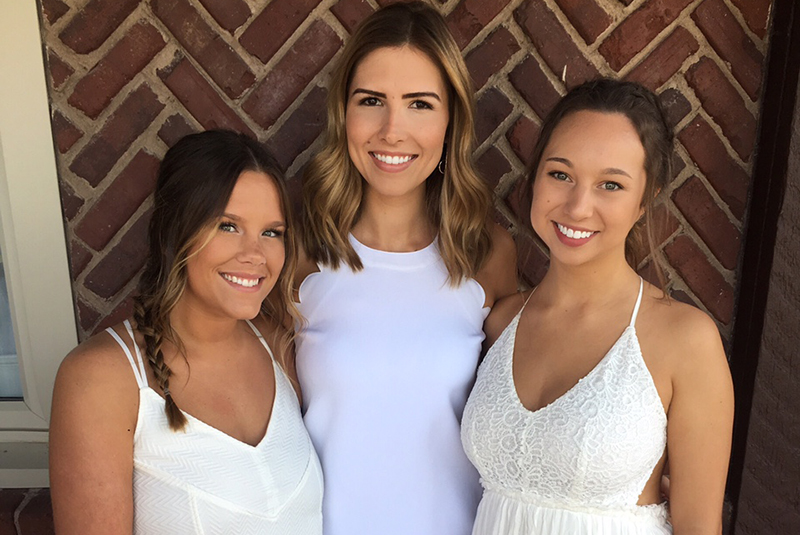 When I first became a chapter officer, I felt completely overwhelmed learning about all the different layers that encompass each position and this organization. I remember looking at my manuals and thinking, "Whoa, how am I ever going to learn all of this? "The women who held my position before me were people that I looked up to greatly, and I was nervous to fill their shoes while also tailoring the position to make it my own and not losing sight of the vision I had for my office.
Now that I am a Leadership Development Consultant (LDC), I aim to alleviate those stressors off the women I meet with during officer training by giving them the tools they need to have a successful year, and empowering them to have confidence in their decision making and goal-setting.
I know officer training can seem daunting, but it doesn't have to be! The following are a few tips and tricks that I pass onto incoming officers to help guide them during the process of transition:
Read your manuals and guides. I cannot stress this one enough! The Resource Library is your go-to source for any Pi Phi specific policies or position-specific rules. Even now, I find myself going through manuals daily to double check my answers or to make sure that I am giving the correct guidance to officers. Prior to transitioning onto Executive Council, go through the applicable resources for your newly-elected position, and highlight anything you have questions about or anything that stands out to you that you didn't know before. You can then bring these questions or comments to your predecessor or Alumnae Advisory Committee (AAC) counterpart to clarify anything you've discovered.
Complete your officer training through the Online Learning Center. Along with the guides and manuals, there are awesome videos on www.pibetaphi.org that go over your positions in a bit more detail! Do the same note-taking as what is mentioned above, making sure to note anything that you are unsure about and need to follow up on.
Review any university-specific policies that pertain to your position with your predecessor and find out who your contact for the university is. Pi Phi can teach you about our organization as a whole, but every university is different and each has their own guidelines and regulations. Being aware of the policies that govern you from both sides is key in ensuring you are making decisions that comply with both our organization and the university. If there are any discrepancies or areas of uncertainty, refer to a Pi Phi advisor for guidance on how to navigate those differences.
Ask your predecessor about her proudest achievement and biggest challenge as an officer. This will give you a sense of what her term was like, as well as prepare you for any bumps in the road that she may have faced. She may also have some advice for you about ways she could have avoided certain challenges or tips for how she achieved her big successes!
Create a plan for effective delegation. There is not a position anywhere within Pi Phi that can be accomplished with only one set of hands. Make a list of major tasks or events that you will oversee this upcoming year and decide which components you can delegate out to others and which you should do yourself. Remember to make your delegation meaningful — don't just ask others to do your busywork, give them tasks that will make them feel useful and allow them to be creative in their execution. Using your committees and empowering others to take on larger roles in the chapter will increase overall chapter involvement and take stressors off you as an officer.
Make a rough draft of your calendar ASAP. Work together as officers to map out when major events will take place, so you have an idea of when to start planning. Knowing major university dates such as holiday weekends or finals weeks will help you decide when to plan your events based on when you would have the highest attendance. Upload your calendar to eReports and share the calendar with members as soon as these dates are finalized so everyone can be on the same page and know what to expect in the upcoming year.
Get to know the volunteers who support you. Send an introductory email to your AAC counterpart, Regional Team counterpart and any applicable Chapter Support Officers. If your AAC counterpart lives in town, set up a time to meet in person and talk about what kinds of communication expectations you have for one another in the upcoming year. There are so many women who support you and want to see you succeed, so starting off with positive and open communication is imperative.
Set realistic goals for yourself and create a plan of action to achieve those goals. If you can hold yourself accountable for goal setting and completion, you will be sure to feel fulfilled with the work that you accomplish! Share these goals with your advisors; it is proven that if you say a goal out loud you are more likely to see it through to fruition.
Keep an open mind. Every new year is a chance for an entirely new set of officers to start fresh and create a different climate for the chapter. Every member of Pi Phi is unique — so what didn't work for one officer may work great for you. Don't be afraid to try new things and to see things through a different lens. This organization and its chapters are constantly evolving and changing, and so should our officers!
Last, but certainly not least, this is YOUR position. You were elected into this office because your sisters see you as a leader and trust you to make decisions for the greater good of your chapter and its members. Make this position your own; add your own personal flair to leave your legacy on whatever office you take!
Best of luck in the upcoming year! You are going to do remarkable things, and your chapter will be endlessly thankful for the work that you accomplish. Holding an office will teach you so much about yourself as a person and a leader, and give you irreplaceable skills that you will take into any professional environment. You are about to embark on one of the most rewarding journeys of your collegiate experience — cherish every second of it.
This blog post is courtesy of Leadership Development Consultant Christina Poletti, Arizona Alpha.